The DTU Major in Commerce
"No commerce, no wealth", they say and that remains completely true today, as business continues to make people, families and nations richer, especially in Vietnam.
If you are about to start university and are interested in Economics, you should investigate the DTU Commerce major, which teaches you, among many other things, how to handle yourself in front of clients and all the other practical skills involved.
1. About Commerce
A DTU education in Commerce includes courses in market research, business planning, marketing, PR, sales and financial analysis, to train students how to most effectively conduct company business activities in the future. The major also provides in-depth training in financial and monetary theory, economic law, international trade law, industrial marketing, international payments, e-commerce, supply chain management, international contract law and investment project management.
2. Qualifications required for Commerce applicants
An understanding of foreign languages will be greatly beneficial in business on graduation:
- Proficiency in English will help significantly and is a basic requirement of recruiters
- Soft skills are necessary in any job, but Commerce requires much interaction, both inside and outside a company, so they these vital skills are high priority in career development:
- Informatics and online research
- Communication and teamwork
- Presentation and negotiation
- Planning and time management
With leadership and management experience and ambition, professionals will be ready to be promoted to positions such as Business or Marketing Director, or Vice-Director, or Sales Director. With these qualifications, in a developing country like Vietnam, with its ever expanding investment and business development opportunities, graduates will eventually have a variety of options to choose from to reach the highest levels in their companies.
3. Career prospects
Graduates in Commerce have a varied choice of positions:
- Sales staff,
- Import and export officer,
- Purchasing specialist,
- Customer care specialist at production and commercial businesses,
Marketing specialist for businesses with domestic activities or with foreign ties.
4. Studying Commerce at DTU
On the road to global economic integration, DTU has been expanding its Economic and Business Administration majors to offer applicants even more study opportunities. In 2016, DTU began offering two more majors, in Commerce and Foreign Trade.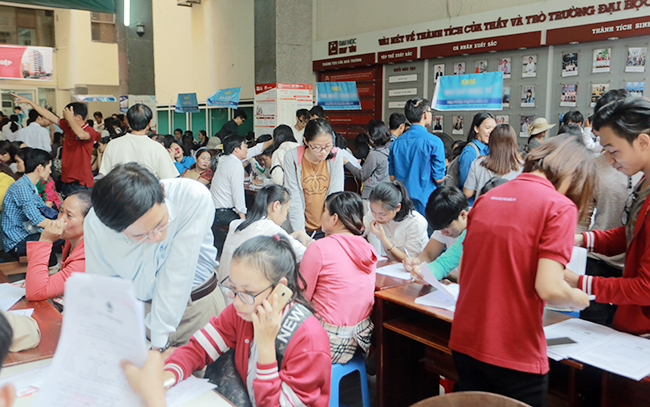 Commerce applicants register at DTU
DTU has assembled a team of experienced Economics and Business Administration lecturers, many with PhDs and post-graduate degrees from universities in well-development educational systems, in the US, Germany, South-Korea, Singapore and Canada.
DTU Commerce students benefit from ten years of international partnerships and programs, including one with Pennsylvania State University, one of the biggest public universities in the US and a world leader in Business Administration, Accounting, Finance and Banking, Hospitality, Tourism and Restaurant Management.
Students of this major will study with the PBL (Problem-Based Learning/Project-Based Learning) method, which has been successfully applied to university training in many countries around the world. The PBL method focuses on the skills to carry out projects and to create general solutions for practical market and life issues. In Vietnam, DTU is the only official memeber of the PBL Association, chaired by UNESCO and Aalborg University.
DTU organizes regular competitions ,where Economics and Business Administration students can demonstrate and develop their capabilities. These include the Social Venture Plan and Business Ideas competitions.