In the trend of international economic integration and the demand of highly-qualified human resources, Business Administration is one of the fields many students enroll in after every entrance exam. However, students should carefully enquire about the programs and study environments, so that they can choose a qualified university to develop their abilities and their future jobs.
Which subjects do students study in this program?
In the DTU Business Administration program, students are equipped with a foundation of knowledge of business management, business strategies and business administration. With their analytical, forecasting, strategic, human resource management and financial skills, they also learn more about business-related problems. They can then recognize and solve the opportunities and challenges of international and domestic businesses well.
In addition, students majoring in Business Administration should be good at English. At DTU, they will train their English skills throughout the program to improve this ability, which will support them in their jobs after graduation.
Acquiring new knowledge with the international and advanced program
With over ten years of international cooperation, DTU offers its students international advanced and qualified programs. DTU students majoring in Business Administration have the opportunity to enroll in this partnership program because DTU partnered with Pennsylvania State University (PSU), one of the top fifty universities in Economics and Business Administration in the US (U.S.News 2018) to offer programs in Accountancy, Finance and Banking and Business Administration.
Students of the DTU-PSU program acquire the latest knowledge of Business Administration. They also study with professional and experienced lecturers in an active environment and are provided with rich electronic materials. Moreover, they will train their English and presentation skills and critical thinking skills.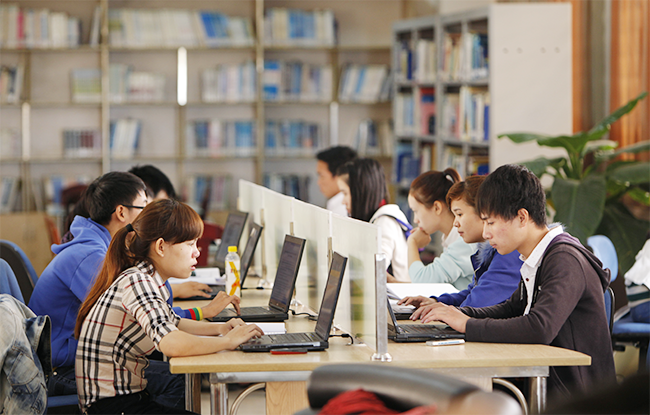 Students at the DTU library
Students enrolled in this partnership program are granted between 19 and 24 Course Completion Certificates. They can continue with their studies at PSU in the US as well as at other universities in the US or in other countries in the world. The joint advanced program between DTU and PSU is considered having lower tuition fees then equivalent advanced programs at other universities in Vietnam. After graduation, students can pursue both international and national careers.
Career Prospects
Vietnam's stable economic development over recent years has brought companies a good business environment. In this trend, a large number of highly-qualified employees will be required to solve challenges and maintain the economic growth rate. Consequently, graduates from PSU international standard Business Administration will have many job opportunities.
Graduates will be able to , it to work as:
-Sales Officer, Marketing Officer, Public Relations Officer
-Head of Business Development Department
-Sales Director
-Store Manager, Purchasing Manager, Logistic Manager, Workshop Manager and Supervisor
-Director Assistant
-Head of Human Resources
For further information, please visit: http://duytan.edu.vn/tuyen-sinh or contact:
DTU Admission center at 254 Nguyen Van Linh, Danang.
Tel : (0236) 3653.561 - 3650403-3827111-2.243.775 – Fax: (0236) 3650443
Hotlines: 1900.2252 - 0905.294.390 – 0905.294.391