Since its foundation, DTU has followed the edict "We Do Everything for Student Rights and Future Careers" to improve the quality of education and continuously offered more majors to respond to local demand.
- Academic programs:
• 55 Bachelor's degree majors with 102 disciplines in IT, Electrical Engineering, Architecture, Civil Engineering, Accountancy, Business Administration, Finance & Banking, Hospitality & Tourism, General Practitioner, Pharmacology, Nursing, Literature - Journalism, Multi communication, Law and Economic Law.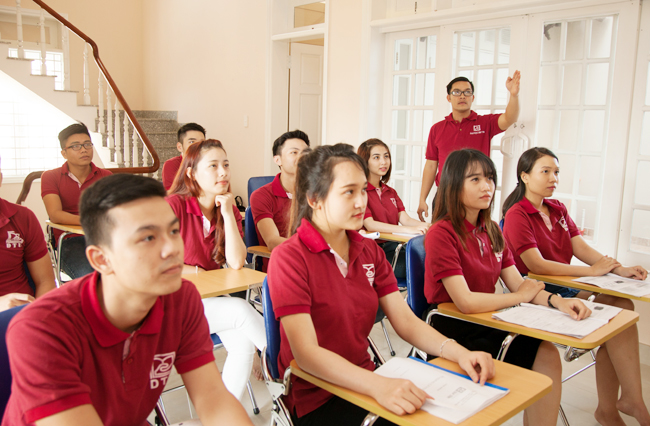 DTU students attending lectures
• DTU has already graduated over 77,000 Masters, engineers, architects and bachelors.
- Expanding partnerships with well-known universities around the world to exchange international- standard curricula
• With Carnegie Mellon University (CMU), one of the top four American universities in IT, to implement advanced programs in Software Engineering, Information Systems and Network Security.
• With Pennsylvania State University (PSU), one of the top fifty universities in Business Management and Hospitality and Tourism, to offer programs in Business Administration, Accountancy, Finance & Banking, Hotel and Restaurant Management.
• With California State University, CSU Fullerton and Cal Poly, to implement the first and only advanced program in Architecture and Civil Engineering in Central Vietnam.
• With Purdue University to implement an advanced Electrical Engineering and Mechatronics program.
- Overseas Study and On-site Study-Abroad programs
• Overseas study: DTU has established programs to help students continue their studies abroad, such as the 2+2 program (2 years at DTU and 2 years in America), the 1+1+2 program (1 year at DTU and 3 years in America) and the 3+1 program (3 years at DTU and the final one either in Singapore or England).
• On-site Study-Abroad: DTU has partnered with Keuka College in the USA to offer students On-Site Study-Abroad programs in Business Administration, IT, Hotel Management and Financial Management.
- Adopting advanced teaching methods:
• CDIO (Conceive - Design - Implement - Operate)
• PBL (Problem-Based Learning/Project-Based Learning)
- Scholarships:
Annually, DTU grants full and partial scholarships to students with good academic results to motivate them to work harder to realize their ambitions. The University has expanded its partnerships with local business and respected universities worldwide to award valuable scholarships to students with outstanding HSGE scores and those with good academic performance.