With the pandemic now under control, the Hospitality sector is gradually recovering, tourists are beginning to return in increasing numbers, and the demand for highly-qualified professionals is escalating.
The DTU Advanced & High Quality UNWTO.TedQual-Accredited Programs
DTU received UNWTO.TedQual accreditation in July 2022 for two of its Tourism & Hospitality programs. UNWTO.TedQual is considered the world's leading accreditation standard, specializing in Tourism and Hospitality. The DTU programs, in International Hotel Management and in International Restaurant Operations Management, were accredited with a score of 771/845 points, meeting 91% of the criteria. DTU became the first accredited Vietnamese university, with accreditation valid for three years.
Hong Kong Polytechnic University (HK PolyU), is ranked the number one university in Tourism & Hospitality studies and also chose UNWTO.TedQual to accredit their programs. During three years of preparation for accreditation, DTU received direct guidance from Hong Kong PolyU before UNWTO officially accredited the two DTU programs.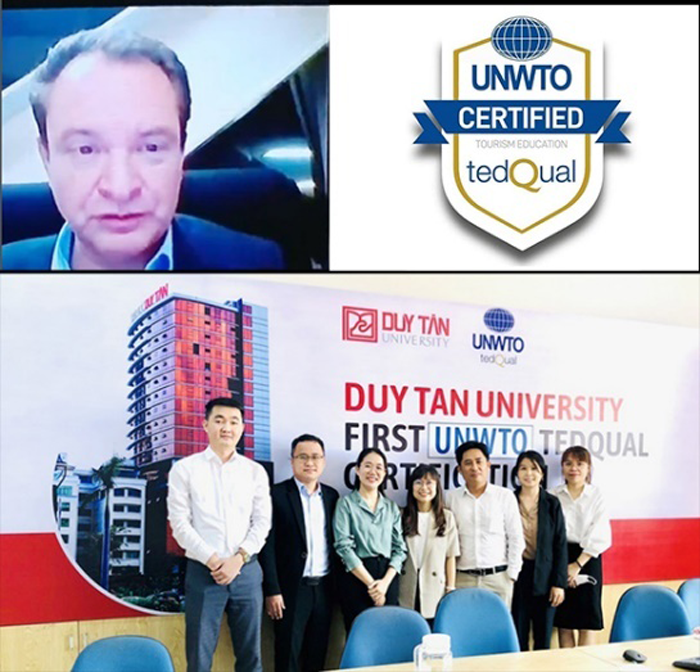 The UNWTO.TedQual accreditation ceremony
Meanwhile the DTU HTi (the DTU Hospitality & Tourism Institute) has expanded a long-term partnership with Pennsylvania State University (PSU), one of the fifty leading universities in Economics & Business Administration education in the US, and one of the world's five best universities in Tourism studies. PSU shares their programs in Hotel Management, Tourism Management, and Restaurant Operations Management with DTU and graduates are awarded from 19 to 21 international course Completion Certificates by PSU, which are recognized globally.
DTU HTi currently offers courses in:
-
Tourism and Hotel Management and PSU Tourism and Hotel Management
-
Tourism & Travel Management; PSU Tourism & Travel Management; Tourism Management & Aviation Service; International Tour Guide in English, in Korean and Chinese
-
Event and Entertainment Management
-
Smart Tourism; Cultural Tourism.
-
PSU Tourism & Restaurant Operations Management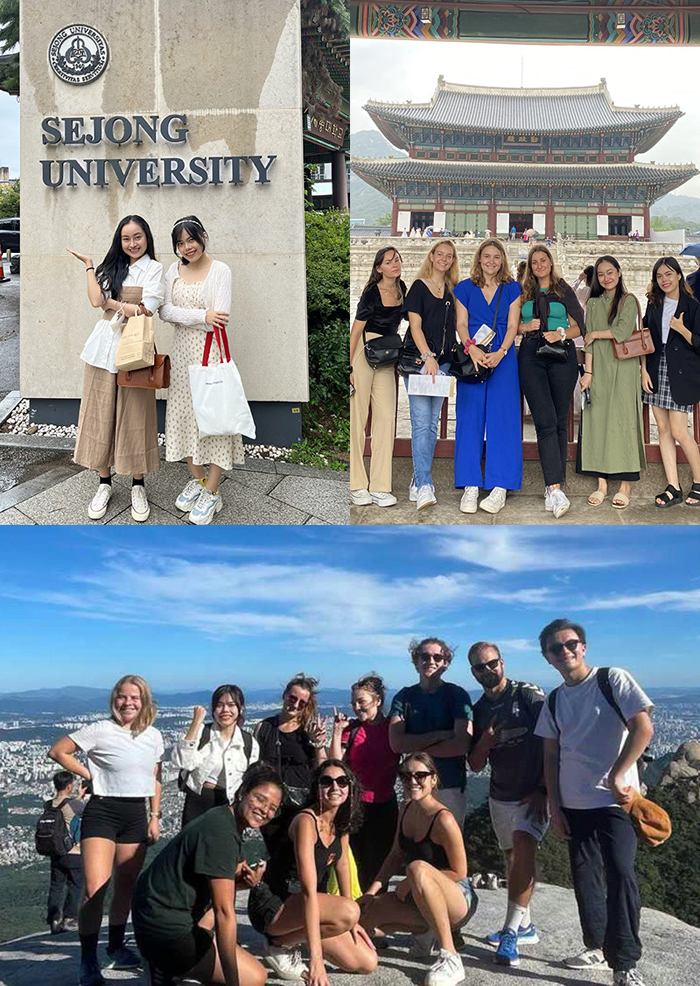 DTU students broaden their experience through international cultural exchanges
DTU HTi also has agreements with other foreign universities, where students can study from six months to one year in Korea, Taiwan, France, Macao and Thailand.
The complete Hospitality ecosystem at DTU HTi
The DTU HTi offers a comprehensive and diverse ecosystem for its Hospitality minors, with a series of five-star hotel practice rooms, the UTravel company, a buffet restaurant, a cafe and so on, where students can boost their professional skills and self-confidence and rapidly find employment on graduation.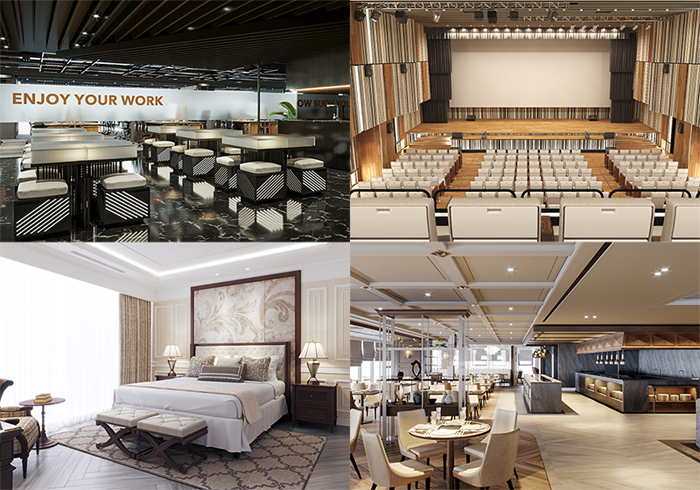 DTU Hospitality students practice in a unique environment, rare in Vietnam
Intensive research projects resulting in big awards characterize a DTU Hospitality education
With their dedication to training Hospitality students to becoming high-quality professionals, DTU Hospitality lecturers mentor their students in prestigious contests and in the publication of research papers in well-known international journals, including:
-
A research report entitled "Social media research trends in tourism cities", by student Ngo Thi Thu Trinh and Mai Ngoc Tram, published in the International Journal of Tourism Cities and ranked Q1 by SCOPUS in January 2022,
-
DTU Hospitality students were the only Vietnamese delegates attending "World Tourism Day", held in the Philippines in 2020 and 2021,
-
Nguyen Duong Khanh Nhi, a student of PSU-standard Hotel Management, was named Vietnam TOEIC Ambassador in January 2022 with 930/990 points, following Tra Quoc Thinh from Hotel Management who received the honor in March 2021, with 905/990 points,
-
DTU came third, with two other auxiliary prizes in the "Most-liked project" and "Best consolation" awards at the ECO-n 2021 finals,
-
DTU won second prize at the HULT Prize Southeast Asia contest with their "Disabled People Making Handicrafts" project in 2018,
-
DTU won first prize of the Tour Guide competition and first prize in the Aptitude section in 2017.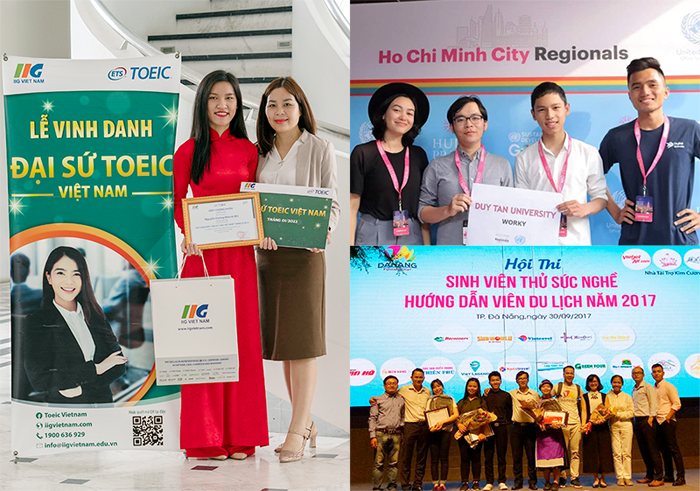 DTU Hospitality students win awards
Former South Korean Vice-Minister of Culture, Sports and Tourism Appointed Rector of DTU School of Hospitality and Tourism
Professor Mo Chul Min, former South Korean Vice-Minister of Culture, Sports and Tourism was appointed Rector of the DTU School of Hospitality and Tourism. He chose to take up the new challenge because he was extremely impressed by the intelligence and dedication the Vietnamese students and the DTU development strategy. During his 35 years devoted to the development of South Korea, Professor Min held several important positions in the South Korean government, including Director of the Department of Tourism Industry of the MCST; General Secretary of the Ministry of Culture, Sports and Tourism; Vice-Minister of Culture, Sports and Tourism; Senior Secretary General to the President on Education, Culture, Sports & Tourism; and the South Korean Ambassador to France.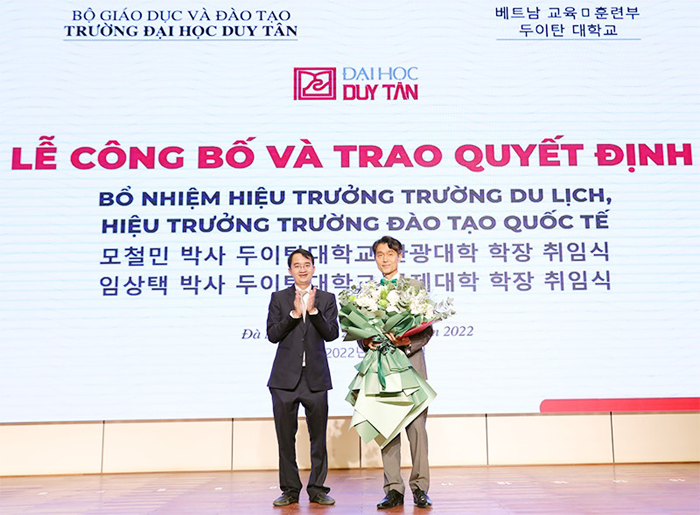 Professor Mo Chul Min
Professor Min said: "The DTU Tourism program deserves the highest evaluation in Vietnam and have recently been accredited by the UNWTO as a TedQual institution. As a result, the programs are now recognized worldwide for their quality of their educational and research. Our current strategy is to focus on three areas to further refine and broaden their excellence. Firstly, the programs must be able to meet the demands of tourists and the tourism industry to serve a diverse range of tourists. Students must go out into the farthest locations possible and experience cultural diversity. The breadth and depth of international student exchanges will be expanded to provide better opportunities for DTU students to experience as much as possible in the development of their future careers."
(Media Center)