In 2022, the DTU Hospitality & Tourism Institute (DTU HTi) introduced a Tourism Management & Aviation Service major, the first in the Central region, in addition to the Event & Entertainment Management and Smart Tourism minors.
The Tourism Management & Air Service major provides a basic knowledge of aviation services, focusing on:
-
Airline operations management
-
Aviation business administration

Practice rooms adapted to real-time situations
Visiting lecturers from well-known airlines, and internships at airports will enable graduates to become managers at airlines and travel agencies, as flight attendants; aircraft guides; airport operators; service staff; ground service staff; tour operators; tour guides; specialists in air transportation companies and so on.
The DTU HTi currently offers courses in:
-
Tourism and Hotel Management; PSU Tourism and Hotel Management
-
Tourism & Travel Management; PSU Tourism & Travel Management; Tourism Management & Aviation Service; International Tour Guide in English, in Korean and Chinese
-
Event and Entertainment Management
-
Smart Tourism; Cultural Tourism.
-
PSU Tourism & Restaurant Operations Management
The DTU HTi offers the new major in Smart Tourism to meet the growing demand for professional resources, as companies transform themselves into smart businesses, which is especially important during the pandemic. Smart Tourism is based on key technologies, such as ICT, mobile telecommunications, cloud computing, artificial intelligence (AI) and virtual reality (VR), and the program provides a clear understanding of the operating principles of smart tourism, from which professional expertise is developed.
The Event and Entertainment Management minor provides the theoretical knowledge and practical skills needed by managers in this popular and rapidly developing field. Graduates will be able to organize entertainment events, sports, festivals, fairs, trade exhibitions and conferences.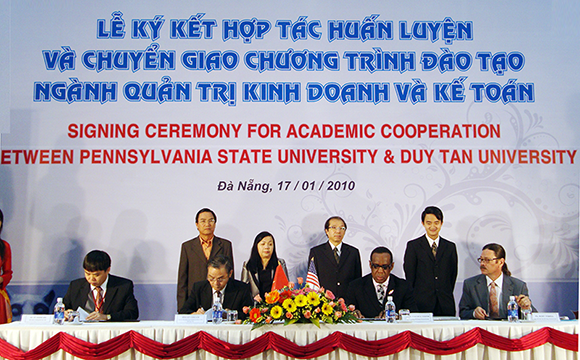 DTU partners with Pennsylvania State University, one of the top universities
in Business Administration and Management & Hospitality in the US
The DTU HTi has expanded a long-term partnership with Pennsylvania State University (PSU), one of the top universities in Business Administration and Management & Hospitality in the US, to share the most advanced Hospitality, Tourism and Restaurant Management programs. Graduates will be awarded from 19 to 21 international course completion certificates by PSU, recognized by all universities globally.
DTU also partners with several local companies in the Hospitality sector, including Vinpearl, the Furama, Sheraton, Pullman, Radisson Blu Resort in Hoi An, Intercontinental Danang and the Victoria Resort in Hoi An, where various internships and jobs are available.
DTU has implemented the PBL and PrBL, (Problem-Based Learning/Project-Based Learning) teaching method in Hospitality Management courses, which is employed worldwide to motivate students to enjoy their work, become more proactive in their basic and in-depth studies and improve their English, communications, teamworking, problem-solving, time management and presentations skills.
Practice rooms to prepare Hospitality students for real-time situations
DTU has created a series of practice rooms to provide students the environment they would experience in a 5-star hotel, a conference center, the Utravel agency, a buffet, coffee shop and elsewhere.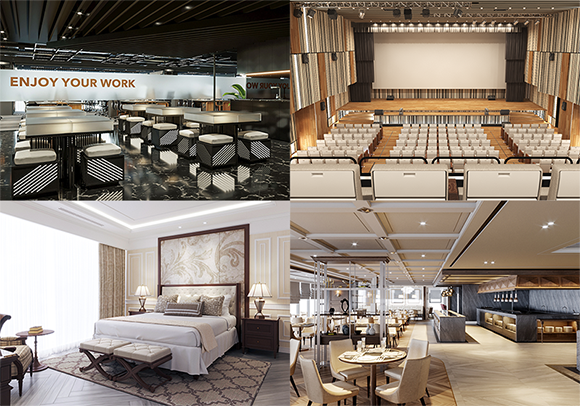 DTU Hospitality students gain practical work experience at the university itself
Expanding international collaborations to develop overseas exchanges and global internships.
DTU has created new and attractive Hospitality courses and work opportunities, by expanding existing partnerships with companies at home and abroad. The DTU HTi is now partnering with leading tourism organizations, including the World Tourism Organization (UNWTO), the Pacific Asia Travel Association (PATA), the Asia Pacific Tourism Association (APTA), Hong Kong Polytechnic University and Pennsylvania State University.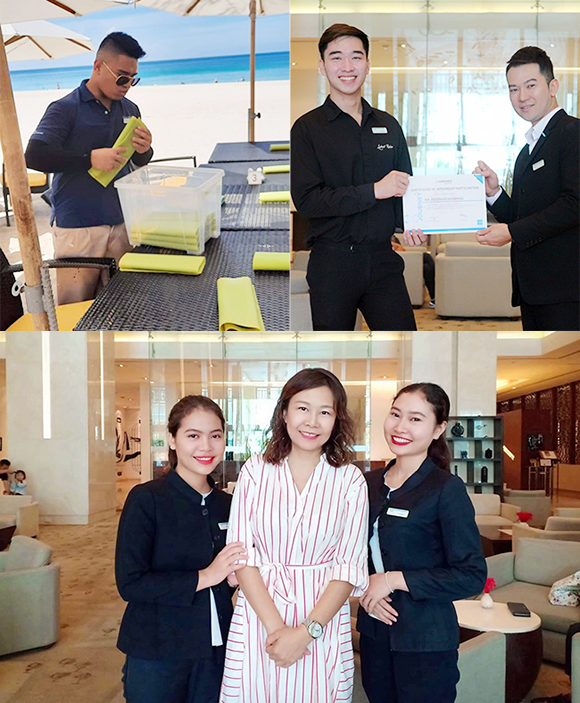 Nguyen Chi Bao, at left, doing a paid internship at Le Meridien Phuket Beach Resort, Thailand; Pham Vu Phong, center in combined picture, working at Le Meridien Chiang Mai in Thailand; Dinh Thi Ngoc Huyen, left, and Vo Truc Quynh, right, who are doing paid internships at Le Meridien Chiang Mai in Thailand
The DTU HTi has signed agreements with international universities, where students can study from six months to one year, one in Korea, two in Taiwan, one in France, one in Macao and another in Thailand. They can also intern with pay in Italy, Indonesia, the Philippines and Thailand.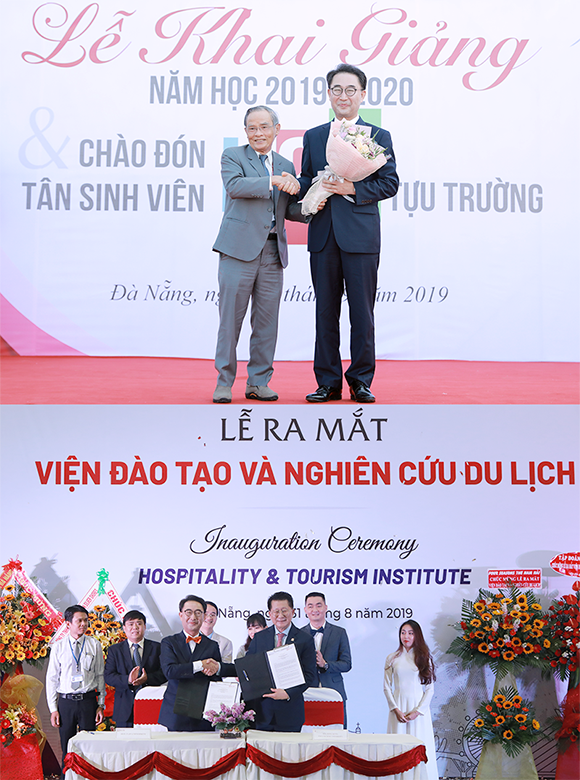 Hero of Labor and Distinguished Teacher Le Cong Co, DTU President, presents flowers to Professor Lim Sang Taek (upper) and Director Professor Lim (left) signing an agreement with Professor Kaye Chon, Director of the School of Hotel and Tourism Management at Hong Kong Polytechnic University
Those are now new excellent study and career opportunities available, thanks to the concentrated efforts of the DTU HTi faculty and staff, under the direction of Professor Lim Sang Taek, who was recently presented with an Order of Civil Merit by the President of South Korea, Moon Jae-in, for his outstanding contribution to South Korean education.
For more information please contact
DTU Enrollment Center
254 Nguyen Van Linh, Danang
Hotlines: 1900 2252 – 0905 294 390 – 0905 294 391
Tel: (0236) 3650403 - 3653561
(Media Center)