On August 31st 2019, Duy Tan University opened its Institute for Hospitality and Tourism Education & Research. The new Institute, including two faculties: the Faculty of International Hospitality Management and The Faculty of International Travel Management, provides Bachelor degree courses in Tourism and Hotel Management, Tourism and Travel Management, PSU Tourism and Hospitality Management, PSU Tourism and Travel Management and PSU Tourism and Restaurant Management.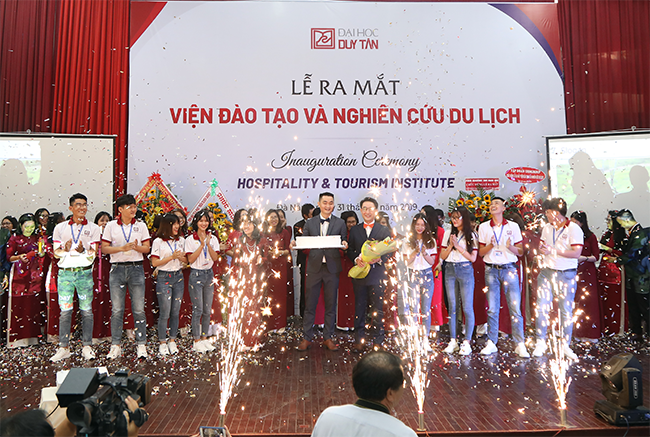 The inauguration ceremony
As well as broadening the quality of the lecturers and students, the Faculty of International Hospitality Management and the Faculty of International Travel Management have also invested in a complex of 3-star standard hotel training rooms. Students can practice bar, kitchen, reception, restaurant and room service at DTU or at the model hotel located at 733 Nguyen Tat Thanh and 59 Ha Bong.
To further enhance the quality of education, the Institute has also expanded partnerships with well-known American universities to exchange educational programs. These universities include Carnegie Mellon University (CMU), Pennsylvania State University (PSU) and California State University (CSU Fullerton and Cal Poly). In addition, DTU has revolutionized ways collaborating by sending students abroad to graduate with American diplomas in the 2+2, 1+1+2 and 3+1 programs. The partnership with Troy University in the USA allows students to join the On-Site Study-Abroad Bachelor's degree program in Hospitality and Hotel Management. Students need only to study at DTU to earn an accredited American degree from Troy University.
The Institute also works with many businesses in the hospitality sector in and around Danang, such as the InterContinental Danang Sun Peninsula Resort, the Hyatt Regency Danang Resort & Spa, the Furama Resort Danang, Vitours, Vietravel and SaigonTourist, where students can be offered internships and jobs. By teaching comprehensive programs in Hospitality and Tourism, the Institute is now able to satisfy the increasing demands of the local workforce and is growing stronger every day, in concert with development of tourism in Danang itself.