DTU Economics & Management majors are in great demand by local companies, where they can serve as interns or full-time employees.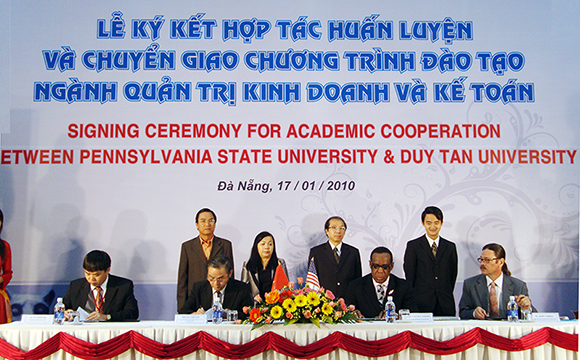 DTU signs an agreement with Pennsylvania State University to share curricula
DTU partners with leading American universities in Management and Tourism, at Pennsylvania State University, Troy University, and Keuka College and in IT studies with Carnegie-Mellon University. Management, Marketing, Accounting & Auditing and Finance & Banking students now share the most advanced knowledge and skills to prepare for their new careers. Entrepreneurship has always been a high priority at DTU, resulting in with a series of unique innovative products developed over the years and prizes won at competitions at home and abroad.
Diversified American standard DTU majors
The DTU School of Business & Economics currently offers the following:
-
Business Administration with minors: Business Administration, Real Estate BA, Foreign Trade, PSU-standard Business Administration (Advanced & High-Quality program)
-
E-commerce; HR Management
-
Marketing with minors: Marketing Administration, Digital Marketing, Commerce
-
Finance & Banking with minors: Corporate Finance, Banking, PSU-standard Finance & Banking (Advanced & High-Quality program)
-
Economics & Investment with minor: Financial Investment
-
Accounting with minors: Corporate Accounting, State Accounting, PSU-standard Accounting (Advanced & High-Quality program)
-
Auditing; Business Administration (High Performance (HP) talent program); Marketing & Strategic Management (HP talent program); Logistics & Supply Chain Management (HP talent program); Finance Accounting (HP talent program)
Graduates of the DTU Advanced & High-Quality programs in Economics & Management receive from 19 to 24 PSU course completion certificates, recognized worldwide, and students have access to an international-level education solely in Vietnam, with expert lecturers, in a dynamic study environment. They can then go on to confidently start their own ventures and put their innovative ideas to practical use in everyday life.
Study Economics with special education software and internships in big business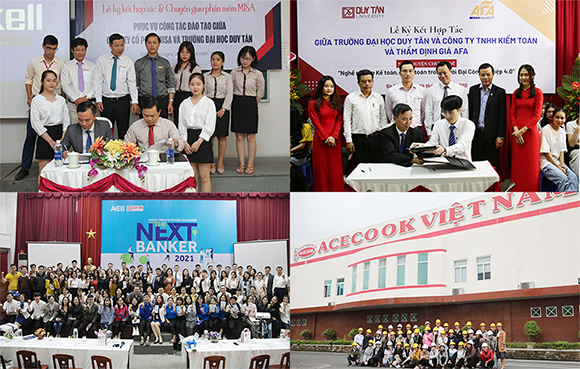 Agreements and access to internships improve DTU students' qualifications
All DTU students use the LMS and LCMS software applications for learning support and study advice, particularly the AMS, myDTU, and Sakai systems developed or implemented by the CSE, which, in 2021, allowed absolute on-line study, examinations and the defense of graduation projects remotely. DTU was one of few universities able to provide audio and video recording online and a high-speed connection for thousands of students simultaneously.
In addition to Zoom, Sakai, myDTU, the DTU Testing Service and AMS, lecturers selected appropriate special application software for courses in Business Administration, Finance & Banking, Logistics & Supply Chain Management, Digital Business, and Accounting. These included SPSS, eView, and AMOS for data analysis, and SAP and ERP Simulation Games for enterprise resource planning games, in production, marketing, finance, HR, and accounting management courses.
Also used are the HTKK software to facilitate tax declarations, the Fast application for accounting and ECUS-AUDIT for data auditing. In their second or third years, students start interning with local partners to gain real-time experience, at the Danang Port, the Danang Rubber Company, Agribank, Vietin Bank, BIDV and AFA Auditing and Appraisal LLC, AAC, and AISC, complementing the DTU mission of graduating highly qualified professionals.
Practical Products Designed by DTU Students
DTU students have succeeded in their studies and in national and international contests at the same time, due to a dynamic study environment and an in-depth university education.
Nguyen Thi Thanh was DTU's highest-scoring applicant in 2015, with a score of 28.25. She enrolled in the Keuka College Business Administration program and won the prestigious Women in Business Award in the Go Green in the City contest in Atlanta in 2018. Her team had the idea of developing a braking system to convert friction into electrical energy, which was judged highly feasible.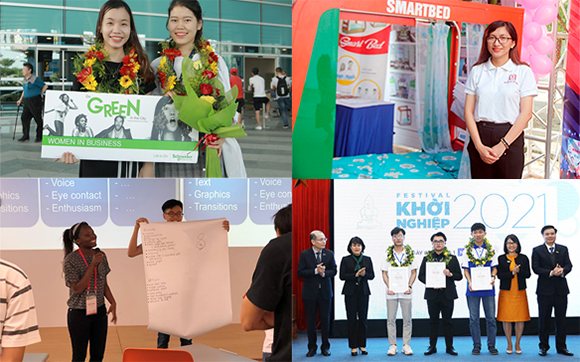 Nguyen Thi Thanh's team receive the 2018 Women in Business Award (top left)
from Trish Maguta (bottom left), Le Thi Thu Ngan presents her product
Le Thi Thu Ngan was one of the highest-scoring DTU applicants in 2017 with a 28. Her team implemented the "SmartBed" project, which won several prizes, including a third at the 2020 National Entrepreneurship competition. The bed helps users detect abnormal symptoms in order to prevent or reduce dangerous diseases.
Meanwhile, foreign Economics & Management students at DTU win major awards in national competitions. For example Trish Maguta is a Business Administration student from Zimbabwe who came third at the CDIO Academy competition in 2018 and won a consolation prize at the STR Asia Pacific Student Market Study competition in 2019.
"I was surprised and delighted to meet several foreign students at DTU, from the UK, South Korea and Myanmar and elsewhere, with the same career aspirations as myself," said Trish Maguta. "Now I am receiving in-depth training on how to effectively create and implement my business ideas, which is vital in my career development."
High-scoring high-school students gravitate to DTU
Many applicants with top scores in the 2021 High School Graduation Exam applied to DTU:
-
Hua Thi Thanh Huong, with 27.8, Financial Management in the HP talent program
-
Phan Quynh Nhu, 27.05, Logistics & Supply Chain Management in the HP talent program
-
Le To Trinh, 26.8, Marketing & Strategic Management
-
Nguyen Le Thao Linh, 26.4, Banking.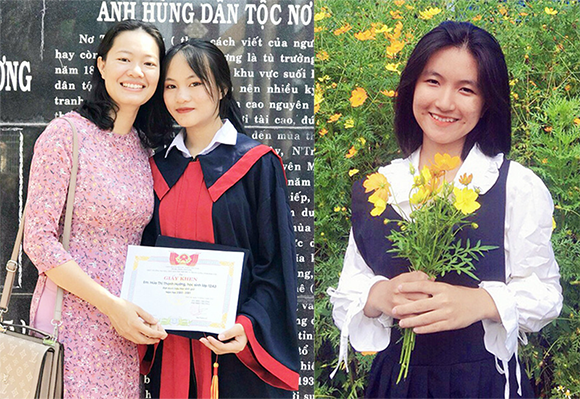 Hua Thi Thanh Huong (center) and Phan Quynh Nhu
"I heard about DTU through mass media and from current DTU students," explained Thanh Huong about her choice of university. "I chose to study here because I believe that DTU has an excellent education environment, with modern facilities and dynamic students. Moreover, DTU HP Financial Management students in the talent program master an in-depth develop knowledge in their field and, at the same time, also acquire strong Informatics, English, critical thinking, creative and strategic thinking skills. That has always been my ambition."
For more information please contact:
DTU Enrollment Center
254 Nguyen Van Linh, Danang
Hotlines: 1900 2252 – 0905 294 390 – 0905 294 391
Tel: (0236) 3650403 - 3653561
(Media Center)