Construction is hard, rough and boring, working all day with only concrete, bricks and mortar. Construction engineers, who play an absolutely important role in architectural construction, move to all parts of the country to create beautiful buildings, rich in functionality and esthetic value. They are vital to the development of our cities throughout the country.

Along with its sustained efforts in educating the most qualified construction engineers to meet the changing needs of society, in 2020, DTU offers a new Real Estate Business Management major for applicants who want to find a career that is highly lucrative but intensely challenging.

A tremendous demand for professionally qualified civil engineers

According to the Vietnam Federation of Civil Engineering Associations, Vietnam has 78,000 construction companies with 4 million employees. Unfortunately, their quantity and quality does not meet national requirements. Vietnam devotes from 30% to 40% of its GDP to investment in technical infrastructure construction, the development of industrial zones, urbanization, and culture, education and services each year. Recent rapid urbanization requires large quantities of highly-trained workers, from 400,000 to 500,000 by 2025.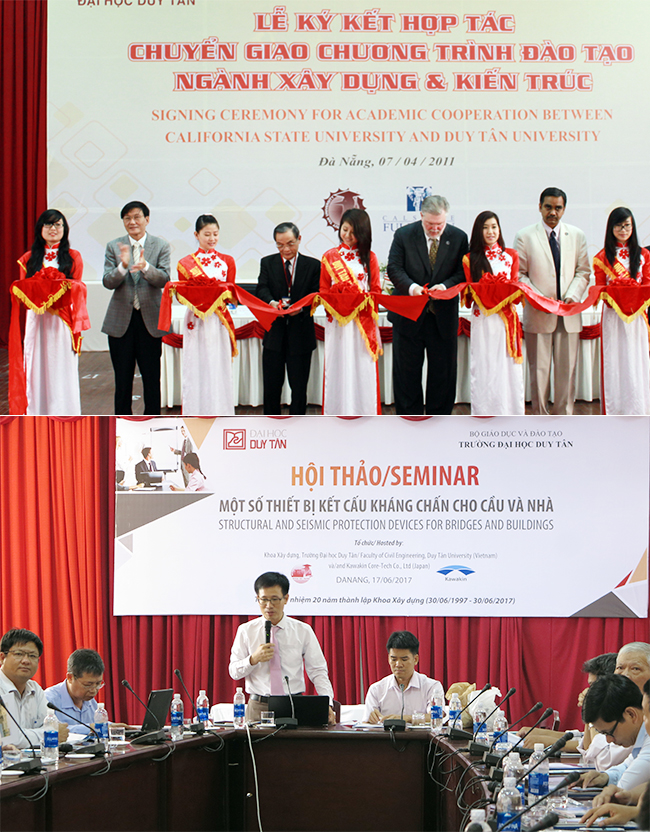 Collaboration agreements with American universities to improve the education of DTU Civil Engineering students
Since living standards keep going up, the demand for unique and attractive new living and working space is also increasing, which requires construction engineers and architects to continuously innovate and use the latest technologies to execute building projects.
The DTU Civil Engineering program includes:
- Civil and Industrial Engineering
- Advanced CSU Civil and Industrial Engineering
- Construction Engineering Management
- Road & Bridge Construction
DTU has made sustained efforts over the years to invest in personnel, facilities and equipment in Civil Engineering. Since 2011, the University has offered advanced international programs shared with partner universities in the US. These include California State University Fullerton, one of the leading public universities on the West Coast, and Cal Poly San Luis Obispo, ranked fifth in Civil Engineering. These were the first programs in Architecture and Civil Engineering available in Central Vietnam. Graduates are awarded 21 globally recognized Course Certificates.
The University frequently invites experts from universities in Germany, France, Canada, Taiwan and Russia to lecture at DTU. Courses are taught using the CDIO teaching methodology, enabling students to compete in national and international competitions and giving them a great advantage when they enter the global labor market upon graduation.
In addition, DTU has invested in Civil Engineering facilities and equipment, including:
- High-configuration computer lab;
- Geodetic survey lab;
- Building materials lab;
- Hydraulic Engineering lab;
- Construction engineering lab;
- Soil Mechanics & Geological Engineering lab.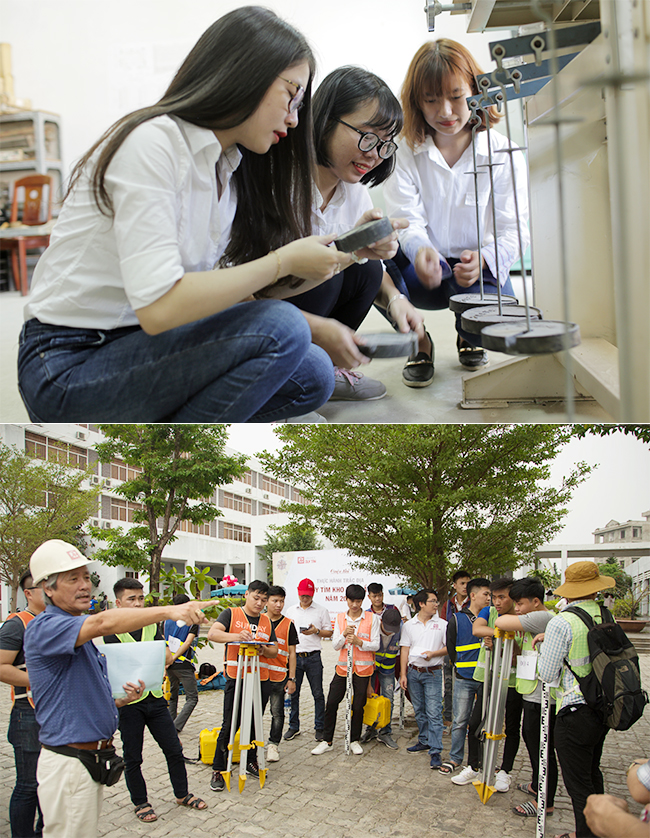 DTU Civil Engineering students train with the latest equipment
The Civil Engineering course goes into the details of Strength of Materials, Mechanics of Structural & SAP (System Application Programming), Soil Mechanics and Foundation Engineering, Hydraulics, Technical Drawing with CAD, Construction Informatics, Building Materials, Reinforced Concrete Structures, Steel Structures, Civil & Industrial Engineering, Building Technology, Construction Organization and the Economics of Construction, in order to learn to perform design computations, formulate methods, organize, manage, execute construction and oversee it.
A New major: Real Estate Business Management
Real Estate Business Management is the process of successfully running and managing a venture in real estate, from project formulation to after-sales service. In this process, many activities are carried out, including: appraising the value and potential of properties, managing and running a real estate venture, managing a real estate agency, making strategic investment plans and increasing the value of a real estate venture, accurately grasping maintenance procedures to maintain properties and so on.
Associate Prof. Dr. Nguyen The Duong, Dean of the DTU Faculty of Civil Engineering, said: "We used to think that the real estate business involved just selling land or houses. In fact, besides buying a large block of land, splitting it into two or three blocks and then selling it for a massive profit, many real estate companies presently invest in building a complex property of different purposes. Despite the fact that the Central region and Danang property markets have been in a fever for a very long time, there are not any local universities providing training courses in this field, so, offering a new major in Real Estate Business Management, DTU hopes to partly meet the demand of this potential market."
Real estate has many wide-ranging career opportunities associated with it, both directly and indirectly. DTU graduates of Real Estate Business Management are capable of working in real estate & construction companies and government agencies as: Salesperson; Real estate analyst; Real estate broker; Residential/ Commercial Real Estate Salesperson; Property appraiser and so on.
In 2020 enrollment season, DTU continues to award preferential scholarships students of Civil Engineering:
- 700 scholarships, worth from 500 thousand to 2 million VND for high-school transcript applicants, with 22 points or higher;
- 450 DTU scholarships, worth from 1 to 5 million VND for applicants with a total High School Graduation Exam three-subject score from 5 to 10 points higher than the admissions minimum;
- A 15% reduction in first-year tuition fees for 50 applicants in Road and Bridge Construction, Construction Engineering Management,
- 5 Full scholarships per major: 100% of tuition fee for applicants to the advanced and international CSU programs, with a total High School Graduation Exam three-subject score of 23 or above;
For further information about Civil Engineering majors at DTU, see: The Faculty of Civil Engineering, The International School
For detailed information, please contact:
The DTU Enrollment Center
254 Nguyen Van Linh, Danang
Hotlines: 1900.2252 - 0905.294390 - 0905.294391
Website: http://tuyensinh.duytan.edu.vn
Email: tuyensinh@duytan.edu
Facebook: tuyensinhdtu; Zalo: 0905.294.390 - 0905.294.391