In an age of global integration, all industries in Vietnam now require greatly increased foreign-language capability from their employees and Japanese, South Korean and Chinese businesses doing business in Vietnam also need local Vietnamese staff fluent in one of more languages, besides English.
This trend has strengthened prospective employees' desire to learn more than just one language, to take advantage of better jobs and promotions. DTU is already recognized for its training courses in foreign languages, offering the ideal study environment to study in 2020.
English Language education: Native-based fluency in the four skills
English has long been the common global language in education, economics, law, medicine and most other fields. In Vietnam, companies require at least a B1 English level, the third highest in the 6-level European framework of foreign languages, or the equivalent TOEIC, IELTS or TOEFL score.
DTU has offered an English Language training program in:
-
English translation and interpretation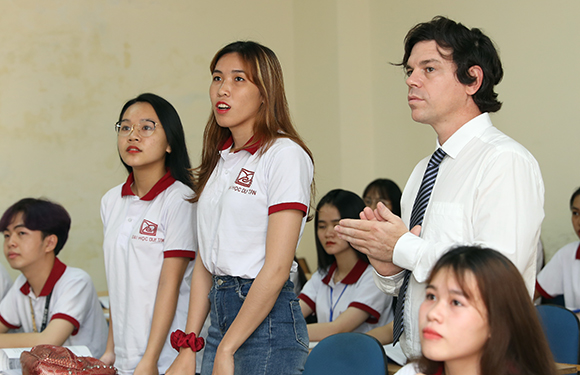 Students study with a foreign lecturer
Students acquire a broad knowledge of:
-
English vocabulary, specializing in cuisine, restaurants, hotels and tourism
-
Vietnamese culture and civilization
-
Anglo-American literature
-
English-Vietnamese and Vietnamese-English translation and interpretation in related topics
Students practice their fluency in the four skills of listening, speaking, reading, and writing, and their professional skills and fluency in preparation for working in restaurants, hotels, as tour guides and receptionists. They also learn how to translate documents, reports and news bulletins from Vietnamese to English and back, and how to interpret at conferences, seminars and discussions.
The highly-experienced lecturers are both Vietnamese foreign, who have developed international standard curricula and study materials. Graduates will be able to confidently join companies in Vietnam and abroad.
Chinese Language: a new favorite
The economy has been growing fast in China, Taiwan and Singapore for many years, and studying Chinese is a strategic way of preparing for future transitions in the world economy, opening up many potential opportunities in the future.
Companies in Danang, like the Crowne Plaza, the Nam Hoi An Casino and the SunGroup, hire Chinese speakers. Foreign investors from all over the country visit universities every year to interview and hire graduates fluent in Chinese. As a result of this huge demand, students have been enrolling in universities offering Chinese Language courses, even if they to major in technical fields.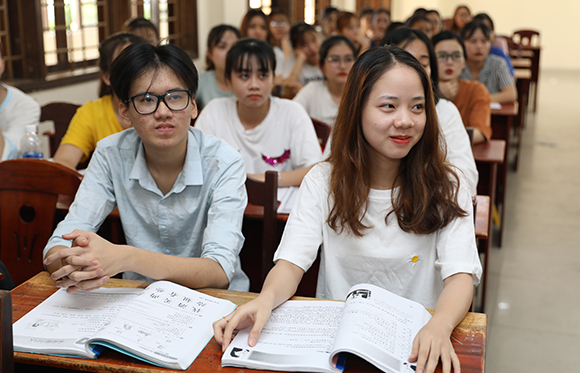 DTU Chinese Language students
Training includes Chinese writing, pronunciation, vocabulary and grammar and provides a solid understanding of the nature, function, origin and development of the Chinese language and culture, up to the required level of HSK4.
In addition to concentrating on specialized knowledge, students also develop skills in communication, problem-solving, teamwork and presentation.
DTU also collaborates with schools in China in cultural, lecturer and student exchanges and the granting scholarships. Fully-qualified graduates of Chinese Language can work as:
-
Translators, interpreters, or editors at state or private organizations
-
Tour guides for companies or travel agencies
-
Staff in foreign relations, partnerships, trading, import-export or foreign tourism companies
Korean Language: job opportunities with international companies
Bilateral relations between Vietnam and South Korea have been developing strongly. The need to recruit people fluent in Korean in fields like tourism, economics, entertainment, and education is ever-increasing. To help satisfy the demand for Korean-speakers, DTU has developed a Korean Language training program in:
-
Korean translation and interpretation
The course lasts from 3.5 to 4 years, and graduates will be able to work in well-paid jobs with foreign businesses. Students obtain a basic knowledge of the Korean language during their first two years, as a foundation for a further in-depth education in their third year, studying topics such as:
-
Overview of hospitality
-
Principles of foreign tour operations
-
Human resource management.
Dr. Le This Ngoc Cam, Dean of the DTU Faculty of Korean Language described the prospects for Korean Language majors in the Central Vietnamese and national labor market: "Up to September 2019, eight thousand South Korean funded projects were operating in Vietnam, with 170 South Korean companies operating in Danang alone. According to the Vietnam National Administration of Tourism, in 2019, there were another 4.3 million South Korean visitors and tourists and Danang was their favorite destination worldwide. The potential for graduates of the Korean Language is huge, working as tour operators or guides at companies like Juju Air Danang and VietTravel, as translators and interpreters at South Korean companies like Doosan, Panko or Samsung or as experts at the Department of Foreign Affairs or Center for External Services."
In 2020, DTU will award to applicants for Korean, Chinese and English Language courses:
-
700 scholarships, worth from 500 thousand to 2 million VND for high-school transcript applicants, with 22 points or higher.
-
450 DTU scholarships, worth from 1 to 5 million VND for applicants with a total High School Graduation Exam three-subject score from 5 to 10 points higher than the admissions minimum.
-
Talent scholarships: 134 full and partial scholarships for foreign applicants who graduated from high school.
-
90 full and partial scholarships to Vietnamese applicants who won first, second, third or consolation prizes at National Skilled Student contests or Science and Technology Competitions organized by the Ministry of Education and Training, who graduated high school. They can enroll directly for the major of their prize or for any related major if they have an IELTS score of 5.5 or higher, or an English-language score of at least 6 at the HSGE.
Subject sets for admission
Major

Major code

Minor code

Subject sets for admission

High School Graduation Exam scores based admission

Transcript-based admission (grade 12 average scores;

early grade 11 and first term grade 12 results)

English Translation and Interpretation

7220201

701

1.Literature, Maths, English (D01)

2. Literature, History, English (D14)

3. Literature, Geography, English (D15)

4. Literature, Natural Sciences, English (D72)

1. Literature, Maths, English (D01)

2. Literature, History, English (D14)

3. Literature, Geography, English (D15)

4. Maths, Physics, English (A01)

English for Tourism

702

Chinese Language

7220204

703

1. Literature, Maths, English (D01)

2. Literature, History, English (D14)

3. Literature, Geography, English (D15)

4. Literature, Natural Sciences, English (D72)

1. Literature, Maths, English (D01)

2. Maths, History, English (D09)

3. Literature, History, English (D14)

4. Literature, Geography, English (D15)

Korean Language

7220210

705

1. Maths, Literature, English (D01)

2. Maths, Biology, English (D08)

3. Maths, History, English (D09)

4. Maths, Geography, English (D10)

1. Maths, Literature, English (D01)

2. Maths, Sinh, English (D08)

3. Maths, History, English (D09)

4. Maths, Geography, English (D10)
(Media Center)