In these times of industrialization and modernization, electrical engineering is important for everyday life and production. The field is therefore becoming a focal point enjoying the interest of many applicants and their parents. Many prospective students, however, still wonder about such questions like what one studies when studying Electrical Engineering, how high educational quality is, and what career opportunities are like.
To get a better understanding of the advantages of studies in Electrical Engineering, let us have a look at the curriculum and at the study environment for this major at Duy Tan University, a very prestigious university offering a major in Electrical Engineering.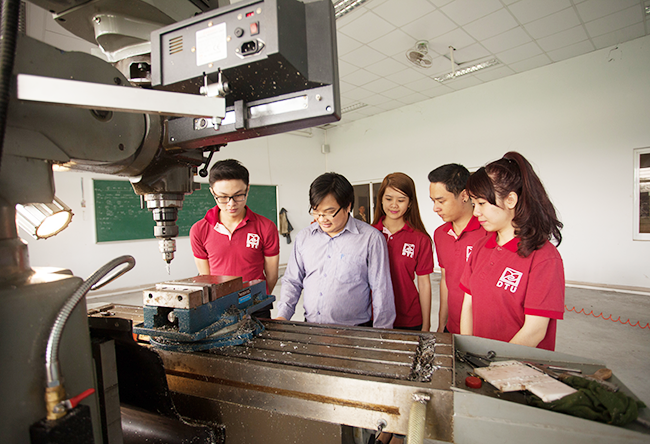 Students of Electrical Engineering train with new and modern equipment.
What is Electrical Engineering?
Electrical Engineering is a major providing students with in-depth knowledge on operating, using, and maintaining electric and electronic systems and industrial production line control systems; organizing, maintaining, repairing, upgrading, and supervising electric and electronic systems; designing and manufacturing embedded systems and microchips; and producing automatic controller systems for production and for daily life. In addition to being taught basic to advanced knowledge, students will train such skills like teamwork skills, presentation skills, and English language communication skills.
Universities currently focus on training professional knowledge in parallel with honing practical skills, to provide the labor market with human resources possessing not only good professional skills, but also a good knowledge of foreign languages, soft skills, a passion for their work, and also a good ability to integrate in an international environment.
The advantage when studying Electrical Engineering at DTU
At DTU, Electrical Engineering students train with the CDIO model, a standardized training formula for engineering used around the world. The Faculty of Electrical Engineering furthermore officially partnered with Purdue University, one of the leading universities in the US in technology and engineering training, to develop two advanced programs in electrical engineering. Students have access to documentation transferred from Purdue University and are taught by and obtain certificates from lecturers from this school.
DTU is always focused on investing in modern facilities, to provide students with the best study environment. The Faculty of Electrical Engineering currently has five laboratories (advanced telecommunications, microprocessors, electronics, logic control, electric machines) and two centers supporting the lecturing and research of the Faculty (Center for Electrical Engineering, Center for Information Technology and Communications). The laboratories are equipped with new and modern equipment to meet the lecturing, studying, and scientific research requirements of the Faculty's lecturers and students.
Career prospects
Electrical Engineering is a modern technological field receiving a lot of investment from the state. Industrial zones are being created one after the other, entailing an increased demand for human resources and thus many job opportunities for newly graduated engineers. Graduates in Electrical Engineering can work as:
circuit design engineer,
engineer designing and operating electric and electronic systems,
control programmer,
technical staff at local and international companies,
quality control staff,
electrical maintenance and repair specialist at companies and enterprises,
teacher at educational institutions in the field.
In 2019 season, DTU continues to award preferential scholarships students of Electrical Engineering:
DTU Scholarships: 720 scholarships worth from one to five million dong each for applicants, including Electrical Engineering, with a total High Graduation Exam three-subject score three to ten points higher than the admissions minimum.
700 Scholarships: from 500,000 to 2 million dong for applicants, including Electrical Engineering, with a high school transcript score of 22 or above.
39 Full scholarships: 100% of tuition fee, with total value of 3 billion dong, for applicants to the advanced and international PSU programs, including Electrical Engineering, with a total High School Graduation Exam three-subject score of 23 or above.
Ten scholarships from Purdue Northwest University (PNU): 10 million dong each.
Ten scholarships for applicants to the advanced and international PNU programs: 5 million dong each.
Subjects for admissions
Major

Major code

Subjects

High School Transcript

(12th-grade results)

High School Graduation Exam Grade

Electrical Automation

Embedded Systems

Telecommunications

PNU Mechatronics

PNU Electrical Engineering

7510301

1.Maths, Physics, Chemistry ( A00)

2. Literature, Maths, Physics ( C01)

3. Literature, Maths, Chemistry (C02)

4. Literature, Maths, English (D01)

1.Maths, Physics, Chemistry ( A00)

2. Maths, Natural Sciences, Literature (A16)

3. Literature, Maths, Physics ( C01)

4. Literature, Maths, English ( D01)
For more information about Electrical Engineering at DTU, see: The Faculty of Electrical Engineering
For detailed information, please contact the DTU Enrollment Center
254 Nguyen Van Linh, Danang
Hotlines: 1900.2252 - 0905.294390 - 0905.294391
Website: http://tuyensinh.duytan.edu.vn
Email: tuyensinh@duytan.edu