In November 2020, DTU established five member schools and two training institutions to broaden development. The School of Engineering & Technology (SET) and the International School (IS) offer several Engineering & Technology majors, named the Advanced and High-Quality programs, at the CSU standard in Engineering & Architecture and the PNU standard in Electrical Engineering and Mechatronics.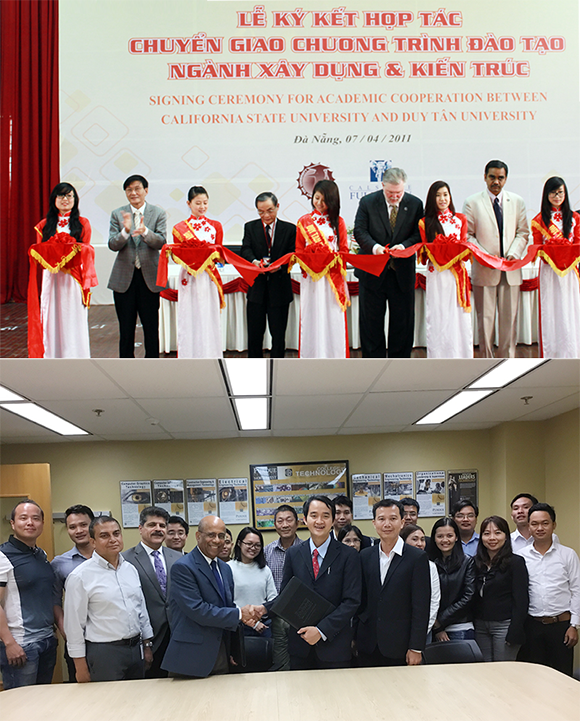 High quality partnerships with well-known American universities
SET Engineering & Technology majors:
Electrical Engineering: minors in Electrical Automation, Telecommunications; and PNU-standard Electrical Engineering in collaboration with Purdue University
Automotive Engineering Technology: minors in Automotive Engineering Technology; and Automotive Electromechanics
Automation & Control Engineering; and Electrical Engineering
Mechatronics: minor in PNU-standard Mechatronics
Graphic Design; Fashion Design
Architecture: minors in Architecture, CSU-standard Architecture, in collaboration with California State University San Luis Obispo; and Interior Design
Construction Engineering: minors in Civil & Industrial Engineering; and CSU-standard Civil & Industrial Engineering
Construction Engineering Technology: minors in Construction Engineering Management; and Building Management & Operations
Traffic Construction Engineering: minor in Road & Bridge Construction
Food Technology
Environmental Technology & Engineering; Natural Resources & Environmental Management; and Machine Manufacturing.
Some of the strongest DTU majors
Electronics & Mechanics: DTU partners with Purdue University, ranked fourth in Technology & Engineering in the US, to offer Advanced and International programs. The university has invested in the latest equipment, such as the Kasuga V10 CNC, S7-300, the S7-1200 PLC machines from Siemens and the Universal Robotics industrial UR3 robot arms to optimize education quality.
Most Vietnamese factories are now fully automated, using AI and CNC instead of traditional mechanical machinery. Automated design software enables the flow of basic materials to finished products without interruptions, by way of digitized drawings, which motivates students in their studies and research.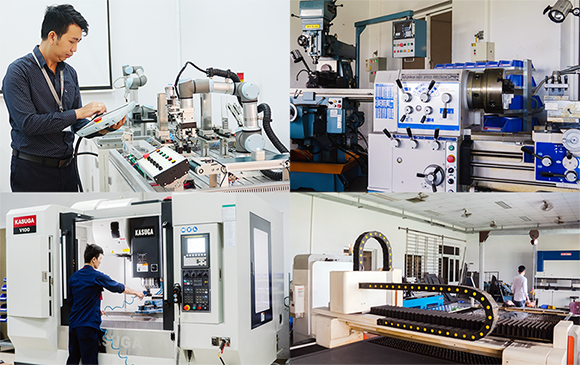 DTU's impressive collection of machinery
Engineering & Architecture: These majors are the highest profile, as next-generation automated design software and robots can rapidly create a building and print it in 3D, guaranteeing the highest technical standards and occupational safety. Architects and engineers can now exploit this new technology beyond all bounds.
The DTU Construction practice rooms and laboratories are fully equipped with Trimble GNSS survey equipment and electronic stations allow access to the world's most advanced resources. The Materials Science laboratories are equipped with mechanical and hydraulic inspection devices, used with ultrasound to measure cracks and displacements, vital to industry in Vietnam in the near future.
Building Information Modeling (BIM) has been implemented on digital platforms in construction projects related to mechanics, automation, electricity, electronics, water supply & drainage, environmental sciences, and interior design, which, generally, other training institutions are unable to offer.
Architecture majors use several software applications, such as Revit, AutoCAD, and 3ds Max. DTU uses BIM and virtual reality technology to help architects manage design projects more confidently, and examine their creations with just a sketch, ensuring accuracy and visualization.
DTU's partners with California State University Fullerton., one of the leading universities in Engineering on the US West Coast and with Cal Poly San Luis Obispo, one of the top five American universities in Architecture, to implement the first advanced, high-quality programs in Engineering & Architecture in Central Vietnam, which has proved to be highly advantageous for graduates.
Environmental Sciences & Food Technology: New agricultural and industrial applications are now vital during times of digital transformation, and many innovative high quality and safe products are being created. However, environmental pollution, climate change, biodiversity degradation, and natural resource depletion require the use and management of more specialized technologies used in environmental and food science.
DTU has installed machinery, including the UV-VIS PG T80+, the Japanese Hirayama sterilizer, and incubators, for early warning, identification and examination of pollution levels. The introduction of these advanced technologies has created new and guaranteed career opportunities for qualified graduates.
Graduates have consistently found immediate employment over the last three years, with pay ranging from 8 to 12 million VND per month. Companies accepting DTU graduates include MD Environmental Technology in Quang Nam, EUC LLC in Binh Duong, and Wordtech in Danang. DTU guarantees employment based on its advanced training programs and modern infrastructure and is committed to provide applicants with the confidence to enroll in 2023.
Graphic and Fashion Design: With the rapid development of technology during the Covid-19 pandemic, with its regular lockdowns, the benefits of the virtual environment in education and business became clearer than ever, serving as a catalyst for the discovery of new interactive channels in commerce and boosting the development of graphic and fashion design. The investment in highly configurable computers and the latest machinery for cutting fabric, sewing, and clothes design has inspired DTU students to enroll in the popular applied fine arts major.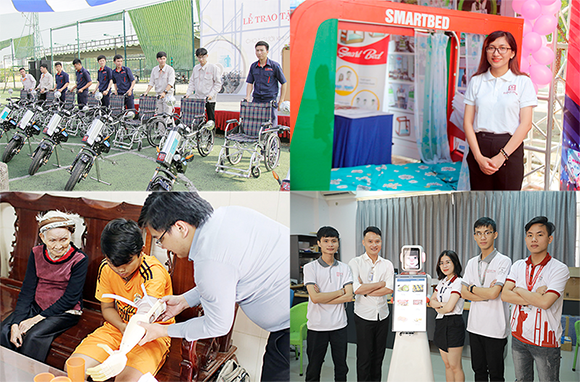 "Made in DTU" products
The Center for Electrical Engineering and the Center for Mechanical Engineering include three Mechanics workshops, eight laboratories with modern equipment, enabling lecturers and students with to research and manufacture of new, highly marketable products. Several "Made in DTU" products have been developed there including electric wheelchairs for the disabled, the smart service robot for restaurants, and a robot to guide pedestrians across the street.
Every Engineering & Technology graduate finds immediate employment
Some majors which were previously regarded as relatively unemployable are suddenly in high demand, and employees are hard to find to fill new positions.
Every year hundreds of new architects are required, especially at companies owned by DTU alumni. Meanwhile, DTU is working with local business to provide students with internships and jobs, including Jibannet Asia from Japan, VACS from Japan, the An Cuong Corp, VICO and CDC Design.
DTU students conduct research on the most modern equipment
Currently, architects and engineering graduates can expect monthly salaries ranging from 10 to 15 million VND per month, quickly rising to 20 to 30 million gaining the necessary experience. With management experience they can be promoted to project managers at salaries from 70 to 100 million.
DTU Architecture & Engineering students have won major prizes in competitions, in the 14th IDEERS Asia-Pacific Champions Cup in Taiwan, designing earthquake-resistant buildings. Also 15 Loa Thanh prizes, awarded for the best engineering & architecture graduation projects, including the first prize in Danang in 2010.
(Media Center)