DTU's Fashion Design major is increasingly popular because the advanced training program allows students to position their personal brands just before or after graduation, to meet the income of their dreams. Similar to architects, fashion designers must be artistic, broad-minded, to create innovative, unique, stylish and impressive collections to beautify our world.
Personalized design based on high quality curricula
Creating a personal style and leaving a strong, positive first impression are the most important factors in fashion design. Among the voluminous variety of clothing and styles by well-known and recognized designers on display at fashion shows, a good initial impression leads to future success. Successful beginner designers can then rapidly progress to creating their own prestigious brands and start participating in fashion shows regionally and worldwide.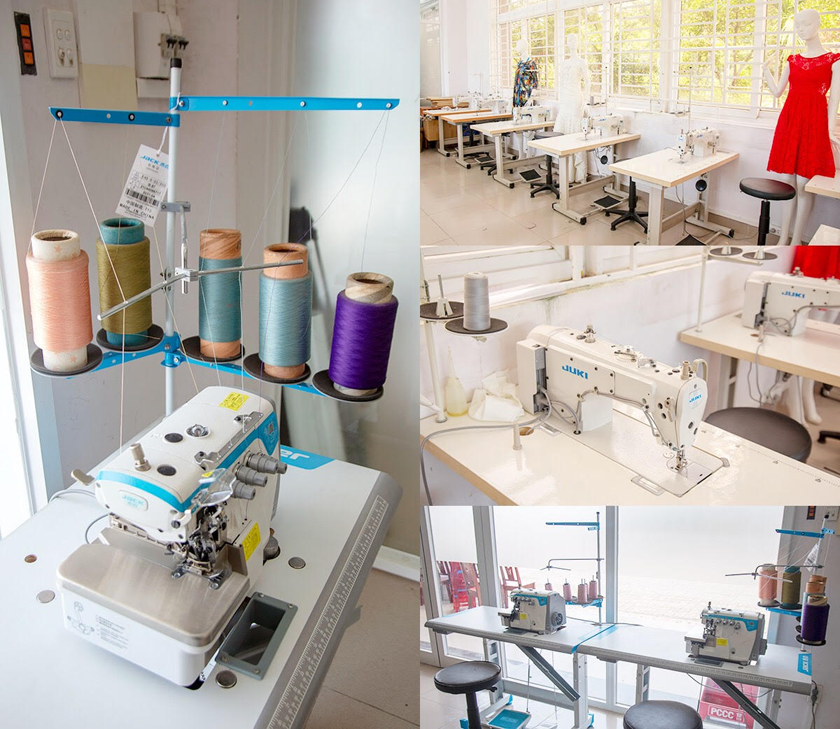 DTU Fashion Design students in a university sewing workshops
Lecturers first work on positioning each student's personal style and then build on a basic knowledge of aesthetics, fine arts, art studies and textiles, to practice and combine materials and create high quality personalized collections. The course includes:
-
The use of sewing machines
-
Product brand management
Special workshops are available for study and practice:
Equipment available includes industrial sewing, cutting, printing and embroidery machines, heat presses, and pattern generators. In addition, special rooms are available for:
At the same time, students can meet and practice with experts and famous designers, including:
-
Nguyen Lan Anh, a designer and successful businesswoman who leads the Moncheri men's fashion brand
-
Nguyen Thanh Binh, a designer with diverse talents who often appears on television
-
Bao Toan, a designer whose impressive collections appear in magazines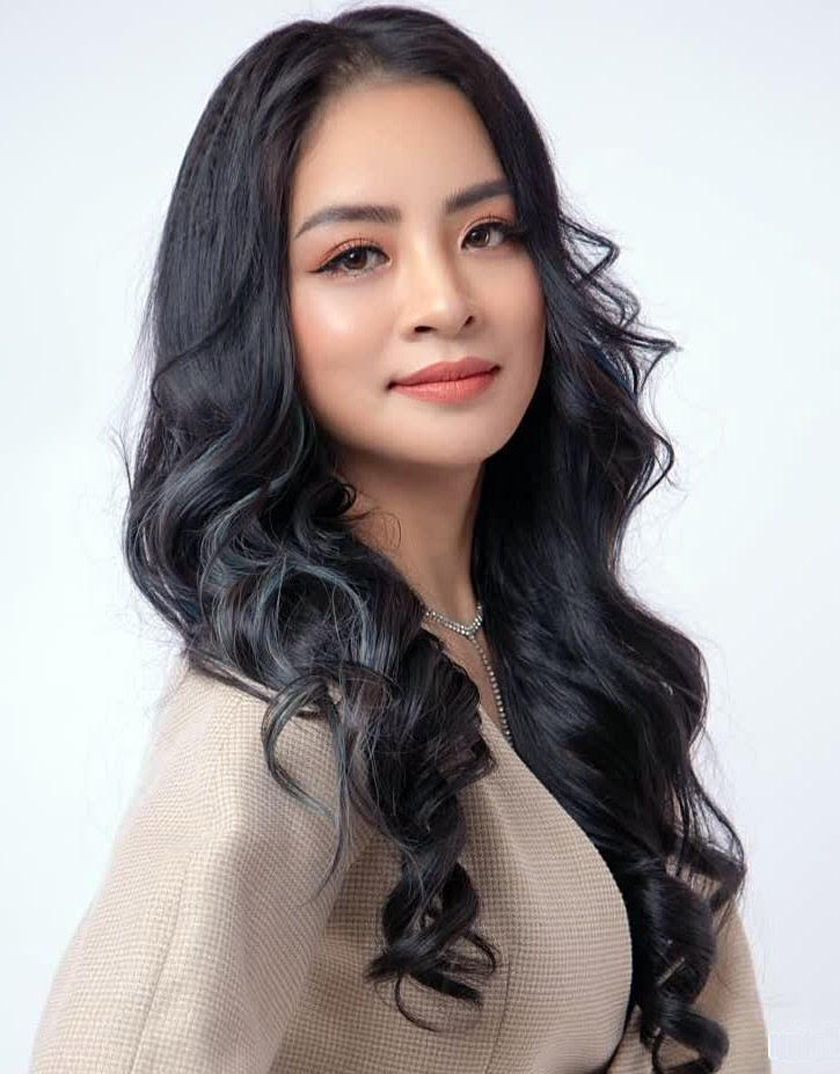 Designer Nguyen Lan Anh works with DTU Fashion Design students
Students can also attend specialized talk shows and workshops where they can learn from experts about design, new fashion trends, and the fashion business in general. Recently, the DTU T.E.A.M. Fashion club held a model audition to
present student collections. Vo Thi Thuong, a DTU student and winner of the 2022 Best Catwalk Miss Grand Vietnam award participated and suggested ways of creating the most beautiful and comfortable clothes for modelling.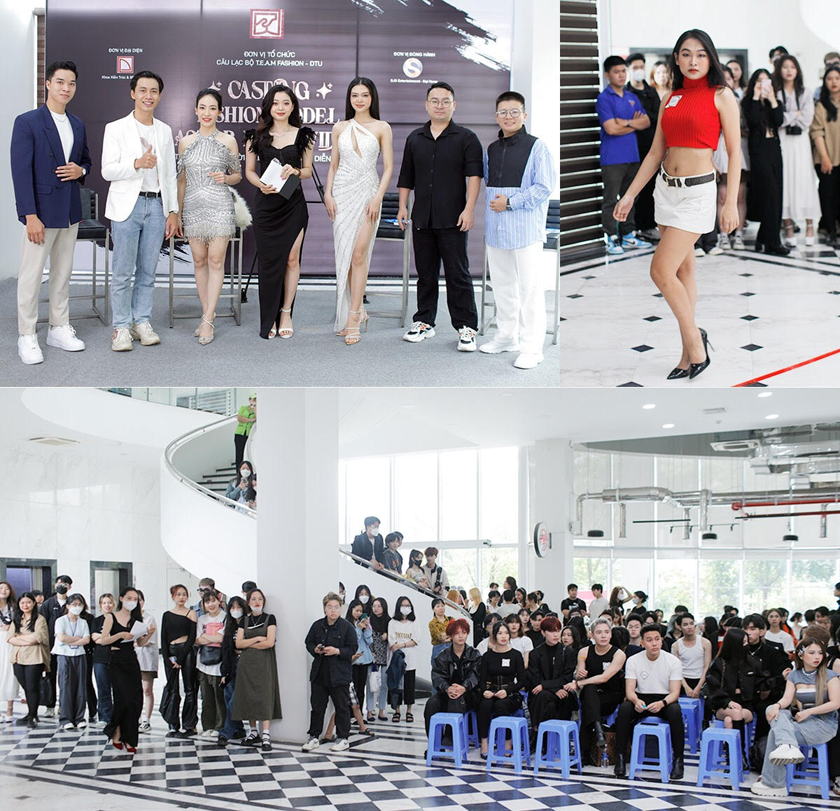 Vo Thi Thuong (third from right, top picture) with amateur models
Create clothing for fashion shows with famous designers
The talent of DTU's Fashion Design students is gradually being recognized by veteran designers based on their displays at several major fashion shows.
For example, in 2022, Nguyen Phuong Linh, currently a third-year student, was selected by designer Le Tran Dac Ngoc as one of sixteen young designers to work on a collection entitled: "Sounds of Vietnamese and Colors of Five Continents", during Thailand Fashion Week. This is one of the biggest fashion events of the year, with thousands of fashionistas from Thailand and many other countries.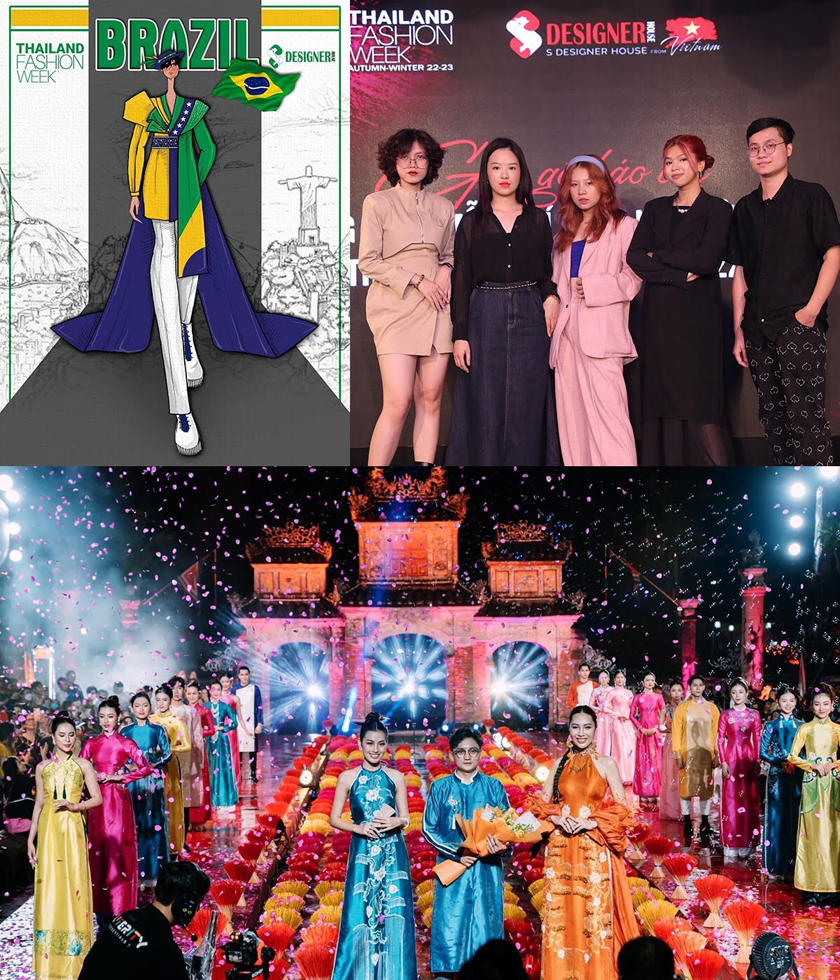 Student Phuong Linh (top, third from right) with her 2022 Thailand Fashion Week design, and ao dai for the "My Tuc Kha Gia" show
Phuong Linh recently participated in the "My Tuc Kha Gia" fashion show, at the Lo Giang village communal house in the Hoa Xuan ward, in the Cam Le district of, Danang, together with famous designers Tran Thien Khanh, Minh Chau, and Doan Hung, of Tam Design.
Phuong Linh worked with designer Doan Hung to conceive, design and attach adornments, with the Tam ao dai team. The "My Tuc Kha Gia" ao dai show accentuated enduring traditional aesthetic beauty, enabling attendees to visually enjoy fashion art and its place in the enduring features of Vietnamese culture.
Several students who chose to major in Fashion Design at DTU have since made spectacular breakthroughs, as a result of dynamic and effective teaching, enabling them to work closely with famous domestic and international fashion brands and possibly start a business to create their own fashion label.
(Media Center)