In addition to sending students to study abroad, DTU offers an economical American accredited degree in Vietnam through the On-Site Study-Abroad program with many renowned universities worldwide. Students don't need to travel to America for study, by enrolling in American Degree Program (ADP) at DTU, they can obtain an American degree at home here in Danang.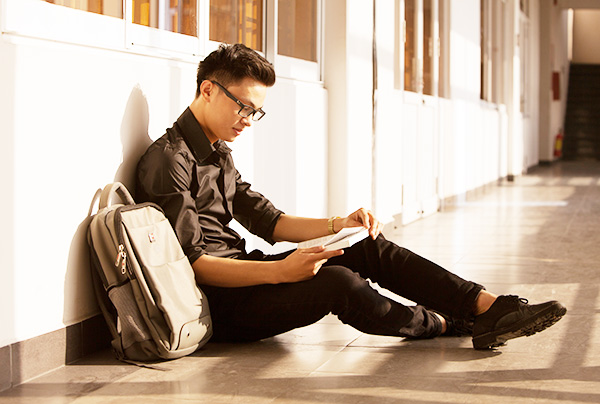 DTU students like reading books
The On-Site Study-Abroad program with Keuka College enrolls for the major of Business Administration. Keuka College was founded in 1890 on the shores of Lake Keuka in New York State's Finger Lakes region. It is a private university with regional accreditation based on the American higher education system. The university offers 31 Bachelor's Degree programs and 9 Master's degree programs. With 14 students per lecturer, Keuka College is well-known for focusing on quality education. The university offers a variety of majors, including Management, Nursing, Criminal Law, Social Sciences. The on-site study-abroad program involves four years of education at DTU, with courses in English. Lecturers from Keuka College will teach 70% and DTU's foreign teachers 30%.
The On-Site Study-Abroad program with Troy University enrolls for the major of Hospitality Management and Computer Science. Troy University, a public university in the state of Alabama in America, is accredited by the regional Southern Association of Colleges and Schools Commission on Colleges (SACSCOC). Troy University is considered one of the leading American public universities in lecturer quality and the student sports. With its 130-year history, Troy University now offers nearly one hundred programs,
at
Bachelor's, Master's and
PhD
levels, with approximately 18,000 students. In 2017, The Princeton Review ranked Troy University as the university with
best
educational quality of the American Southeast.