After only fifteen years, the DTU College of Medicine & Pharmacy (CMP) has built a strong reputation and attracts large numbers of outstanding applicants every year. In 2023, DTU continues to enroll Health Science majors to satisfy increasing unmet demand and improve the quality of education nationwide, supported by their international partners.
Majors are offered in:
-
Nursing, with a minor in General Nursing
-
Pharmacy, with a minor in Pharmacy
-
Medicine, with a minor in General Practitioner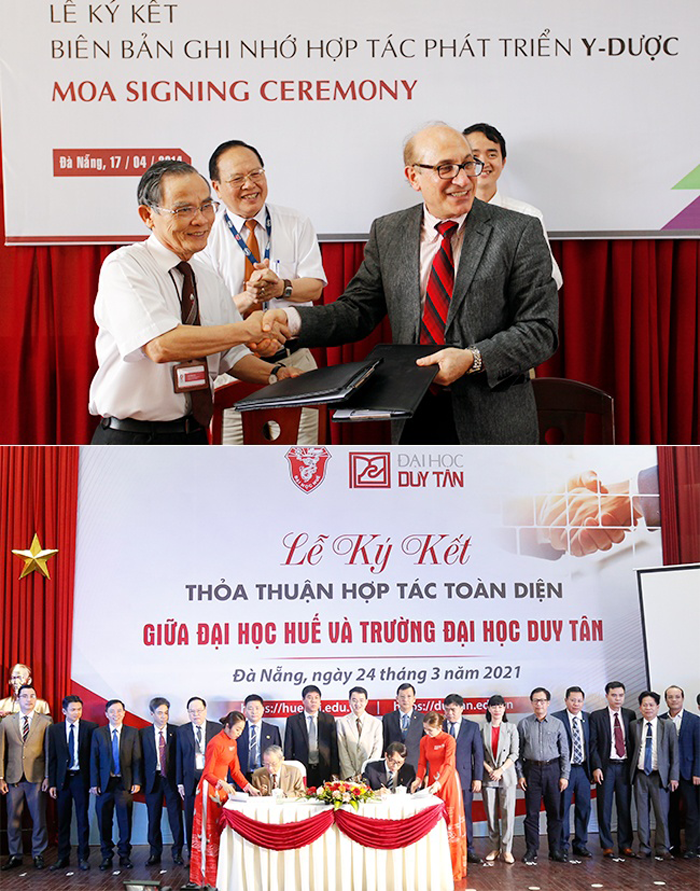 International partnerships support Health Sciences education at DTU
DTU has developed medical training courses with well-known universities around the world:
-
University of Pittsburgh (UPitt), ranked seventh in Health Sciences research in the US by the NIH
-
University of Illinois in Chicago (UIC), with the most comprehensive medical programs in the US, assessed on the number of students and number of majors
-
Duke-NUS Medical School, in Singapore
-
Ben Gurion University of the Negev, in Israel
-
Burapha University, Khon Kaen University and Mahidol University in Thailand
-
Dong-A University, in South Korea
-
SEIREI Social Welfare Community, the Glome Management Group and the Kinki branch of the Japanese National Council for the Elderly and Blind, in Japan
Several lecturers from these universities teach at DTU and the university also sends its own lecturers abroad for professional training. Nursing lecturers and students regularly go abroad on exchange or for Master's degree courses in Japan, Taiwan and Sweden, with full scholarships provided by the SEIREI Social Welfare Community in Japan and the EduGo International Education Group.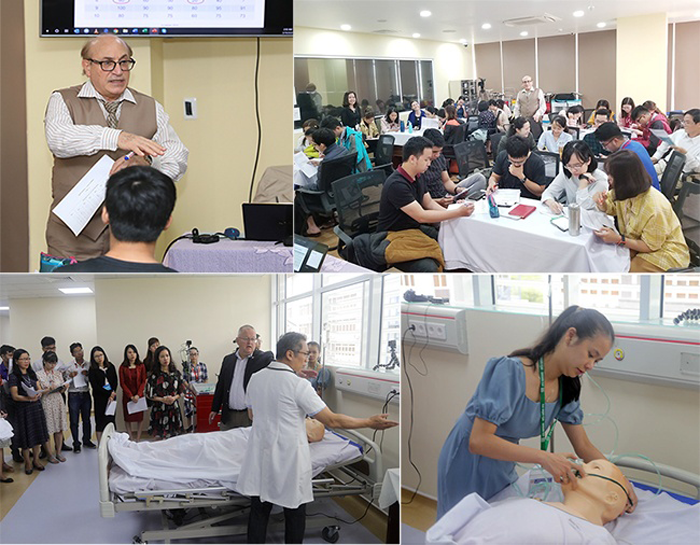 Professor Ara Tekian, from UIC, (above), and staff from the UPitt WISER institution teach at DTU
Infrastructure investment in specialized fields
The state-of-the-art infrastructure of the DTU College of Medicine & Pharmacy welcomes students to study for many different Health Sciences professions:
-
General Nursing majors study in two nursing skills practice laboratories, designed to Japanese standards and funded by the Glome Management Group
-
General Practitioner majors study in 19 situational practice rooms, 7 control rooms and 2 debriefing rooms, worth $3 million. Building F is dedicated to the development of real-time medical examination and treatment and students practice on patient models using the "Three Sim Brothers" (SimMan 3G, SimMan Essential and SimBaby), in addition to three hundred anatomical models and practice simulators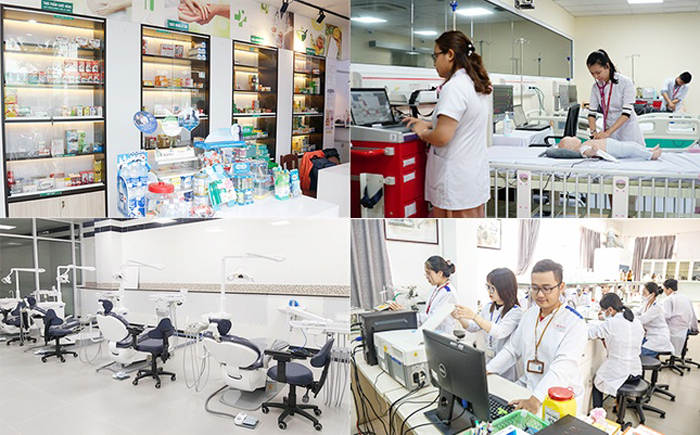 The DTU "Miniature Hospital"
-
Odonto-Stomatology majors practice using dental chairs fully equipped with electricity, water, air and dental handpieces, in addition to a laboratory equipped with molds, colored wax and twenty dental simulators
-
Bachelor in Pharmacy majors practice in laboratories, at the University Pharmacy, and in a medicinal garden, all of which meet Ministry of Health standards
-
Biotechnology and Biomedical Engineering majors practice using the same examination and treatment facilities located at the Center for Molecular Biology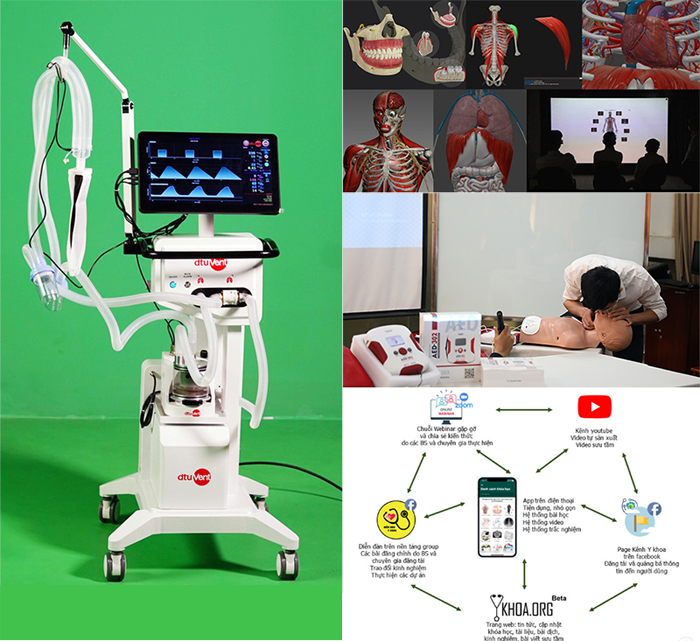 DTU Medical products win awards and are commercialized
DTU has also created special centers for research and development of medical devices and products, so that Health Science students can practice while serving the community at the same time:
-
A DTU 3D healthcare application won a Vietnam Talent award in 2017, a Sao Khue award in 2018, and a silver medal at the ASEAN ICT Awards in 2018
-
The DTU eCPR cardiopulmonary resuscitation first aid training system won a Sao Khue software Excellence award in 2020;
-
the dtu-VENT is a fully functional ventilator that can be used in emergencies and on Covid-19 patients
-
The AED-302 Trainer trains students in basic cardiogenic shock treatment and cardiopulmonary resuscitation, through a commercialization agreement with Well-Being Services in Japan
-
The "Online Medicine Ecosystem" project won first prize at the Youth Drivers for Change Awards in 2021, a first prize and largest impact award at the Sao Kim awards in 2021, the 2021 Vietnam Social Innovation Challenge (VSIC) championship, an Engaged Scholar award from the Vietnam Network of Engaged Scholars (VNES) in 2021, and more.
Hospitals appreciate the capabilities of DTU students
DTU graduates of Medicine, Pharmacy and Nursing find excellent careers in Vietnam and the university enables them to work opportunities abroad through international partnerships. In March 2023, six DTU nurses will start working in Japan, including Le Thi Huyen Trang and Ngo Thi Hao at the Sendai Nakae Hospital, Le Thi Thuy and Nguyen Huynh Bao Tran at the Saitama Chuo Hospital, and Nguyen Thi Lanh and Le Ngoc Dao at the Kanazawa Kobu Memorial Hospital, as part of an annual agreement with Healthcare Accelerator of Japan to offer nursing scholarships.
Hue Central Hospital Director Professor Pham Nhu Hiep awards a diploma to their first DTU medical student
"The DTU College of Medicine & Pharmacy was the first university to sign a preliminary contract with the Hue Central Hospital," explained Hue Central Hospital Director Professor Pham Nhu Hiep in July, 2022, while attending the graduation ceremony of the first DTU General Practitioner class. "Since then, DTU has been sending medical interns regularly to the Hue Central Hospital and we highly regard their capabilities, resilience, and eagerness to broaden their horizons while studying and working in Hue."
DTU interns also practice at Danang Hospital, the Danang C Hospital, Hospital 199, Military Hospital 17, the Danang Oncology Hospital, the Danang Dermatology Hospital, the Danang Lung Hospital and the Danang Psychiatric Hospital.
(Media Center)