The DTU Faculty of Architecture was authorized to enroll the first students in 2012 and offers three majors, in Architecture, Interior Design and Graphic Design, so that graduates can start working with skilled engineers on attractive new construction projects around the country. The University has invested in facilities and worked to improve the quality and quantity of its staff to meet the increasing demand and enhance the quality of education in Architecture.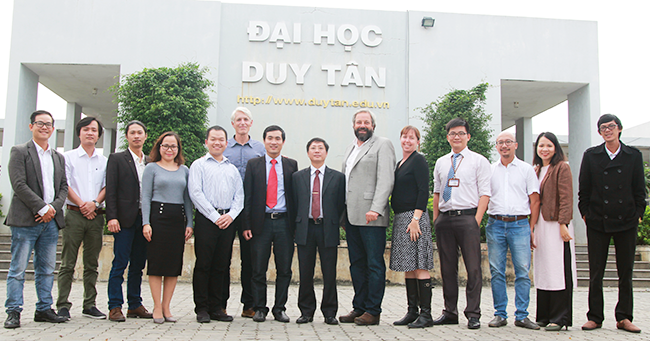 Lecturers and staff of the DTU Faculty of Architecture
DTU partners with several well-known universities worldwide, mostly in the USA, to offer qualified international-level courses. The university has partnered with California State University, Fullerton in Fullerton and Cal Poly in San Luis Obispo (CSU - CalState), the two leading universities on the American West Coast in Architecture and Construction, to develop the first advanced programs in the Central region of Vietnam. DTU has invited foreign lecturers to teach at the university and sent lecturers abroad for further training, as well as investing in state-of-the-art teaching facilities.
DTU students of Architecture have won major awards in national and international competitions, including:
-

First-place award in the Loa Thanh Civil Engineering and Architecture Tournament in 2010.
-

The Asia-Pacific Regional IDEERS Champions Cup at the 2014 IDEERS convention, and also coming third in both 2013 and 2015.
-

Thirty-six awards, including eight firsts, seven second, fourteen thirds and seven consolation prizes at National Architecture Festivals from 2010 to 2016.
DTU graduates have found excellent careers in big companies, in Vietnam and overseas, including the Danang Urban Planning Institute (Danang UPI), the Board of Inspection at the Ministry of Construction, the Eyecatcher Company from Denmark, Maeda Vietnam of Japan, the Art Thi Company, T.A.X Interior Architecture and the ZZZ Studio.