As a country develops, there is a much greater need for new, attractive and creative architecture and Vietnamese students must make sustained and concerted efforts to gain a broad understanding of current global trends. DTU continues to educate and graduate highly-qualified Architects to satisfy stringent marketplace requirements, offering majors including:
. Architecture
. Interior Design
. Advanced CSU International-Standard Architecture programs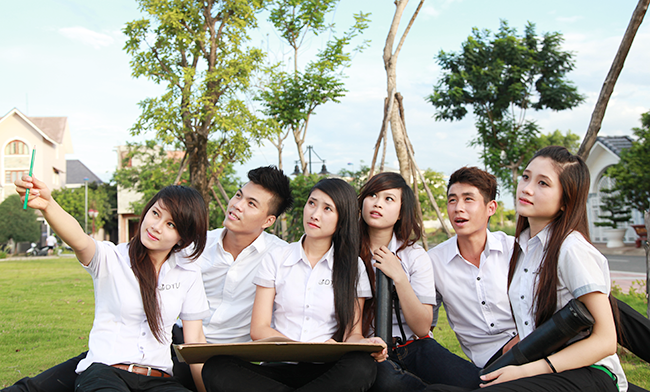 DTU Architecture students practice in the field
The university partners with several well-known universities worldwide, primarily in the USA, to offer the first advanced international courses to students in the Central region of Vietnam. Partners include California State University, Fullerton and Cal Poly in San Luis Obispo, the two leading Architecture and Construction universities on the West Coast. DTU has invited foreign lecturers to teach at the university and sent their own abroad for further training, at the same time, investing in state-of-the-art educational facilities. In addition, advanced teaching methods, such as CDIO, allow students to take more initiative, improving their innovative skills and effectiveness.
DTU Architecture students have won major awards in national and international competitions. These include:
- First place in the 2010 Loa Thanh Civil Engineering and Architecture Tournament.
- First place in the Asia-Pacific Regional IDEERS Champions Cup at the 2014 IDEERS convention, coming third in both 2013 and 2015.
- Forty-three awards, including eleven first, nine second, fifteen third and eight consolation prizes at National Architecture Festivals, from 2010 to 2018.
Over the years, DTU Architecture graduates have found excellent jobs in companies in Vietnam and overseas. These include careers at the Danang Urban Planning Institute, the Board of Inspection at the Ministry of Construction, the Eyecatcher Company from Denmark, Maeda Vietnam from Japan, the Art Thi Company, T.A.X Interior Architecture and the ZZZ Studio.
In 2019 season, DTU continues to award preferential scholarships students of Architecture
- 39 Full scholarships: 100% of tuition fee, with total value of 3 billion dong, for applicants to the advanced and international CMU, PSU, CSU and PNU programs, with a total High School Graduation Exam three-subject score of 23 or above.
- DTU Scholarships: 720 scholarships worth from one to five million dong each for applicants with a total High Graduation Exam three-subject score three to ten points higher than the admissions minimum.
- 700 Scholarships: from 500,000 to 2 million dong for applicants with a high school transcript score of 22 or above.
- A 15% reduction in first-year tuition fees for 50 applicants in Architecture and Interior Design.
- Scholarships worth 5 million dong each for first-year CSU students who obtained a consolation prize in a National Excellent Student contest or in a National Science & Technology contest.
- Ten scholarships from California State University worth 10 million dong each for applicants to the advanced and international CSU program
- Ten scholarships from DTU worth 5 million dong each for CSU International-Standard Architecture programs
Major

Major code

Group of Subjects

High School Transcript

(12th-grade results)

High School Graduation Exam Grade

- Architecture

- Interior Design

- Advanced CSU International-Standard Architecture

7580101

1. Maths, Physics, Drawing

2. Maths, Literature, Drawing

3. Maths, Social Sciences, Drawing

4. Maths, Natural Sciences, Drawing

1. Maths, Physics, Drawing

2. Maths, Literature, Drawing

3. Maths, English, Drawing

4. Maths, Geography, Drawing
For further information about Architecture at DTU, visit: Faculty of Architecture
Or please contact:
The DTU Enrolment Center at 254 Nguyen Van Linh, Danang
Hotline: 1 900 2252 or 090 529 4390 or 090 529 4391
Website: http://tuyensinh.duytan.edu.vn
Email: tuyensinh@duytan.edu.vn