Overview
Architectural Heritage plays a vital role in our common cultural heritage. During global integration, Heritage Tourism is a bridge between cultures and enhances regional and worldwide socioeconomic development. Architectural Heritage Conservation & Tourism is a new major based on practical needs and integrates the basic concepts of Architecture and Tourism to educate architects in the conservation of existing valuable heritage sites to boost tourism development in the future.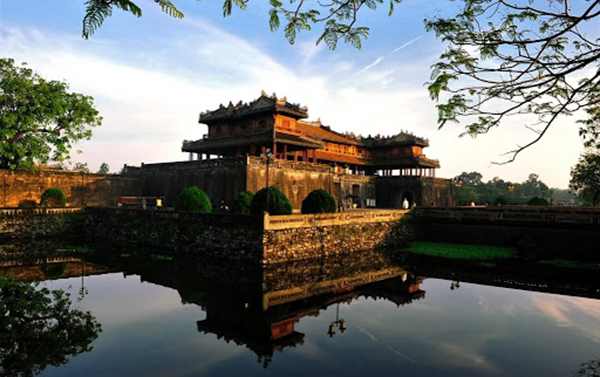 Architectural heritage conservation, hand-in-hand with tourism development: a view of the Hue Ancient Citadel
The major combines three elements, research, creativity and management, designed according to international CDIO standards. Students acquire an understanding of how to restore and conserve architectural heritage sites, strategic planning of cultural tourism activities, building international partnerships and establishing working relations between cultural tourism heritage sites and their neighboring communities.
Training program duration: four years.
Students must accumulate 140 credits:
General coursework: 39 credits
Foundational coursework: 26 credits
Specialized coursework: 65 credits
Internships and graduation: 10 credits
DTU worked with Waseda University in Japan and Silpakorn Royal University in Thailand to create a training program focused on providing an in-depth knowledge of heritage conservation.
Professional skills
The knowledge and skills necessary for conservation architects in design, conservation planning, the exploiting the value of heritage towns, researching the creation of conservation planning projects to establish world cultural heritage sites and the restoration of architectural heritage sites.
A basic knowledge of heritage management, a firm grasp of heritage tourism resources, a knowledge of travel business management, tour design and operation and the creation of tourism heritage development plans.
A foundational knowledge of Vietnamese and global architectural heritage, an understanding and ability to apply research to architectural heritage conservation, the ability to organize and implement research projects for heritage conservation and develop academically to become specialists in architectural heritage conservation.
Students broaden their skills in research, planning, analysis, evaluation and others.
Job and internship opportunities
With its mission to constantly innovate, be creative and take the lead in international cooperation, research and technology transfer, DTU has created an education network with other leading universities and research institutes in Vietnam, the US, Japan, Italy, South Korea, Singapore, Thailand and with large companies in Vietnam and abroad. Students are exposed to an international training environment and opportunities to win scholarships for overseas studies. Meanwhile, they can train at famous heritage sites in Vietnam and the region, including Hue, Hoi An, My Son, Thang Long Imperial Citadel, the Hoa Lu Ancient Capital, Ayutthaya and Bangkok in Thailand, Mandalay and Bagan in Myanmar, Angkor Wat and Angkor Thom in Cambodia and Luang Prabang and Wat Phou in Laos.
On graduation, conservation architects can work at:
Cultural heritage conservation centers in Vietnam and the region
Provincial and national museums
Domestic and international tourism companies
Continue studying, teaching and researching for a higher degree at institutions offering architectural heritage conservation and tourism management programs