A Logistics & Supply Chain Management education in Vietnam leads to a potentially wide range of new career opportunities, as supply still fails to meet demand. As a result, Dong-A University from South Korea and DTU just signed an MoU on education and research in that discipline. Attendees included Dong-A University ICC Center Director, Dr. Hyung Rim Choi (center, upper picture), with DTU Vice-Provost Professor Lim Sang-taek (left) and Dr. Luis Alfaro, Director of Logistics & Supply Chain Management at the DTU Nam Khue Institute (SMI),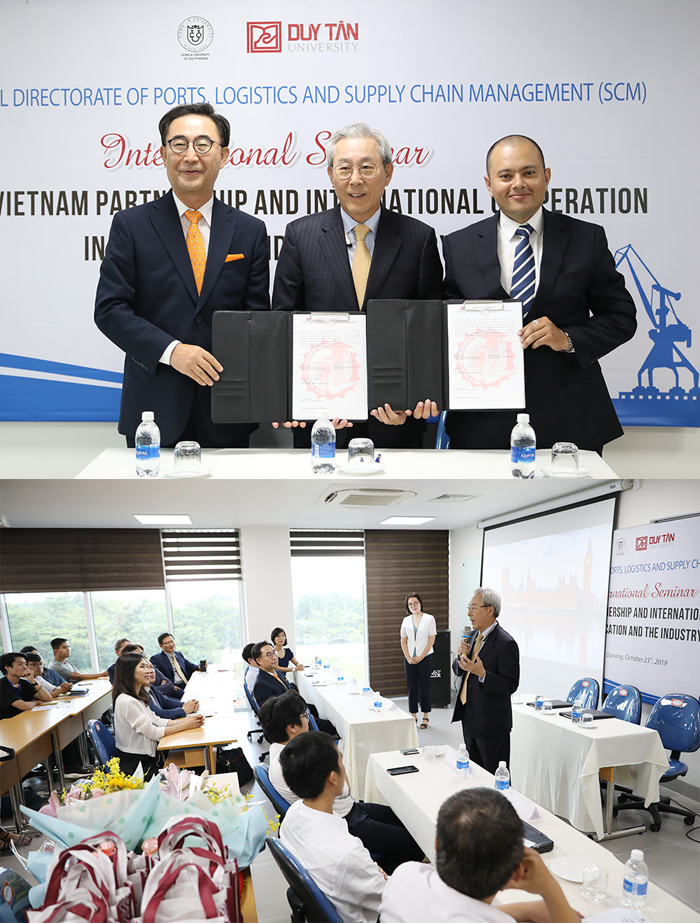 The signing
In January 2023, DTU became a member of the Vietnam Association for Logistics Manpower Development (VALOMA), to broaden practice and employment opportunities for DTU students.
State-of-the-art simulation rooms
Logistics & Supply Chain Management programs cover the development and management of transportation services for production and sales, including:
-
Planning, implementing, and controlling the movement of goods
-
Controlling the source of raw materials, fuel, and supplies (input)
-
Managing the final product (output) from the point of production to the point of consumption
Companies, with the required working knowledge of logistics, experience noticeable improvements in customer service, and lower costs, which also influence the national economy.
Universities in Vietnam are carefully preparing the structure and content of their own curricula, to ensure graduation of the highest quality professionals. At DTU this comprises the study of:
-
Distribution systems and freight forwarding,
-
The creation of management systems for warehouses, and warehouse connection locations
-
All forms of transportation, including road, rail, sea and air
-
Supplemental training in international marketing, finance and accounting in multimodal transportation
DTU has constructed a practice room simulating a miniature container port, with ships, containers and shipping documentation.
The facilities are equipped with computerized business scenarios, featuring port operation procedures. These include real-time operational data, the transfer and inheritance of big data, and the printing of report documents, supplemented by videos and 3D emulations, illustrating typical transportation flows at yards, piers and gates.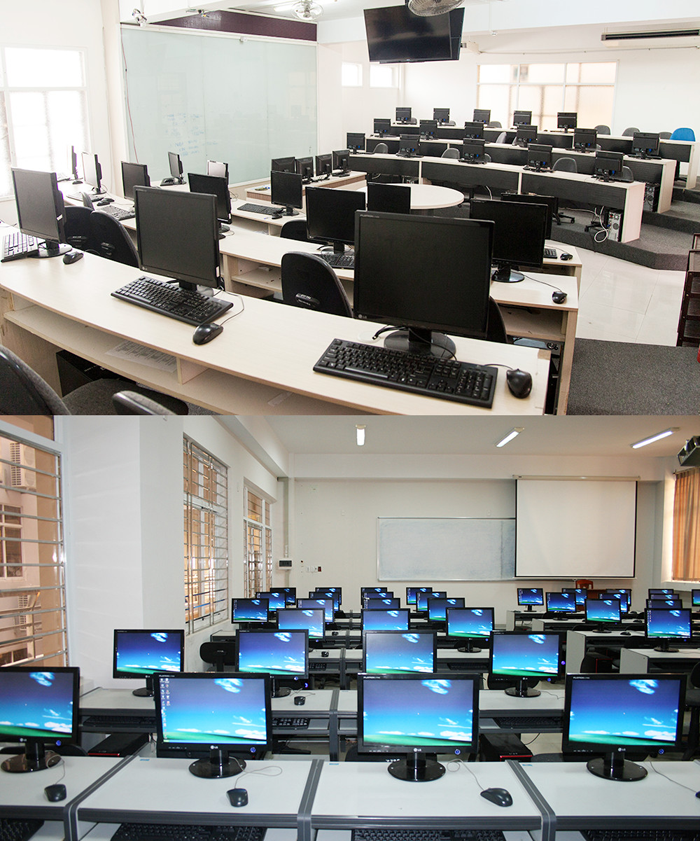 Several DTU classrooms are fully equipped with the latest computer systems for student observation
In the Enterprise Resource Planning (ERP) practice room, computer applications specialize in business operations management, data collection, storage, analysis, and business reporting, as well as an integrated software module that includes logistics management tools, such as corporate product production planning, production & delivery cost calculation, marketing & sales, warehouse management, and logistics planning & accounting.
Cooperating to develop additional logistics manpower in Vietnam
On January 7, 2023, VALOMA awarded DTU official membership, establishing a new focus on Logistics & Supply Chain Management training at the university to provide the marketplace with expert professionals. At the same time, DTU also signed an agreement with the VALOMA Training & Technology Transfer Consultancy Center (VALOCENE), an organization of experts and leading logistics companies, to further support Logistics & Supply Chain Management students.
DTU graduates will be awarded a Professional Logistician (CPL) Certificate, specializing in supply chain life cycle management.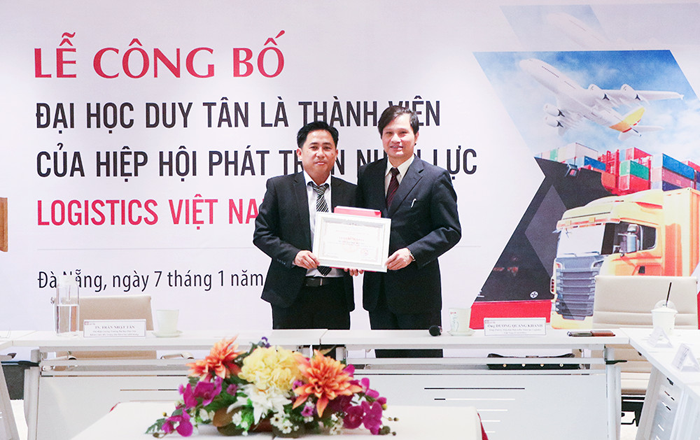 VALOMA General Secretary Duong Quang Khanh, at right, presents DTU with association membership
DTU has also contracted with the Global Transport & Logistics Company, who control a network of nine offices throughout Vietnam, and agencies in 150 countries, to similarly expand career opportunities for graduates. The company currently provides comprehensive logistics solutions, in international freight forwarding, customs, warehousing, domestic transportation and distribution.
The overall development strategy for Vietnam's service sector until 2020 was outlined in a Prime Ministerial decision of January 27, 2011, with the objective: "To make logistic services a key factor in accelerating the development of distribution systems for other services, as well as the circulation of goods", which clearly demonstrates that the development of logistics and logistics manpower is of vital national importance.
Logistics graduates are always in high demand at local businesses, such as Vinamilk, Vietnam Airlines, VietJet, Saigon Coop, Saigon Beer, and the Saigon and Ben Nghe ports. Starting salaries in Warehouse Operations range from 8 to10 million VND for example, in Sales, from 8-20 million, Administration, from 8 to 12 million, Port Staff, from 10 to 20 million and Purchasing Specialists, from 8 to15.
As the Vietnamese economy becomes further integrated into the global economy, the field of Logistics & Supply Chain Management will offer thousands of attractive, new, highly remunerated career opportunities nationwide.
(Media Center)