Resolving to realize five strategic goals: "teaching English to faculty and staff, computerization, professionalism, internationalization and the energization of top management and faculty", DTU has gained significant achievements in education and research, enhanced the quality of education and broadened educational opportunities for students so as to produce more knowledgeable and skilled graduates.
The DTU system of education and diplomas is diversified, providing students with many study options.
DTU students are dynamic and self-confident
Diversified Academic Programs
In late 2013, DTU became the first and the only private university to be authorized to offer Ph.D. courses in Business Administration. Two programs, Computer Science and Accountancy, were added later. Five programs at the Master's level include a Master of Science in Information Technology, a Master of Business Administration, a Master of Accounting, a Master of Science in Civil Engineering and a Master of Finance – Banking.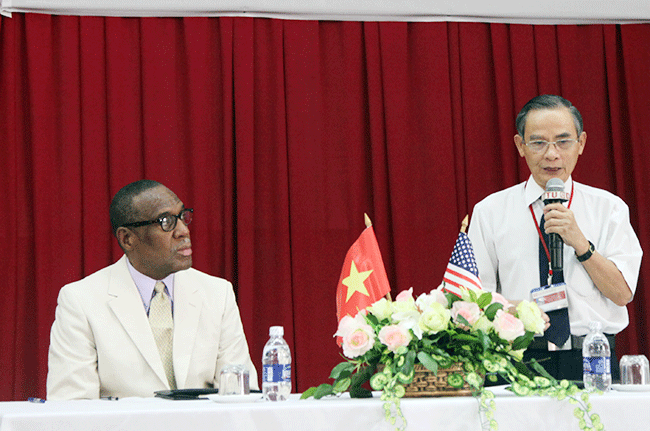 DTU partners with many universities worldwide
The following degrees are offered: PhD, Master, Academic Bachelor, Associate Bachelor, Vocational Associate, Second Degree, eLearning and Linking programs. The University offers various disciplines, ranging from Technology & Engineering to Economics and Social Sciences: IT, Electrical Engineering, Architecture, Civil Engineering, Accountancy, Business Administration, Finance & Banking, Hospitality & Tourism, General Practitioner, Pharmacology, Nursing, Literature- Journalism, Multi communication, Law and Economic Law.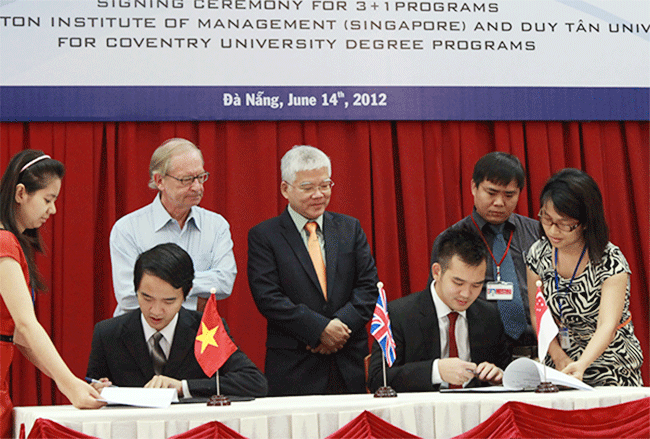 DTU partners with Coventry University to offer the 3+1 program
To further enhance education quality to adapt to evolving social requirements, DTU has expanded its international partnerships with many well-known universities around the world, such as Carnegie Mellon University, (one of the four strongest universities in the US in the field of IT), Penn State University, (which offers a prestigious Business Administration program), and California Fullerton University, one of the leading public universities in Construction and Architecture on the West Coast, with Purdue University (top 8 Best American Universities in Technological Engineering Education). At the same time, DTU partnered with Keuka College and Troy University in the USA to offer students On-Site Study-Abroad programs in Business Administration, IT, Hotel Management and Financial Management. In addition to its internationally standardized curricula, DTU has established programs to assist students to continue their studies abroad, including the 2+2 program, the 1+1+2 program and the 3+1 program. On graduating from these courses, students will receive diplomas granted by reputable American and UK universities.
Teaching methods
To improve the overall standard of DTU education, DTU has been successfully implementing advanced international teaching methods, such as CDIO (Conceive - Design - Implement - Operate) and PBL (Problem-Based Learning/Project-Based Learning).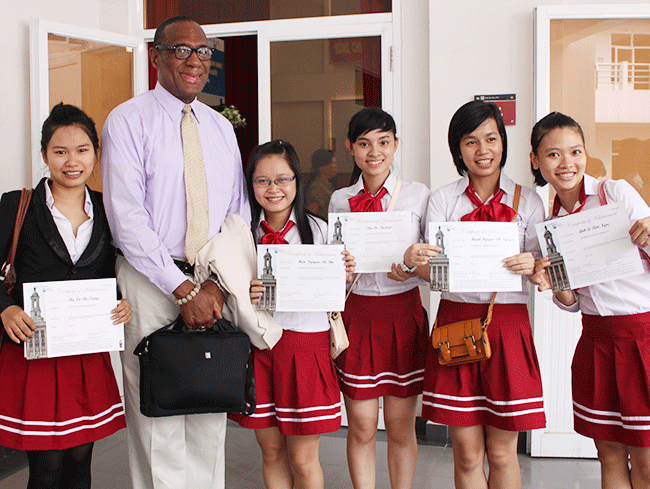 DTU students receive internationally recognized certifications
- Since joining the CDIO initiative in 2012 as one of only two Vietnamese universities in an organization of over 100 technology universities worldwide, DTU has adopted CDIO as the framework of curricular planning for its Technology & Engineering programs. The university regularly sends teams to international conferences and workshops to sharpen their skills in order to improve the overall standard of DTU education
- In 2013, DTU has adopted the advanced PBL method for teaching students of Economics and Management, Medicine, and Social Sciences and Humanities.
Awards
Winning valuable prizes in national and international competitions have demonstrated the sustained efforts made by DTU faculty and students over the years.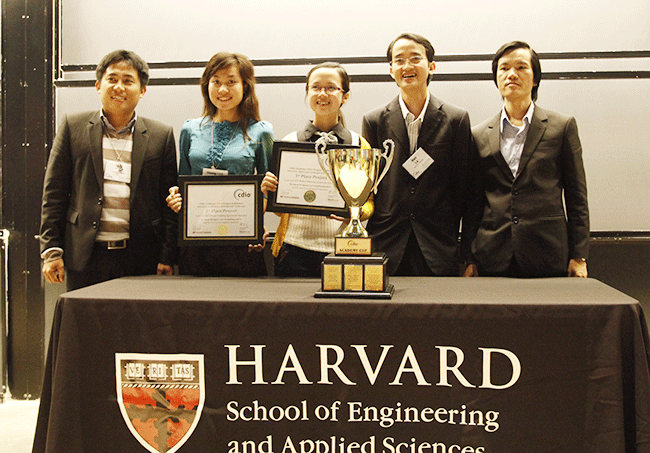 DTU students win the 2013 CDIO Cup at Harvard University & MIT
- The 2013, 2016, and 2017 CDIO Cups
- The Asia - Pacific IDEERS Championship in 2014.
- First prizes in the 2016 and 2017 National Microsoft Imagine Cup.
- A win in the 2016 and 2017 National Go- Green- In - The - City.
- Fourth place in the 2016 International Information Security Competition, held in Switzerland.
- Eight first prizes, seven second, fourteen third and seven Consolation prizes in the National Student Festival of Architecture.
- Nguyen Thu Quynh won a National award for Female Information Technology students in 2012.
- Ta Ba Thanh Huy won first prize in the 2008 National Informatics College Olympiads.
- Many other awards in the National Mathematics, Informatics and Physics College Olympiads.
- Third place and a prize for the Best design of Robots in the 2014 ROBOCON Vietnam Innovation competition.
- Big prizes in the 2014, 2016 and 2017 Computer Fireworks Contests
- First prize in the 2008 Informatics Olympiad and many big awards in the National Olympiads in Mathematics, Physics, Material strength, Structural mechanics & Soil mechanics and others.
- Third prize at the 11th WhiteHat international network security contest in 2016 and ranked seventh in the top 10 teams at the 2016 HITB GSEC information security contest in Singapore.