On November 13, DTU held a festival to welcome K28 freshmen, with the theme "International Day". The students engaged in a variety of special activities and played games together. From early morning on, they got together to finish creating unique eye-catching booths.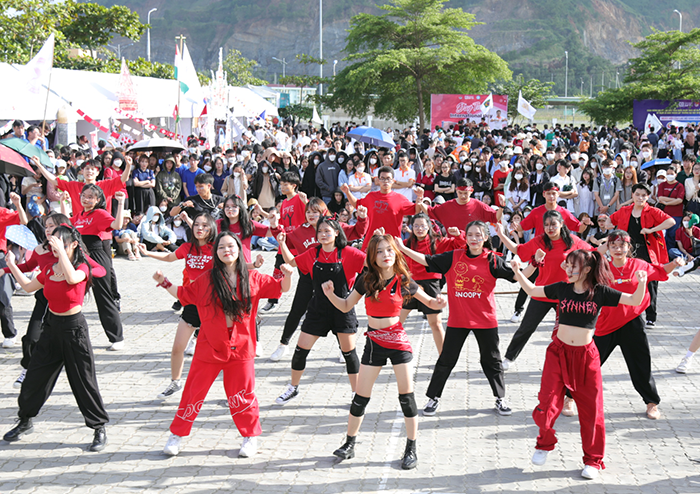 Awesome Flashmob performances by the new students
The booths were assembled by the Hospitality and Tourism School, the International School, the Faculty of Business Administration, the Faculty of Economics & Finance, the Skills Club, the Young Lawyers' Club, the Faculty of Korean Language, the Korean Club and the K-POP Club, and all featured the unique cultural characteristics of countries around the world.
At the vibrant and exciting festival, the freshmen happily surprised the spectators with impressive, memorable and emotional Flashmob performances.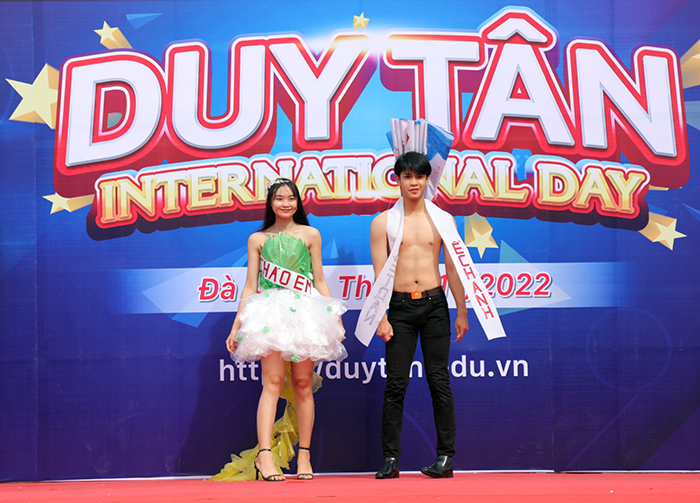 The mini fashion show
One of the festival highlights was the amateur mini fashion show of unique traditional costumes, which won the hearts of the audience, with costumes ranging from prom dresses to casual clothing, from Spain, Japan, Korea and the Netherlands.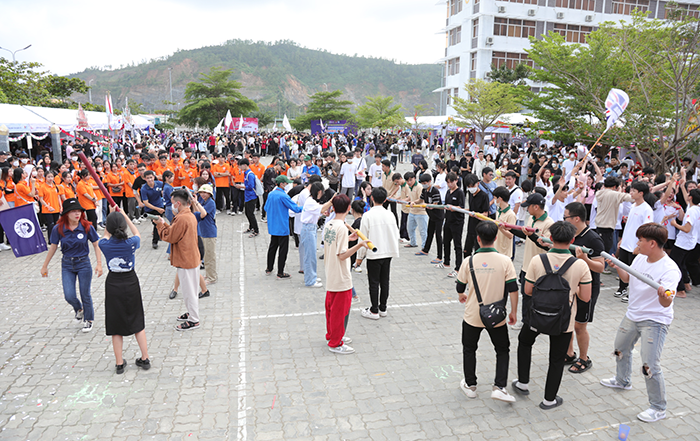 Exhilarating team-building activities
Several more activities took place in the afternoon and the freshmen eagerly continued until the very last minute. Team building, physical and folk games were designed to help students improve their soft skills and relationships with other team members, have fun, make new friends and boost their self-confidence.
Awards were presented by category:
-
First Prize: the Hospitality & Tourism School
-
Second Prize: the Faculty of Business Administration, the International School
-
Third Prize: the Faculty of Medicine and Medical Club Union, the Skills Club, the Faculty of Chinese Language and the Chinese Club Union
-
Consolation prizes: the Faculty of Law and Young Lawyers Club Union, the Faculty of Odonto-Stomatology, the Faculty of Korean Language, the Korean Club and the K-POP Club Union and the Faculty of Pharmacy
-
First Prize: the International School
-
Second Prize: the Hospitality & Tourism School and the Faculty of Business Administration
-
Third Prize: The Faculty of Economics & Finance, the Skills Club, the Faculty of Law and the Young Lawyer Club Union
-
Consolation prizes: the Faculty of English Language and English Club Union, the Faculty of Korean Union, the Korean Language Club, the K-POP Club Union, the Faculty of Computer Science and the Faculty of Pharmacy
-
First Prize: the Faculty of Social Sciences and Humanities and JC Chance Club Union
-
Second Prize: the Skills Club and the Faculty of Business Administration
-
Third prize: the International School, the Faculty of Japanese Language, the Japanese Club Union and the Faculty of Medicine & Medical Club Union
-
Consolation Prize: the Student Volunteer Club, HTi's Volunteer Club, the Faculty of Korean Language, the Korean Club, the K-POP Club Union and the Faculty of Computer Science
-
First Prize: the DTU Acoustics Club
-
Second Prize: the Volleyball Club and the Faculty of Environmental & Natural Sciences
-
Third Prize: the Faculty of Architecture, the Faculty of Pharmacy and the Student Volunteer Club
-
Consolation Prize: the Football Club (DTU Warriors), the Dance Club Union, the Faculty of Accounting, the Hospitality & Tourism School and the Faculty of Economics & Finance
Nguyen Duc Thinh, Chairman of DTU Skills Club, said: "To prepare for the K28 Welcoming Festival, we developed new ideas together, planned the decorative booths and practiced Flashmob dancing. We shared the work, got to know each other better and the students will always have unforgettable and beautiful memories of their very first days at DTU"
(Media Center)