Throughout the development, DTU has achieved many excellent accomplishments in education and research. Meanwhile, its long-term efforts have been recognized by the Party and State. The State President awarded a second-class Labor Medal to DTU in 2014 and a first-class Labor Medal in 2019. On its 25th anniversary, DTU is overjoyed with the ongoing support of the government leaders, thanks them wholeheartedly and, as a result, has become even more confident, decisive and driven in its continuing development.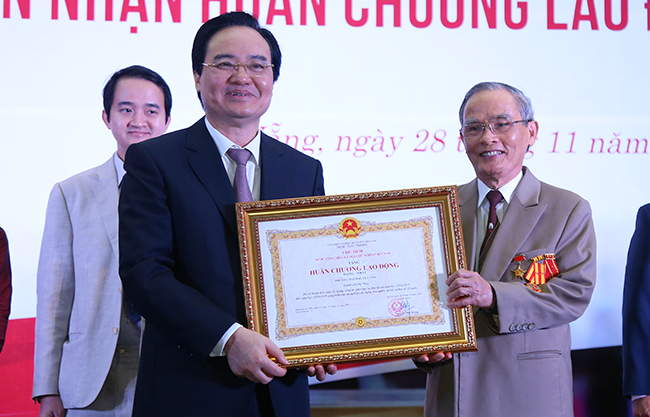 Minister of Education and Training Phung Xuan Nha awards a First Class-Labor Order to DTU
DTU Honored with First-Class Labor Medal
Minister Phung Xuan Nha expressed his sincere appreciation of DTU's steady progress over the years and encouraged the university to be even more proactive in increasing the quality of education and research and helping educate the general public at the same time. "The university should focus its investments to strengthen several existing majors to enhance its brand image, especially in Network Engineering, Management Information Systems and Health Sciences," he stressed. "The university focus more on activities to create and foster an innovative and creative startup ecosystem throughout the university."
DTU has now become one of the most trusted universities in Vietnam, by steadily implementing innovative, practical teaching methods. The number of employees has grown from a few dozen to 1,208 today, of whom 207, or 25.43%, hold PhDs and full or associate professorships. Initially, DTU was only authorized to enroll 550 students into four majors, but now admits 5,500 students a year into 28 majors and 44 minors. At the beginning, only undergraduate courses were allowed, but, since 2009, DTU has been authorized to offer postgraduate education in Business Administration, Information Technology and Accounting.
DTU has grown into a nationally recognized university, structured around 10 research institutes, 20 faculties and 22 centers of applied research. It offers PhD courses in 3 fields, Master's degrees in 8 majors and 28 majors for Bachelor's degrees, including 3 from international partnerships with four well-known US universities, 6 from linked curricula, 3 On-Site Study-Abroad programs in collaboration with the US, UK and Taiwan and linking and e-learning programs. The university ceased to offer vocational training in 2012 and professional Bachelor programs in 2018.
DTU was also among the first 20 universities nationwide to receive a Certificate of National Educational Quality from the Center for Educational Accreditation of the Association of Vietnamese Universities and Colleges. The University became the second Vietnamese university to offer ABET accredited courses in Network Engineering and Management Information Systems and became the first private in Vietnam to join the list of the top 500 Asian Universities, ranked 451, according to QS World University Rankings. DTU was also ranked as one of the top four Vietnamese research universities in 2018-2019.
The University has enrolled 48 PhD students in 7 Doctoral courses; 2,521 graduate students in 21 Master's Degree courses; 100,267 in 25 Undergraduate & Associate Bachelor's Degree programs and 12,400 students in 12 Vocational programs. Through its 21 graduate courses, DTU has fueled the local labor market with a total of 1,279 graduates and post-graduates; 61,188 with Bachelor's degrees in Pharmacy, Engineering and Architecture and 8,000 with vocational high school degrees. Over 95% of graduates find jobs within one year.
"Looking back over the past 25 years, DTU has faced some severe problems, which sometimes appeared to have no solutions," remarked Hero of Labor, Distinguished Teacher Le Cong Co, DTU President. "Thanks to Party and State policies, and with support from ministries, local government agencies and great teamwork at the university, DTU has become what it is today. We jointly aspire to DTU becoming a famous university in Vietnam and worldwide, so that any DTU alumnus can return here and be proud of the place they entrusted to achieve their dreams."
DTU Honored with Second-Class Labor Medal
On November 22, 2014, Deputy Prime Minister Nguyen Xuan Phuc awarded DTU a second-class Labor Medal, for its outstanding achievements in education for the years 2009-2010 to 2013-2014, and for its contributions to the building of Socialism and protection of the Fatherland.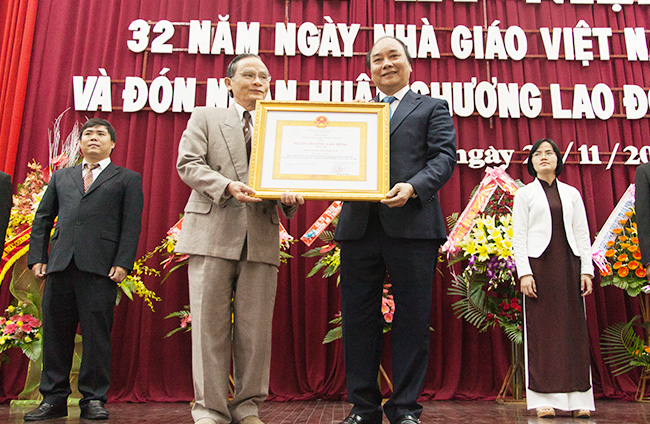 Deputy Prime Minister Nguyen Xuan Phuc
Deputy Prime Minister Nguyen Xuan Phuc also praised the significant achievements DTU has made over the years. He said: "I am very happy to be here for the 32nd anniversary of Vietnamese Teacher's Day and to present you a second-class Labor Medal. DTU has grown tremendously over the past 20 years and accomplished many remarkable feats. The university had added many new disciplines and invested in the construction of modern classrooms and labs. DTU has revolutionized education by boosting research and collaborating with well-known universities worldwide to graduate highly-qualified professionals. At the same time, DTU has partnered with local business to enable internships and job opportunities and refine academic programs that satisfy the ever-increasing demands of the business community."
Deputy Prime Minister Nguyen Xuan Phuc gave some advice on the future development of the university. To continue its renewal process, DTU must now focus on its workforce, international partnerships, research and technology transfer. The university must concentrate on improving the standard its teaching staff, considering the living standards of teachers and students, and provide an environment for individual development and the general development and protection of Vietnam at the same time.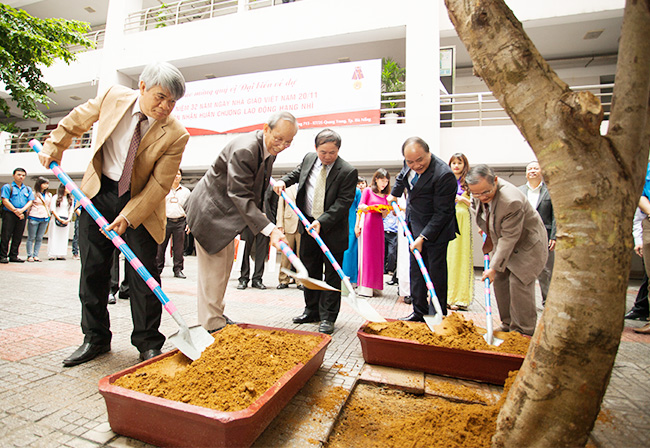 Planting a memorial tree at DTU
Professor Bui Van Ga, Former Deputy Minister of Education and Training, added: "The Ministry of Education and Training highly respects DTU's accomplishments in its renewal process. DTU is one of the few universities we have trusted to offer PhDs degrees, as a tribute to its increasingly fine reputation. Other universities have recently encountered enrollment problems, but DTU has always met its goals. The number of high-quality career opportunities available to DTU graduates has prompted more and more candidates to choose DTU for their studies. The university has successfully developed several international partnerships and its focus on research is a wise investment aimed at sustainable future development. I sincerely believe that DTU will soon become one of the most prestigious Vietnamese universities."
DTU Honored with Third-Class Labor Medal
Authorized by the State president, the Vice-Chairman of the Danang People's Committee, Mr. Le Trung Chinh, presented a third-class Labor Medal to DTU Provost Dr. Le Nguyen Bao for his outstanding achievements in education from 2014 to 2019, and for his contribution to the strengthening of socialism and security in Vietnam. An Emulation Banner was awarded to DTU for its achievements in the promotion of education in 2018-2019.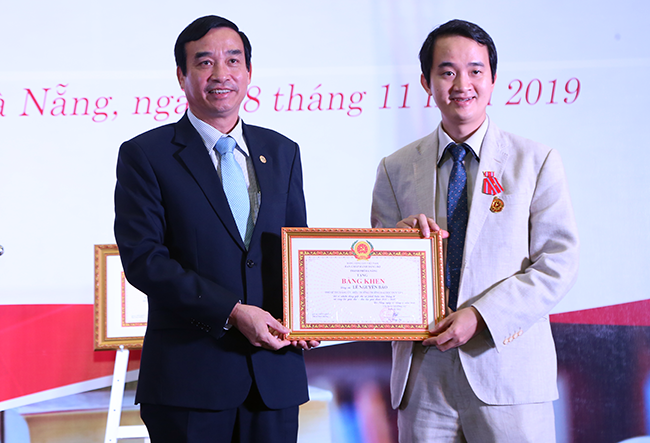 Danang People's Committee Vice Chairman, Mr. Le Trung Chinh presenting a third-class Labor Medal to DTU Provost Dr. Le Nguyen Bao
DTU is proud and honored to be recognized and receive guidance from the Party and State leaders. It is now the university's responsibility to step up its efforts and strength in preparation for global integration.