DTU Supports Children with Cancer
On April 7, the social work team from the DTU Faculty of Medicine held a volunteer program entitled "Supporting children with cancer" at the Danang Cancer Hospital. The children felt much better, forgot their pain for a while and were inspired when DTU lecturers and students told them funny stories and sang to them.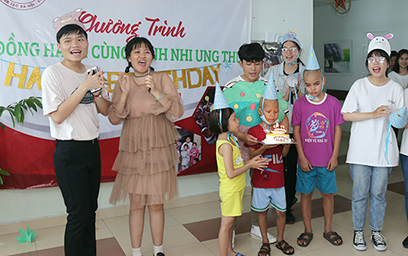 Members in DTU's social team hold a birthday party for child patients
The program is part of the project "Information Gate on Cancer in Children", which is periodically held at the Danang Cancer Hospital by the DTU team, to bring some joy and happiness to children with cancer, to raise awareness of cancer in the community and to help DTU lecturers and students to get to know the patients more closely.
During the musical performances, the children smiled brightly. They blew out the birthday candles, cut the cake and made wishes together. DTU presented many small and thoughtful to gifts to them.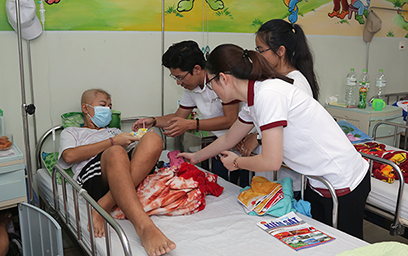 The team visits each room to cheer up the children
Mrs Le Thi Cam Van, the mother of Nguyen Ngoc Phuong My, an 8-year-old girl with pancreatic cancer, said: "I want to thank DTU for holding such a special event for the children, who are usually sad and rarely say what they think. But today, they are smiling and talking a lot and are confident enough to even sing on the stage. I hope there will be more programs like this to help the kids stay optimistic and improve their chances of survival"
According to Dr. Truong Minh Tan Dat, a lecturer in the Faculty of Medicine, the project was founded to stress the importance of detecting cancer in children as early as possible, and to appeal on behalf of the patients for DTU students and lecturers to help them. The project is targeted on Vietnamese children with cancer in general, and, in particular, those at the Pediatrics Department of Danang Cancer Hospital and their families.
The information gate provides useful information on the pathology of cancer in children, lists of the best hospitals in Vietnam and abroad and financial support policies and guidelines for taking care of children with cancer. Stories about families with children with cancer are publicized to appeal for donations for disadvantaged families who have children with cancer. The charities can be contacted by telephone and through social networks.
(Media Center)