The Fifth Annual "Go See Do" Photography Exhibition
The 5th Go See Do Danang Photography Exhibition, entitled "Shine", was held from February 22 to March 15. It was sponsored by DTU to promote tourism in Danang. Participants from all over Vietnam got together to share experiences and compete with each other.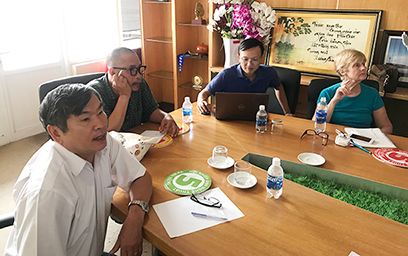 The Jury
400 photo were submitted by 40 professional photographers and 17 students. 77 of them were selected for exhibition at the Cham Museum in Danang. The subject matter was very elaborate, with beautiful scenes of sunrise and sunset, fishermen at work, beautiful sights of Danang and views of the daily routine of local lives.
The topic of "Dreams" was particularly popular with students from the Nguyen Trai, Hoa Vang and Phan Chau Trinh High Schools and Danang University of Architecture. Through expert photography, visitors could view awesome glimpses of the sparkling beauty and flavor of Danang.
The awards ceremony and exhibition will be held at 15.30 on March 30 at the Cham Museum.
| | | |
| --- | --- | --- |
| Prizes | "Shine " | "Dreams" |
| 1 First | 10 million vnd | 3 million vnd |
| 1 Second | 7 million vnd | 1.5 million vnd |
| 1 Third | 5 million vnd | 500,000 vnd each (4 prizes) |
| 5 Consolation | 1 million vnd each | |
(Media Center)