Let Your Talent Shine in the "Tuoi 20 Hat" Musical Contest
In November, the DTU Center for Arts and Sport will hold the "Tuoi 20 Hat" Music contest and other activities to celebrate the 24th anniversary of the University. The contest will provide a venue for students who love singing and will give them a chance to meet each other to strengthen their patriotic feelings.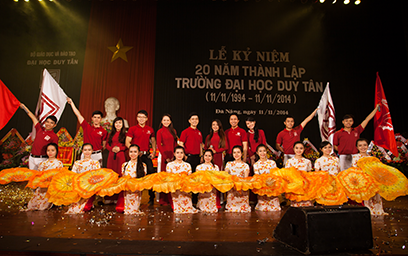 Students on the DTU stage
Lasting from November 1st to December 1st, the contest is intended for students from sixteen to twenty-two years old, from high schools, colleges and universities in Danang. They will reinterpret and perform revolutionary songs. Here is the schedule:
- The preliminary round will take place at DTU on November 11th, when contestants will perform with guitar or organ accompaniment. The best forty will move on to the next round.
- The team formation round will be held on November 18th and contestants will sing their favorite songs for the three coaches Huu Duc, Xuan Ly and Ngoc Nhung. Coach will then team five of the contestants each to work with and prepare for the finals.
- The final round & awards ceremony will be on December 1st . Teams will perform three traditional revolutionary songs with a modern and youthful interpretation. They will be allowed to perform solo, as a duet or a trio.
Do you love singing? Do you have artistic talents? Do you want to shine onstage? If so, don't be reluctant and join the "Tuoi 20 Hat" Music contest now.
For further information, contact:
Mr. Pham Trung Tuyen, Director of the DTU Center for Sports and Arts
Tel: 0905583368
Awards

First prize

5 million dong + certificate of merit

Second prize

3 million dong + certificate of merit

Third prize

2 million dong + certificate of merit

In addition, the three teams entering the finals and the most promising contestant will be sponsored to appear in dtuTV music video, which will be uploaded to the dtuTV YouTube channel.
(Media Center)