See Danang with the Free Tour Hometown Club
In addition to the many tour companies, visitors to Danang now have another choice with the Danang Free Tour Hometown club at DTU. They are able to meet young people who will take them on free guided tours. The club attracts lots of tourists through their enthusiasm and good service and was founded by Tran Dinh Quoc Khanh and Truong Cong Tuoc, both 24, from the Faculty of Hospitality and Tourism.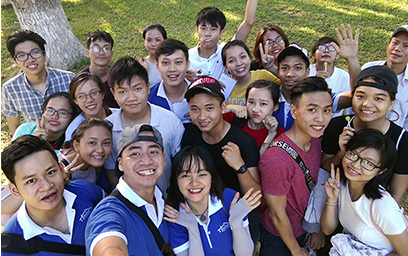 The free tour guides never stop smiling
From distributing flyers to a fan page with four thousand followers
Three years ago, during international student exchanges, Tran Dinh Quoc Khanh and Truong Cong Tuoc had the idea of founding a club so that they and their colleagues could forge new friendships with foreigners visiting Danang. The club would also provide them the opportunity to expand their skills, by learning about other cultures and improving their foreign language ability. The club started out by printing advertising and distributing flyers in coffee shops and restaurants. They initially experienced negative responses from people who did not want to see any more advertisements but did not give up. They carefully trained their members to quickly get their message across to foreigners, by stressing that they were students and would be equally respected as such.
Just after that, the group ran into many problems. Some members spoke no English or lacked the self-confidence to speak with foreigners, there was no office for meetings and they had no money. However, because of their tenacity and enthusiasm, the club finally got some help from DTU. Mrs. Ha Thi Nhu Hang, Vice-Dean of the International School, allocated a small room for their work. The club gradually developed and everyone found an individual task they could take responsibility for.
Creating a fan page cost the most time of all and was entrusted to Le Thanh Tung, who was in charge of marketing. The club's fan page, which Thanh Tung spent hours creating, attracted increasing numbers of hits and comments. Visitors praised the club, sent their thanks and submitted stories about their trips, together with happy and funny photos. Visiting foreigners can now easily locate information via the Danang Free Tour Hometown pages, which have now accumulated four thousand followers.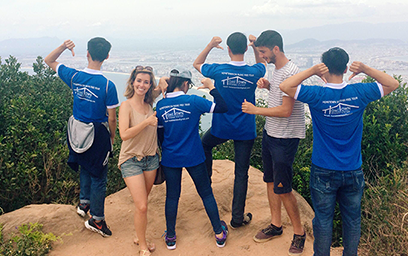 Posing for a picture with foreign visitors
English and enthusiasm are two requirements for the new generation
Club leader Quoc Khanh says that the "new generation" must be self-confident, responsible and up-to-date with the latest international developments. Two vital prerequisites are enthusiasm and a working knowledge of English. The members of the Danang Free Tour Hometown club work diligently together for a common cause, to successfully prepare the new generation for membership. They may only work as free tour guides, but the benefits are inordinately meaningful and worthwhile. They all bubble over with vitality, passion and a readiness to share their stories with the world.
Nguyen Le Thanh Tung has been with the club for two years. He takes on the marketing, as well as being a tour guide. His tours are always interesting but he is at his happiest when his clients thank and praise him after a trip and he makes new friends. He considers himself now to be a completely different person, much more mature, knowing the ins-and-outs of Danang, and his English ability has increased significantly.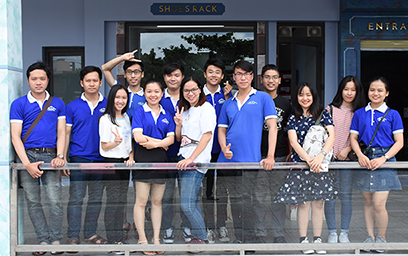 The number of club members has risen considerably over two years
Home for everyone, everywhere
The club welcomes visitors from all over the world, including Taiwan, Korea, Indonesia, England, America and France. If the tourists can communicate in English, they can connect with the club. Members come from universities and colleges around Danang, such as DTU, the University of Education, the University of Foreign Language Studies, the University of Economics, the University of Medical Technology and Pharmacy and others. They all share their passion, sincerity and industriousness. Danang Free Tour Hometown is now much more than just a club, it's a place where people to get together and become friends. Everyone smiles when they meet, and they encourage one another to contribute even more to the development of the club.
Another membership drive is about to begin for those who want to hone their skills and expand their knowledge. On August 20, the club opened registration for 2018 volunteer tour guides on their website and fan page. Members are only recruited once a year, so you should enroll now!
(Media Center)