DTU Holds the 3rd Sand Sculpture Contest
On April 27, DTU and the Management Board of the Son Tra Peninsula held the 2018 Sand Sculpture Contest at Pham Van Dong beach, to promote Danang beaches to both Vietnamese and foreign tourists and raise their awareness of marine protection and conservation. The twenty beautiful sand sculptures attracted many residents and visitors alike.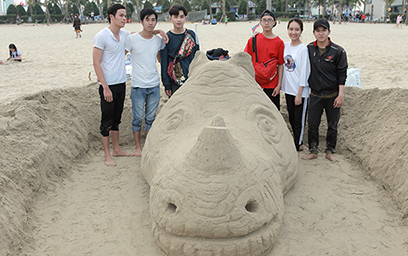 The sculpture of suffering rhino having its horns cut off, by the Hoi Anh Em Cay Khe Team
Despite the hot weather, the teams of five worked hard for five hours in their allocated spaces, to skillfully build their sculptures and then present them. Many depicted imaginative messages.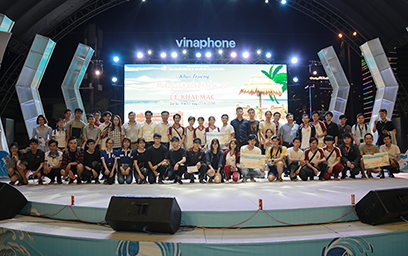 Teams receive awards from the organizers
Messages about the protection of nature depicted a turtle with a plastic bag in its mouth, rhinos having their horns cut off, a Little Mermaid at the point of death beside the ocean, a big tree with no branches and factories dumping industrial waste into the sea. Those images spoke a thousand words about how quickly economic development poses such a deadly threat to marine life.
A member of the S.S.S team said: "We must be aware of maintaining the harmonious relationship between human beings and nature. Nature is so huge, however, and will destroy our lives if we don't take action to protect our environment. We must save ourselves".
The sculpture of the rhinoceros having its horns cut off with teardrops by Hoi Anh Em Cay Khe Team won the hearts of the judges and was awarded first prize. Two second prizes went to the Light and S.S.S. teams, and four Consolation prizes and twelve Potential prizes were also awarded. having their horns cut off
(Media Center)