DTU students inspired by Vietnamese artists' passion
On November 25th, DTU students eagerly attended a meeting with Vietnamese famous artists such as Dang Nhat Minh, Doan Dung, Nguyen The Anh, Nguyen Nhu Quynh, Nguyen Thi Minh Chau, Le Dung Nhi, Trinh Thanh Nha, Bui Trung Anh, Hong Anh, Phuong Thanh, Ngoc Thanh Tam, Vu Ngoc Phuong and B Tran.
This was an activity in the framework of the 20th Vietnam Film Festival (November 24th - 28th).
At the meeting, the artists talked much about their passion and experience in acting and delivered messages of young people's responsibilities in modern times.
Dr. Vo Thanh Hai, DTU Vice Provost, warmly welcomed the artists and expressed DTU's honour to be one of the places where the 20th Viet Nam Film Festival was held.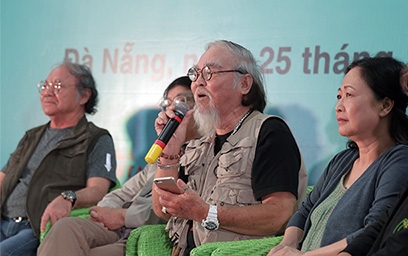 Actors Le Dung Nhi and Bui Trung Anh
Playwright Trinh Thanh Nha was impressed by the DTU students' enthusiasm and love with senior artists. "Being motivated and passionate, you will surely be successful. There were times when I had to work hard to make a living, but I still wrote at night. I was afraid of losing 'words' if I did not write. Having written a dozen movies and a thousand series episodes until now, I just know that I have kept working and never gave up my passion", she said.
Actress Nguyen Nhu Quynh also was surprised when a DTU student told that she really liked Vietnamese films, and especially Nhu Quynh's film, because her mother and grandmother inspired her.
In addition to being a famous actor, Mr. Doan Dung is the Provost of the University of Theatre and Cinema Ho Chi Minh City. "I keep in mind that when you try your best to learn and work, you will be successful. In addition to hard work and honesty, students need have breakthrough thinking to gain what they want", said the Provost.
"Cô gái trên sông" was a highly controversial film when Director Dang Nhat Minh set up a revolutionary character who betrayed his lover right after the war ended. "At that time, I just wanted to remind everyone that 'People make our revolutions succeed and the revolutionaries aren't allowed to turn their back on the people'", he said.
The film crews of "Ð?o c?a dân ng? cu" and "12 chòm sao: v? du?ng cho yêu ch?y" talked about their memories in producing films. Hong Anh showed her happiness to be in Danang again because Danang and Hoi An are the main backgrounds of "Ð?o c?a dân ng? cu".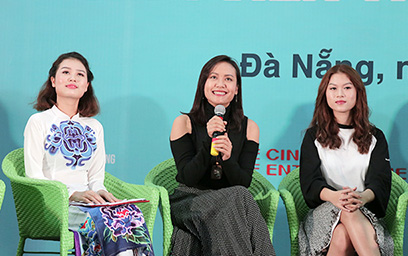 Director Hong Anh and Actress Ngoc Thanh Tam speaking about their film "Ð?o c?a dân ng? cu"
Ngoc Thanh Tam shared her difficult experience at portraying Chu - a leading role in "Ð?o c?a dân ng? cu" - because Chu's character is different from hers.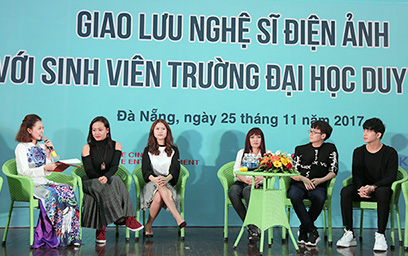 The young artists talking about their acting careers
"12 chòm sao: V? du?ng cho yêu ch?y" is the first film of Director Vu Ngoc Phuong. Although it made not that much profit, its participants benefited greatly. The playwright has become more famous and the actors have played in more films and advertisements since the film was released.
Before becoming a singer, Phuong Thanh really wanted to be an actress. The role of a call-girl in "Hotboy n?i lo?n" (2010) is an impressive performance of Phuong Thanh's. She would even have broken up if her boyfriend had prevented her from acting.
The Vietnamese artists and DTU leaders
Nguyen Ngoc Chau, a student of the DTU Social Sciences and Humanities Faculty said, "I'm so happy to attend this meeting today. The artists are so friendly. From their career stories, I learned many lessons for my life as well as for my future career."
(Media Center)