Impressive art performances at Med's Got Talent Final Show
On February 27th, the final of the Med's Got Talent Show was held in a DTU lecture hall. 12 excellent arts performances selected from the preliminary round and online round were presented by students of the Faculty of Medicine.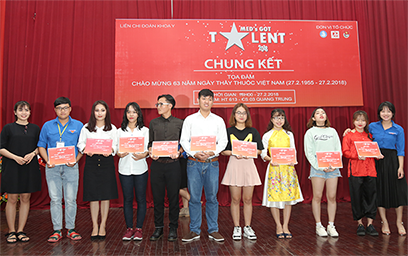 The Organizing Committee give Certificates of merit to the 12 performances of the final
Med's Got Talent shows that DTU Medicine students are not only "busy bees" at school but also extremely confident on the stage and possess many talents. Furthermore, the contest is also a golden opportunity for first-year students of the Faculty to get to know their new environment better and to meet and exchange with other students in their class and in other classes at the university.
Assoc. Prof. Dr. Nguyen Ngoc Minh, DTU Vice Provost, said: "In the spirit of 'A good doctor is like an affectionate mother', DTU always makes efforts to train and educate future doctors in both ethics and skills. For the past years, the Health Sciences Program in particular and DTU in general have provided students with the best education programs, modern facilities and many exciting activities".
The contestants presenting at the final of Med's Got Talent were impressive and talented students of the Faculty of Medicine. They had exciting and excellent performances that surprized the Jury and audience.
At the final show, there were 12 carefully prepared art performances including singing, dancing, play-acting... These performances showed the talent and creativeness of DTU students. Each of them attracted the attention of the audience and the high appreciation of the Jury.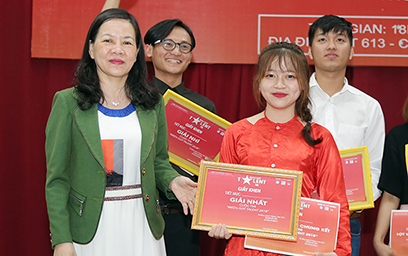 Dr. Vo Thi Ha Hoa, Dean of the Faculty of Medicine, awards the First Prize
At the end of the contest, the dancing performance "Nàng xuân" of class K23YDK4 was awarded the First prize. This performance was highly appreciated already in the preliminary round because of its content, costumes and stage skills. Showing their joy and happiness, K23YDK4 students brought the feeling of Tet back to the hall.
K23YDK4 students also won the Second prize with Mashup Acoustic Guitar. They mixed 2017 hit songs and presented them in a different and amazing way.
The comedy "B? là t?t c?" of class K22YDK3 got the Third prize. It was not only funny but also touching about family love.
(Media Center)