Excited DTU Students Watch Vietnam-Uzbekistan U23s Football Final
On January 27th, a large number of DTU students in red T-shirts and national flags gathered at the Quang Trung campus to watch the Asian Football Confederation Under-23 Championship final between Vietnam and Uzbekistan, played in Guangzhou in China.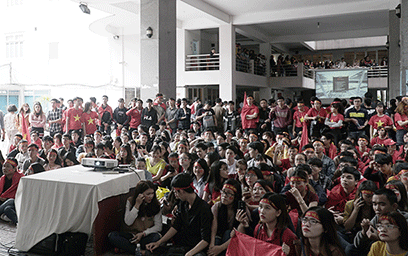 DTU football fans
Vietnam was considered the underdog at the start of the game although they had won much praise by beating leading competitors to earn a place in the final. Although the match started at 3 pm, fans had been arriving since 1 pm, with four giant screens installed in the center. Distinguished Teacher Le Cong Co, DTU President and Provost, attended the event and joined his students to cheer on Vietnamese team.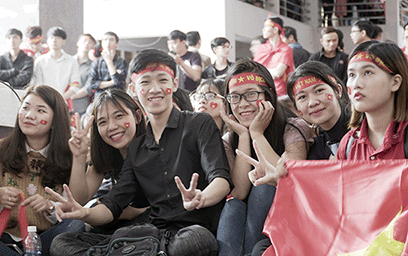 DTU fans cheer for Vietnam
In the 8th minute Uzbekistan scored first with a header. Half an hour later, Vietnam's midfielder, Nguyen Quang Hai leveled the score to 1-1, with a stunning free kick into the top-left corner of the net, as a result of striker Cong Phuong being tackled just outside the box. The match stayed tied into the second half, forcing the teams into extra time. In the 120th minute, however, Uzbekistan's striker scored their second goal to win the championship.
The match took DTU fans on an emotional rollercoaster of exhilaration, worry, excitement, anger and finally tears of regret. Despite finishing in second place, the Vietnamese players and coach Park will always be heroes in the fans' hearts.
(Media Center)