The Opening of the 9th Annual DTU Mini-football Tournament
On January 14th, the DTU Labor Union kicked off the 9th annual DTU mini-football tournament. Mr. Hoang Huu Nghi, Vice-Chairperson of the Danang Labor Union, Distinguished Teacher Le Cong Co, DTU President and Provost, 12 teams of 200 players and DTU lecturer and staff supporters attended.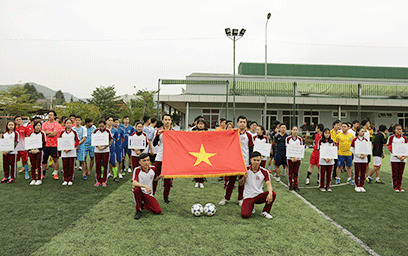 The opening
Mr. Phan Van Son, Chairperson of the DTU Trade Union said: "The annual DTU mini-football tournament enables DTU lecturers and staff to stay healthy and increase their awareness of sports. Our teams will compete fairly, at their best, and impress their supporters."
The 12 teams were divided into two groups, A and B, to compete for places in the semi-finals and finals.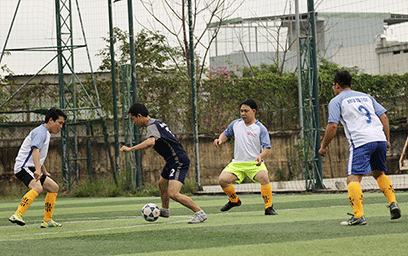 DTU footballers
The first six qualifying matches got off to an exciting and energy-charged start. In group A, the match between the Center of National Defense & Physical Education team and the Administrative Office, Center for Arts & Sports and Board of Trustees team was dramatic, with a final score of 3-3. At the same time, in group B, the Inspection Office, the Faculty of Electrical Engineering and the Student Affairs Office team treated the spectators to an attractive and impressive match with a 7-2 win over the Faculty of Business Administration, Hospitality & Tourism, Center of Quality Assurance & Testing and Board of Provosts team. Meanwhile, in group A, the Faculty of Medicine, Environmental and Chemical Engineering and Institute of Research and Development team also beat the Faculty of Natural Sciences, Department of Sciences & Technologies and Center of Practice team in group A by 7-2.
(Media Center)