The Preliminary Round of the 2018 DTU Student Talent and Beauty Contest
On April 22, the DTU Youth Union, the Secretariat of the Students' Association and the Center for Arts & Sports jointly held the preliminary round of the 2018 DTU Student Talent and Beauty Contest in Danang, with 150 participants.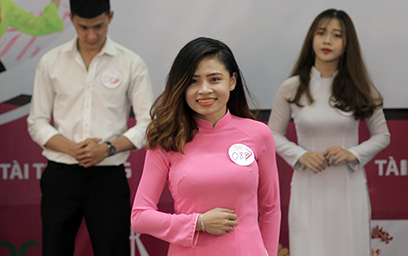 A DTU contestant in the catwalk show
The aim of the contest is to bring students together and recognize their beauty, talent and intelligence. Mr. Pham Trung Tuyen, Director of the DTU Center for Arts and Sports, said: "This year, the number of contestants has increased dramatically. Judging by their introductory performances and the way they answered our questions, the contestants are not only good-looking but also clever. In the next round, the judges will choose the winners based on their looks and social skills, and award the first male and female prizes."
In the preliminary round, the contestants were given an anthropometric test and height and weight measurements, and gave introductory and catwalk performances. The judges then asked additional questions about history, geography, their understanding of Vietnam and its people, the Party, the Youth Union, DTU and its majors.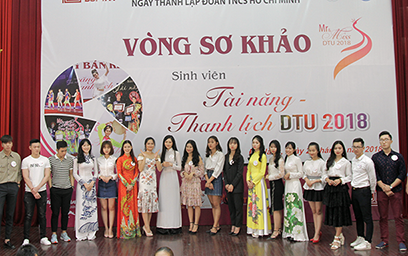 Semi-finalists
This year, the contest attracted many more students from the Phan Chau Trinh High School, the Tran Phu High School and others.
The DTU Student Talent and Beauty Contest is an opportunity for fresh students to meet with senior students, gain experience and become familiar with the university. At the end of the preliminary round, thirty-six contestants moved on to the semi-finals, including twenty females.
(Media Center)