The 9th Annual DTU Football Tournament
On April 22nd, after two months of competition, the 9th annual DTU football tournament ended with two exciting finals for the championship and third-place prizes.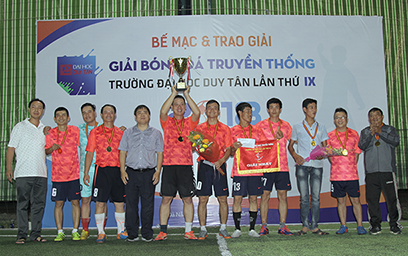 The Center of National Defense and Physical Education receives the Cup
12 teams from DTU faculties and departments competed in 40 impressive matches with hundreds of goals scored.
The crucial third-place match between the Inspection Office & Faculty of Electrical Engineering and the Maintenance Office & Center of Electrical Engineering ended in a 2-2 draw, with a shootout then deciding the winner. The Maintenance Office defeated the Inspection Office 4-3.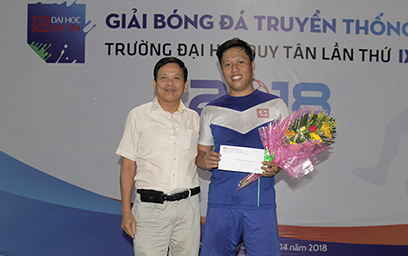 Leading goalkeeper Hoang Quang Huy
In the finals, the Center of National Defense & Physical Education excited the spectators with their skilled play and beat the Administrative Office & Unions team 5-1 to become the champions. A silver medal went to the Administrative Office and Unions, best player award to Nguyen Tuan Vu and best goalkeeper to Hoang Quang Huy.
(Media Center)