New Commentaries on Quang Vu's Contributions
On August 29, thirty years after the deaths of the artists Luu Quang Vu and his wife, Xuan Quynh, the Institute of Literature and DTU organized a workshop entitled: "The life and work of Luu Quang Vu". The seminar brought researchers from all over Vietnam together to discuss Luu Quang Vu's creative work and present their research on his contributions to Vietnamese literature and art.
Mr. Nguyen The Ky, Chairperson of the Central Council for Theory and Criticism of Literature and Art, expressed his opinion that the loss of Luu Quang Vu and his wife Xuan Quynh has left a big hole in Vietnamese literature and art, especially in theater and poetry, which were their greatest successes.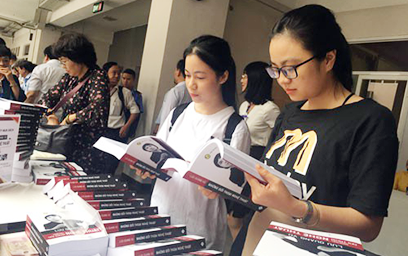 DTU students read about Luu Quang Vu
Mr. Ky explained that Luu Quang Vu, with his talent and his extraordinary, unparalleled workmanship, wrote outstanding plays which were staged in theaters nationwide. This began an age of sublime Vietnamese theater, and, in just ten years, Luu Quang Vu wrote over fifty plays and came to be seen as the leading modern playwright.
"The attraction of Luu Quang Vu's plays comes first and foremost from their audacity, predictability, like a conversation aspiring for innovation," Mr. Ky commented. "Noteworthy is the fact that Luu Quang Vu brought the flame of love and ambition, compelling us to innovate, think and act to overcome all our difficulties and challenges."
(Media Center)