The DTU Rio Crew team win first prize in the "Flaming Youth" competition
Overwhelming 14 other dancing teams, the Rio Crew won a first prize of 20 million vnd at "Flaming Youth" competition on November 18. The contest was held at the Hoi An Impression Theme Park for high schools, colleges and universities in Quang Nam and Danang. Teams performed Ensemble, Hip-hop and Flashmob dances in celebration of Vietnam Teacher's Day.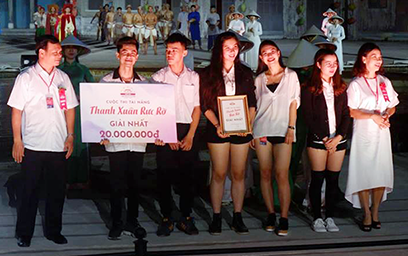 The organizers giving first prize to team Rio Crew
Performances were entertaining, focusing on the positive, enjoyable side of life. The Rio Crew won first prize for Hip-hop dancing and an Impressive prize for their Folk Hip-hop performance.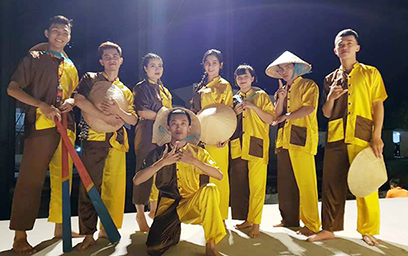 The Rio Crew
Founded in 2011, the Rio Crew of 20 is led by Nguyen Dinh Ha Long and is a DTU Center for Arts and Sports activity. The Rio Crew has participated in several arts events in Danang and the Central region.
Nguyen Dinh Ha Long said: "This is the first time the Rio Crew has appeared at the country's largest-ever outdoor visual arts festival, with an audience of three thousand. We did our best to tell the story of how proud we are of DTU. It was also a way to express our deepest gratitude to our teachers".
(Media Center)