An Evening of Eternal Poetry and Music to Recognize our Teachers
The last 24 years at DTU have witnessed increasingly close relations between teachers and students. A comforting and tender Eternal Music and Poetry performance was held by the Labor Union on the evening of November 17, where lecturers came together to sing about the joy and love for their work and lives.
Hush and awe descended on the audience when Hero of Labor, Distinguished Teacher Le Cong Co began to recite his emotional poem "The Beginning of My Life", written as he crossed the My Thuan Bridge long ago:
L?n khôn cây t? d?t li?n
Cành vuon lá r?ng xâm lên núi r?ng
M?t tr?i tru?c ng?c ta mang
Bu?c di l?ng l?ng con du?ng sáng soi
Tru?c ta ngu?i n?m tay ngu?i
Sau ta sông bi?n n?i d?i dài lâu
Ð?i ta s?m d?y th?y tri?u
Trái tim d? ?ng, tình yêu d?t dào
Nu?c càng yêu, núi càng cao
Lòng ta nhu nu?c, núi nào cao hon.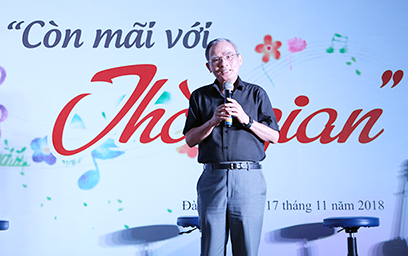 Hero of Labor, Distinguished Teacher Le Cong Co shares his feelings
The eternal music theme was like a slow-motion movie, taking the lecturers from the time that DTU was first founded to today. Every piece demonstrated the joy and pride in the university, the teachers, and all the memories associated with them. New students, overwhelmed in the vast auditorium, were also encouraged by their lecturers to express their feelings, in their mission to "cultivate the people". As the performance continued, immortal tunes emphasized much teacher-student interaction and affection. Songs included "Chalk Dust", "A Love Song", "Teacher", "Forest Orchid Branches in the Forest" and "Hanoi".
Amateur DTU poets and singers aroused the simplest and sincerest feelings. The lyrics of the song "Twenty Flower Seasons", sung by Ms. Nhu Gam, expressed her love and gratitude to the university and deep affection for teacher-student relations.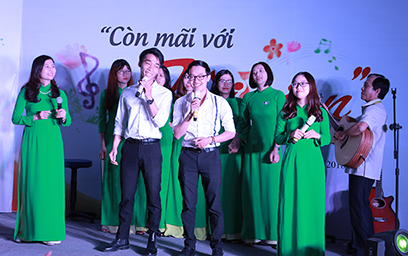 Amateur DTU poets and singers
"Right now, I am overwhelmed by my strong feelings and memories of DTU," said Ms. Nhu Gam, "and with so much love for my old colleagues who are still here. This Poetry and Music Evening really has a strong meaning for our lecturers, who make so many sacrifices in their profession. It gives them all an evening to share their feelings and relieve the stress of their working hours."
The Poetry and Music Evening brought everyone together to bond emotionally with each other and with DTU.
(Media Center)