The Finals of "Tuoi 20 Hat" Contest
Led by three expert coaches, Huu Duc, Xuan Ly and Ngoc Nhung, the three leading teams competed in the finals of "Tuoi 20 Hat" contest on December 1. The contest brought music-lovers together and identified talented university musicians. Students from high schools, colleges and universities in Danang were eligible. The three teams performed traditional revolutionary songs, with modern and youthful interpretations, solo, or as a duet or trio.
The three teams had different styles, with eighteen distinctive and enthusiastic interpretations. Coach Huu Duc's team started with the duet "Mo hoa" and then Xuan Ly's performed "Nhip cau noi nhung bo vui" in Latin Acoustic style. Three powerful and crazy young women from Ngoc Nhung's team finished off with "Co gai vot chong" which caught the attention of the audience.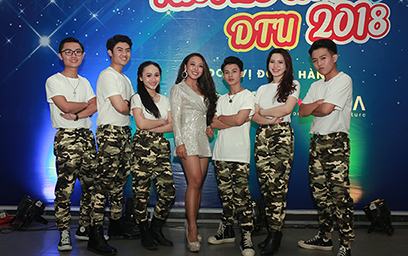 Ms. Xuan Ly and her team members
Many beautiful songs were performed, including a solo performance of "Noi dao xa" and a trio singing "Dat nuoc loi ru", coached by Ngoc Nhung. Huu Duc's team sang "Xa khoi" with a new special remixed version, beautiful voices, a confident style, knowing how to handle the song well and winning the hearts of the judges.
Ms. Xuan Ly's team touched the audience's hearts with songs such as "La do", a mix of "Tam ao chien si me va nam xua", "Huyen thoai me", "Nguoi me Viet Nam tay khong danh giac" and "Nguoi me cua toi"
Xuan Ly's team was awarded a first prize of 5 million vnd and Ngoc Nhung's and Huu Duc's team came in second and third respectively. In addition, Ms. Thanh Nha and Mr. Viet Hung won best contestant awards.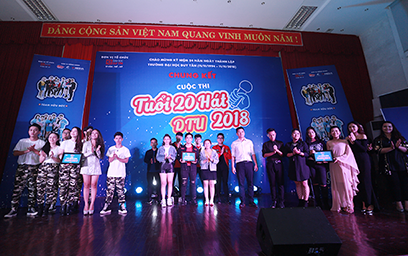 The organizers giving awards to three teams
Nguyen Minh Hieu, a K22 Accounting student, said: "I was so happy to participate in the "Tuoi 20 hat" contest and extremely proud that our team won first prize. All our hard work finally paid off and I want to thank the DTU Center for Arts and Sports for hosting our singing and helping us learn more about revolutionary songs. I especially want to thank our teacher, Ms. Xuan Ly, who carefully looked after us over the past few days. I hope that the university will continue to hold more contests where we can all meet, make new friends and become more aware of our heritage and patriotism."
(Media Center)