RIO Crew Keeps Youth Bright and Shining
RIO Crew is comprised of students who share a passion for dancing. They come from International Relations, Law, Medicine, Pharmacy, Construction, IT and Environmental studies and have won several awards, including first prize in the "Shining Youth" contest in Hoi An last September. RIO Crew has meanwhile added students from other universities around Danang.
Nurturing their passion and artistic talents
"I decided to establish the RIO Crew to keep their singing and dancing passion alive and develop their talent. They now perform enthusiastically at many different welcoming and cultural ceremonies, perhaps not always totally professionally but, meanwhile, we've already attracted many new members, totalling about twenty at present," said Nguyen Dinh Ha Long, Leader of the RIO Crew.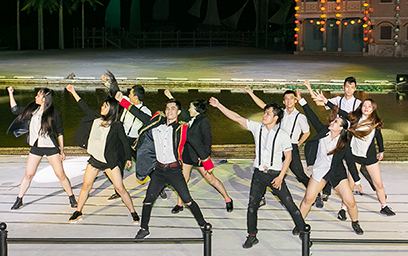 RIO Crew performs in Hoi An
Music brings joy and brings people together. DTU always promotes and supports musical groups and their performances. Ngo Trong Hiep, from Foreign Languages explained, "If you have passion and even a little talent, you must become motivated and enjoy yourself. As Voltaire once said: "Let us read and let us dance, two pastimes that will never do any harm to the world. With RIO Crew, we can relax for a while, after long hours of hard study, make more friends and help each at university and in our lives in general."
Recognizing talent
To be successful, we need to be motivated and work hard, and dancing is no different. We came with little experience and must now try to become truly professional dancers. DTU established the Center for Art and Sports, so we can now practice and develop our talents in comfort.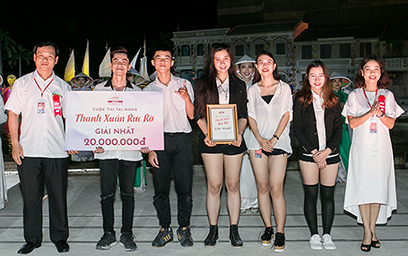 The RIO Crew wins first prize in the Shining Youth Contest
RIO Crew has competed in both large and small venues in Danang and elsewhere in the Central Region, in the following contests:
- Third Prize in Music Talent and semi-finalists at Vietnam's Got Talent in 2012 in HCMC
- Third Prize in Soundfest in 2012 in HCMC
- First Prize in the VTC Game talent show
- First Prize in the 2015 Youth Talent Contest in Danang
- Second Prize in the 2015 "Vu dieu Than tai" contest
- Third Prize in the Danang Bands contest in 2015
- First Prize in the 2016 Danang Bands Festival
- Two prizes in the Shining Youth Contest in Hoi An, one first for Hip-hop Dancing and an Impressive Prize for Folk Dancing
The Shining Youth Contest was attended by both tourists and locals. The two RIO Crew performances were impressive and gained a lot of compliments. After ten years, RIO Crew has developed and performed in many competitions and TV shows.
(Media Center)