The 2019 New Year K-Pop Dance Cover "Be Ur Star" Finals
After a preliminary round of twenty-four, the twelve best groups staged exciting performances in the finals of the 2019 New Year K-Pop Dance Cover "Be Ur Star" contest on January 12. Music-lovers were able to meet and demonstrate their skills and the Gen Zee team won first prize. The contest was one of a series of events during Korea Week 2019 and attracted large numbers of students from high schools, colleges and universities in Danang.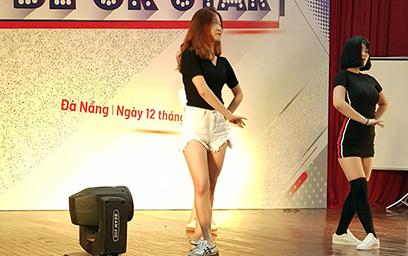 Korean students dancing in the finals
Although the final round was more difficult, the contestants did not let their audience down. They performed several clever dance-cover acts, and their mannerisms and costumes closely resembled those of their idols.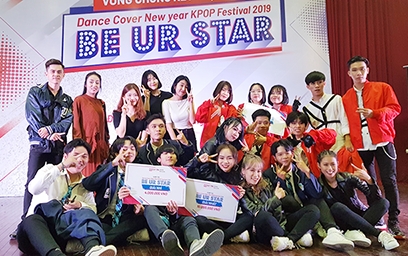 The contestants
The Gen Zee team won the first prize of 10 million vnd. The No Mercy and Bo Dak teams both came in second and three third prizes were awarded to Twinkling, Double Shot and Make It Shine. The other six contestants were awarded 1 million vnd each.
Ha Ngoc Huy Phong, from Gen Zee, said: "I am so happy that all our hard work has paid off. We want to thank the faculty of Hospitality & Tourism for hosting such an exciting competition for K-Pop enthusiasts."
(Media Center)