Opening of First Master of Pharmacology Management Class
After much preparation, DTU opened its first Master of Pharmacology Management degree program on January 12, in order to meet the increasing demand for highly-qualified professionals to support the socioeconomic development of Vietnam, particularly Central Vietnam.
The Ministry of Health and the city of Danang were represented by Dr. Nguyen Minh Loi, Deputy- Director of the Department of Science, Technology and Training; Dr. Quach Huu Trung, Director of the 199 Hospital; and Dr. Huynh Ngoc Son, Deputy-Director of the C Hospital Center for Training and Mentoring. Distinguished Teacher and Hero of Labor, Le Cong Co, DTU President, Dr. Le Nguyen Bao, DTU Provost, staff, lecturers and 23 students represented DTU.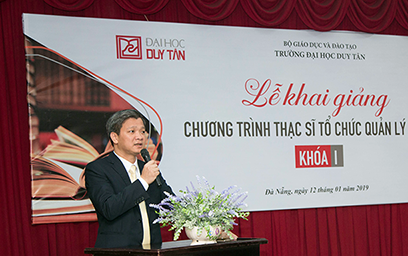 Dr. Nguyen Minh Loi speaks at the opening
"I am really glad to be here today for the opening of DTU's first Master of Pharmacology Management degree program," said Dr. Loi. "This is an important year, which celebrates the 25th anniversary of DTU and the 10 years of Health education here. I would like to congratulate the university on its success and also welcome the 23 new postgraduate students. Health education is currently going through a major transformation and strong expansion in Vietnam, so the governmental policy to mobilize resources in both the public and private sectors is fully justified and appropriate. Let us hope that DTU will continue to provide an excellent education to help improve the quality of our local pharmacies."
DTU Vice-Provost, Dr. Nguyen Ngoc Minh explained: "There are currently only five universities offering Masters of Pharmacy degrees in Vietnam. Three of them are public, Hanoi University of Pharmacology, Hue University of Medicine and Pharmacology and the University of Medicine and Pharmacology in Ho Chi Minh city. Two of them are private, Tay Do University and DTU.
In Health Sciences, DTU currently offers Bachelor degrees in Pharmacology, General Nursing and General Practitioning. DTU partners with the University of Illinois and the University of Pittsburgh, two big American medical universities, as well as others in Thailand, Hong Kong, Singapore, Japan, Germany and Sweden. These advanced programs share international curricula and offer exchange programs for interns and workers to broaden their education and professional skills.
Over the years we have been offering an education in Health Sciences, we have always tried to conserve quality as quantities increase, in order to maintain our excellent reputation, provide proper guidance to our staff and lecturers and graduate experts in their field. Our Master of Pharmacy Management is a new development, a first step in adding more postgraduate degree programs in Medicine, Pharmacology and Nursing in the near future."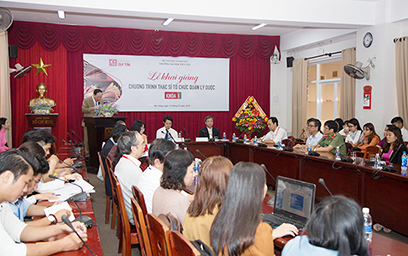 Students at the opening
Many people applied for the program but only 23 were successful, who will qualify to work in clinics, hospitals and pharmacies, or as university lecturers. They will be lectured by experienced Pharmacology professors, conduct their own research and intern in a dynamic, state-of-the-art environment.
"Thanks go to the DTU leadership for opening this program and providing the ideal educational conditions," said student Le Thi Kieu Trang, on behalf of his peers. "We will work hard to learn as much as possible to complete the course successfully and contribute to the local healthcare community."
(Media Center)