DTU Teacher and Student Obtain Master's Degree of China Medical University in Taiwan
In June, 2018, Pham Thi Ngoc An, a lecturer of the DTU Faculty of Nursing; and Nguyen Thi Huyen Trang, a DTU alumnus who was granted full academic scholarships for 2 years, successfully defended their PhD dissertation in Nursing at China Medical University.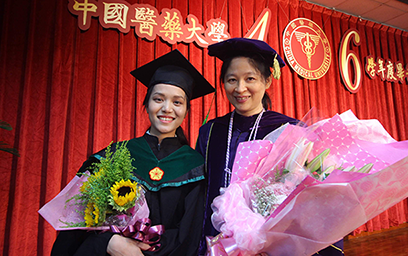 Pham Thi Ngoc An and Mrs. Wen Chun Liao (right) - Dean of the China Medical University Faculty of Nursing
DTU has cooperated with prestigious international universities, such as the University of Illinois at Chicago, which offers the largest medical and pharmaceutical programs in the US and the University of Pittsburgh, ranking fifth among the top 15 of leading universities in medical research in the US to improve its education quality. The University also provides students and lecturers with opportunities to get further education. Therefore, many students and lecturers of the DTU Health Sciences, such as Pham Thi Ngoc An and Nguyen Thi Huyen Trang, study at overseas graduate schools.
Pham Thi Ngoc An said, "After having worked one year as an assistant and one year as a lecturer at the DTU Faculty of Nursing, I passed an interview at China Medical University and got a full academic scholarship. When studying and working at DTU, I had been provided with knowledge about physical examinations, consultancy and medicines as well as the skills of presentation, teamwork and analyzing, which helped me a lot in graduate school."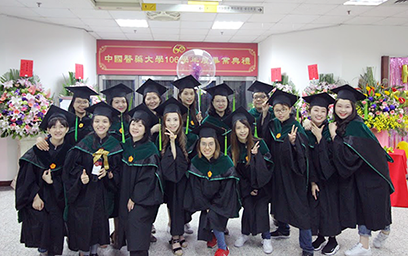 Nguyen Thi Huyen Trang (far left) and Pham Thi Ngoc An (second from the left in the first row) with their friends
Postgraduate students of Nursing at China Medical University must complete at least 36 credits, including 6 thesis credits, 12 key credits, 10 compulsory credits and 8 free credits. China Medical University provided the DTU graduates with professional knowledge about medicines, patient psychology and skills to deal with situations.
Nguyen Thi Huyen Trang said, "I'm impressed with China Medical University's studying environment as well as the hospitality of its lecturers and students. They often organize science conferences, language courses and extra courses to improve students' soft skills."
Founded in 1958, China Medical University is among the top 500 of leading universities worldwide, according to the ranking of Shanghai Transportation University. With its advanced facilities and high-quality education programs, China Medical University is attracting more and more international students.
(Media Center)