DTU Opened the International Master of Nursing program
On December 9th, DTU opened the Fooyin University of Taiwan International Master of Nursing program, originating from DTU's policy to partner with foreign institutions to graduate highly-qualified nurses to meet increasing public demand. Dr. Nguyen Minh Loi, Deputy Director of the Ministry of Health Administration of Science and Technology; and representatives of the Boards of Directors and Heads of Nursing Departments of Hospitals in Central region attended the event.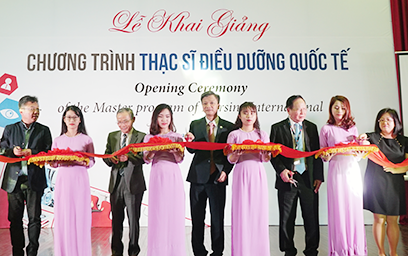 The ribbon-cutting ceremony
Thirty students started the course in November and defend their dissertations in August 2019. The course was taught by experienced lecturers from Fooyin University and DTU, with visiting lecturers from the Hue University of Medicine and Pharmacy and the Hanoi Medical University. Graduates will receive a Master of Science in Nursing diploma from Fooyin University.
Associate Professor Nguyen Ngoc Minh, DTU Vice-Provost, explained that after much research and negotiation on policy and practical issues, DTU was now ready to open a Master of Nursing course with Fooyin University, which has been approved by the two Ministries of Education and Training in Taiwan and Vietnam. The university was delighted to celebrate the opening of this new, advanced program, after ten years of offering an education in health sciences in Nursing, Pharmacy and Medical Doctor.
"Nursing is unique, and became a separate major only three decades ago," he explained. "Compared to the development of medicine in general, Nursing has been slow, with fewer Bachelor and postgraduate degree courses offered than in other nearby countries, such as Thailand, Taiwan, Singapore, Malaysia and the Philippines. The Nam Dinh University of Nursing and several small-scale institutions have been teaching in Hanoi and HCM City, and now we have a presence at DTU in Central Vietnam. Although this is a new and complex venture, after 23 years of experience, we will certainly be successful over the next two years."
Fooyin University was founded by Dr. Chang Peng Tu in 1958. It was the first private nursing university and is runs the only nursing teaching hospital in Taiwan. The university recently entered the top 10 technology universities with the best educational achievements, and has 16 departments with 9,500 students.
Dr. Kurtis Koli Chang, Fooyin University Vice-President, said that three things were needed to succeed in studies: improved professionalism and communication skills, and being prepared for international integration, all of which the program provides.
DTU began collaborating in health science education ten years ago. In 2009, the Ministries of Education and Training and Health authorized the university to offer a Bachelor of Nursing degree as part of the Faculty of Medicine and Pharmacy. In November 2013, the Faculty of Nursing was split off from the Faculty of Medicine, and a General Nursing major was launched, which has since graduated over a thousand nurses to work in local hospitals and medical facilities.
DTU lecturers of Nursing have gained much experience working in the field. The university is equipped with special rooms with modern equipment, to provide students with ideal training conditions and access to advanced international programs. DTU collaborates with the University of Illinois in Chicago to share their curricula and invites experienced European nurses to lecture at DTU. In June 2017, the Faculty of Nursing signed an agreement for training and human resource development with the Seirei Social Welfare Community and the Japanese National Council for the Elderly and Blind, giving students the opportunity to study and work in Japan.
Dr. Loi congratulated DTU on its outstanding achievements in health science education in the past, especially for the development of the 3D virtual reality human body simulation training system by a group of DTU researchers, which won a first prize in IT at the 2017 Vietnamese Talent Awards contest. He appreciated the collaboration with Fooyin University and said, "Nursing training in Vietnam is still evolving and we only started offering Master of Nursing degrees twenty years ago. There are currently about sixty educational institutions teaching Bachelors of Nursing programs here, but far fewer at the postgraduate level. This new program demonstrates that DTU is resolved to graduate highly-qualified international nurses, to enhance the quality of health care for residents and visitors alike."
(Media Center)