Master's Thesis Awards Ceremony for Kien Giang Students
On November 4th, DTU held an awards ceremony for graduate school students in the K14 Master's programs from Kien Giang province, who came to Danang to receive their thesis subjects.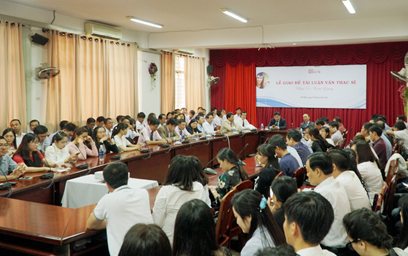 K14 Master's program students from Kien Giang
Dr. Vo Thanh Hai, DTU Vice-Provost, said: "We are delighted to welcome you all from the Kien Giang K14 Master's program to DTU today. After working for six months on your Master's theses, you will present detailed drafts before you officially defend them. You have all been working hard to meet requirements and you will continue making big efforts to complete the course. Your new knowledge and skills will enable you to find better jobs more easily. I would also like to thank your dedicated lecturers who were happy to travel to Kien Giang to teach you."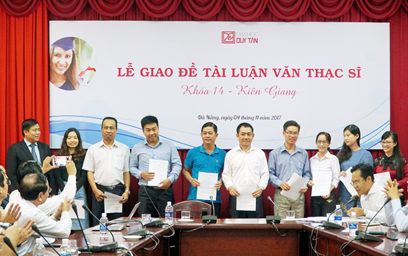 Graduate students receive their Master's thesis subject
The DTU Graduate School distributed Master's thesis subjects to 62 Master's candidates in Business Administration, to 18 in Accounting and to 12 in Civil Engineering.
Huynh Van Son, of K14 MBA, said: "Thanks go to DTU for offering the Master's degree program to Kien Giang students and allowing us to complete both our education and work. We are gaining the special knowledge and research techniques which will be very important in our current jobs and in our lives in general."
(Media Center)