Master's Thesis Subject Awarding Ceremony
On April 22nd, DTU held the ceremony of awarding thesis subjects to students of the DTU Graduate School. Fifty-seven students of the K13 and K14 Master's Programs from Long An province came to DTU to receive their thesis subjects.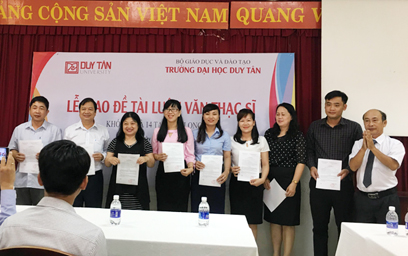 Prof. Dr Le Duc Toan awards thesis subjects to students 
Prof. Dr Le Duc Toan, DTU Vice Provost and Head of the DTU Graduate School said: "We received the students' thesis subjects and noticed that they understand and have an astute approach to professional reality and to societal needs in management and business. By solving the issues set forth in their projects, they will contribute to changing views on business as well as improve the knowledge in this area. Most students have jobs and are married, so they had to make big efforts to find time to pursue the Master's program. I hope that after the course ends, they will increase their ability to do their jobs better."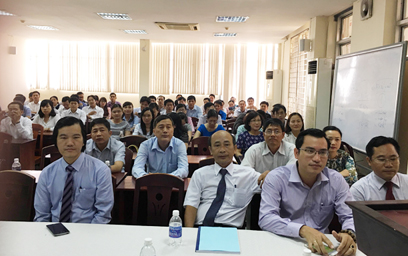 DTU staff and lecturers and students from Long An at the ceremony
Nguyen Thi My Loan, a student working at Vietinbank said: "After I am back from DTU, I will immediately work on the thesis of Developing human resources at Vietinbank, Long An branch. I feel really happy, because DTU created favorable conditions for me to complete both learning and working. I hope that next time, I will have opportunities to continue to learn other higher-education programs at DTU."
After working on their Master's thesis for a full three months, the students will present a detailed draft in Long An, before officially defending at DTU, Danang, as early as possible.
(Media Center)