A New International Master of Nursing program with Fooyin University of Taiwan
DTU opened the Fooyin University of Taiwan International Master of Nursing program to graduate highly-qualified nurses to meet increasing public demand. Thirty students started the course in November 2017 and defend their dissertations in August 2019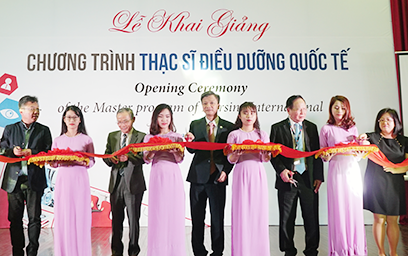 Representatives of DTU and Fooyin University at the ribbon-cutting ceremony
In 2009, the Ministries of Education and Training and Health authorized the university to offer a Bachelor of Nursing degree, as a member of the Faculty of Medicine and Pharmacy. In November 2013, the Faculty of Nursing was split off from the Faculty of Medicine, and a General Nursing major was launched, which has since graduated one thousand nurses to work in local hospitals and medical facilities. Many of them were sent to Japan and Germany for further training.
Also, DTU collaborates and shares curricula with the University of Illinois at Chicago Illinois University in Chicago to transfer academic program and invite experienced nurses to teach at DTU.
In June 2017, DTU and the Seirei Social Welfare Community signed an agreement to collaborate on research, a Japanese language teacher exchange program, joint training, and on-the-job trainee exchanges. Other programs will be developed according to need.
The course was taught by experienced lecturers from Fooyin University and DTU, with visiting lecturers from the Hue University of Medicine and Pharmacy and the Hanoi Medical University. Graduates will receive a Master of Science in Nursing diploma from Fooyin University.
Fooyin University was founded by Dr. Chang Peng Tu in 1958. It was the first private nursing university and runs the only nursing teaching hospital in Taiwan.
(Media Center)