Graduates of the State University of New York in Oswego Intern at DTU
On May 18th, the DTU Center for Visualization & Simulation (CVS) met Professor Damian Schofield and seven graduates from the State University of New York, in Oswego (SUNY-Oswego), in America.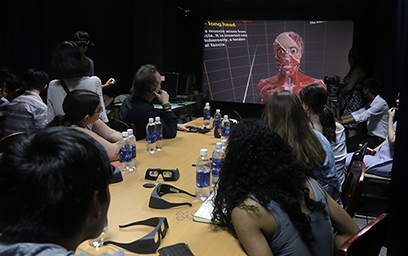 Dr. Yolanda Tromp introduces Anatomy Now
Dr. Tromp, Director of the DTU Center for Visualization & Simulation gave a brief presentation on CVS and their application "The Use of 3D Virtual Reality Technology to Simulate the Human body for Health Science Education and Research", where every organ and detail of the human body can be recreated for Health Science studies.
The application shows how to visualize specific anatomical details, allowing direct interaction by rotating, hiding, displaying, moving and marking objects, using a 3D projector, 3D glasses, or virtual reality (VR) glasses, such as Oculus Rift, Gear VR, HTC Vive, or by using a desktop, laptop, smartphone or tablet. This application was recognized at the 2017 Vietnam Talent and the 2018 Sao Khue award ceremonies.
Professor Damian Schofield said: "The staff of the DTU Center for Visualization & Simulation are experts in VR/AR, especially for Medical studies. When Ms. Yolanda Tromp, a former colleague, told me about CVS, I took seven graduates of Human Computer Interaction to DTU to intern there for eight weeks. I am sure that we will make good progress in building a new foundation for our research after our visit."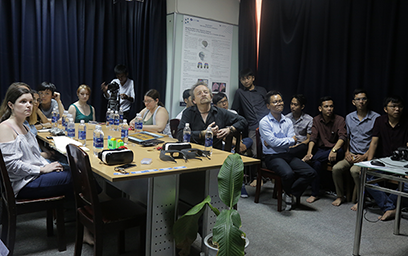 Professor Damian Schofield and graduates at the DTU CVS
Professor Schofield also talked about a potential collaboration with DTU, sharing academic programs and 1+1 study-abroad opportunities, with scholarships.
SUNY-Oswego is a public institution, founded in 1861. One of 13 university colleges in the 64-campus SUNY system, it offers 110 majors, minors and cooperative and graduate programs, ranging from Accounting, Electrical Engineering, Computer Science, Hydrometeorology and Cognitive Science to Zoology.
SUNY-Oswego is highly rated for its excellence and value, in the top 50 regional universities in the Northeast, and number 12 among public institutions, and is also included in Princeton Review's best Business and Green Colleges in the Northeast.
(Media Center)