The Opening Ceremony of the International Master of Nursing Degree Course
On December 9th, DTU opened the Fooyin University of Taiwan International Master of Nursing program, originating from DTU's policy to partner with foreign institutions to graduate highly-qualified nurses to meet increasing public demand.
Attendees included Dr. Nguyen Minh Loi, Deputy Director of the Ministry of Health Administration of Science and Technology; Dr. Kurtis Koli Chang, Fooyin University Vice-President; Dr. Hsiao-Yun Annie Chang, Head of the Fooyin University School of Nursing; Ms. Tien-En Chen, representative of the Fooyin University Office of International Affairs; representatives of the Boards of Directors and Heads of Nursing Departments of Hue Central Hospital, Danang Hospital, Danang C Hospital, Danang Hospital for Women and Children, 17 Military Hospital, VINMEC International Hospital Danang, and Hoan My Danang Hospital; Distinguished Teacher and Hero of Labor Le Cong Co, DTU President and Provost; Associate Professor Nguyen Ngoc Minh, Vice-Provost and Director of the DTU Institute for Medicine, Biology, and Pharmacy; the heads of DTU departments and thirty new Master of Nursing students.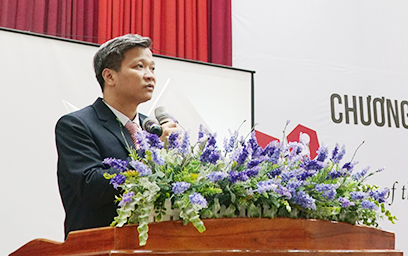 Dr. Nguyen Minh Loi speaks at the event
Dr. Nguyen Minh Loi said: "Nursing is one of the three major professions most seriously lacking qualified staff and, as we enter the next stages of development and our living standards increase, the demand for better health-care has come sharply into focus. This new program demonstrates that DTU is resolved to graduate highly-qualified international nurses, to enhance the quality of health care for residents and visitors alike. Hopefully, DTU and Fooyin University will continue to work together to improve the education of highly-qualified professional nurses, in order to drive socioeconomic development in Vietnam and advance international integration."
The thirty students, consisting of ten DTU staff and twenty others, started the course in November and defend their dissertations in August 2019. The course comprises 44 credits, taught by experienced lecturers from Fooyin University and DTU, with visiting lecturers from the Hue University of Medicine and Pharmacy and the Hanoi Medical University. Graduates will receive a Master of Science in Nursing diploma from Fooyin University.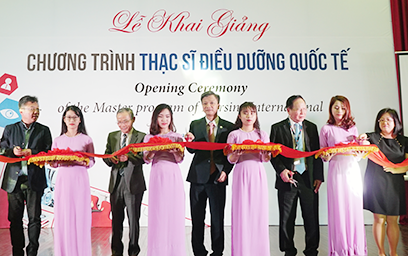 The ribbon - cutting ceremony
Fooyin University was founded by Dr. Chang Peng Tu in 1958. It was the first private nursing university and is runs the only nursing teaching hospital in Taiwan. The university recently entered the top 10 technology universities with the best educational achievements.
(Media Center)