A Joyful 85-Year-old Receiving his MBA
After three years of study at DTU, eighty-five year old Mr. Le Phuoc Thiet from the Dai Loc district of Quang Nam province, was awarded a Master's degree in Business Administration, realizing his dream.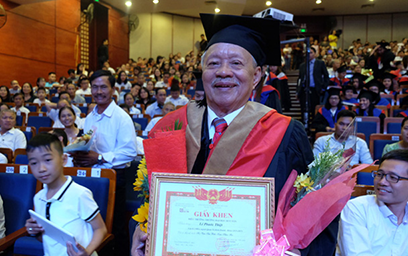 Mr. Le Phuoc Thiet
Mr. Thiet was the most special graduate, receiving nonstop applause at the DTU graduation ceremony on the morning of June 10.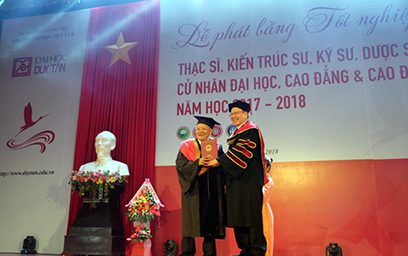 Mr. Le Phuoc Thiet receiving a Master's degree at the 2018 DTU graduation ceremony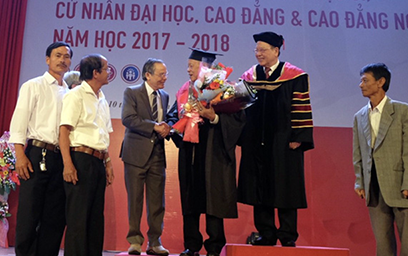 DTU Board of Provosts and Mr. Thiet's relatives congratulate him at the ceremony
Mr. Le Phuoc Thiet applied for a Master's degree in Business Administration at DTU when he was 82 years old. He said: "My philosophy is that "it's never too late to learn. I didn't necessarily study for the degree or to get ahead socially, at my age that wouldn't have made sense. I studied to slow the aging process in my brain, to exercise it through the acquisition of new knowledge. I also wanted to set a good example to my grandchildren, to show them that their grandfather was still eager to learn, and that they should not be lazy in their own studies."
With perseverance and eagerness to learn, Mr. Thiet has completed his postgraduate studies in Business Administration at DTU. During the course of three year, Mr. Thiet was always the first student to arrive in class and did not drop a single class. Like all the other students, he reviewed documents, did his homework, communicated with lecturers and classmates by email, worked in groups and made presentations. He was also a familiar face at the DTU library. He went there every day to read and research information. He successfully completed, defended his thesis and graduated on schedule.
He said: "I met Professor Vo Thanh Hai, DTU-Vice Provost, one stormy, rainy day and he said, 'Oh my God, with this weather it's okay for you to take the day off. Why do you endure so much to study?' That's what he said, but he still waited from me every day in class, because he understood me. As for Professor Hien, I told him his subject was difficult and the others agreed. However, when he returned my exam, he said he had been very surprised because I had done extremely well. This made me very happy. The studying, exams and thesis were not really too difficult. The most difficult part was the long journey every day from Dai Loc district to Danang city."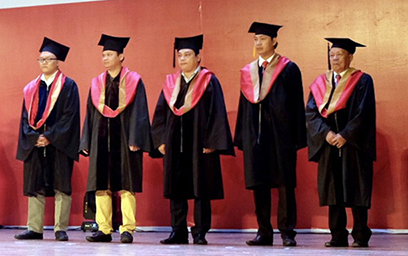 Mr Le Phuoc Thiet (first from the right) retaining his passion for learning and decided to pursue postgraduate studies
Ten relatives attended Mr. Thiet's graduation ceremony to be with him on that special day. "Everyone is happy for my uncle," said his nephew Mr. Le Phuoc Long. "When he says he'll do something, he does it, and sets a wonderful example of studiousness for his proud grandchildren to emulate. At home, Mr. Thiet regularly mobilizes his friends in the village to collect money for annual scholarships for the most studious local children."
(Media Center)