Opening Ceremony of Second Course of International Master of Nursing program
On September 29, DTU held an Opening ceremony for the second course of its International Master's of Nursing program, in partnership with Fooyin University in Taiwan. The ceremony was attended by Fooyin University Rector, Dr. Chiyuan Ku; Dr. Annie Hsiao-Yun Chang, Head of the Fooyin University School of Nursing; Mr. Lichoung Chiang, Head of the Fooyin University Office of International Affairs; and Ms. Tien-En Chen, representative of the Fooyin University Office of International Affairs. DTU was represented by Associate Professor Nguyen Ngoc Minh, Vice- Provost and Head of the Institute for Medicine, Biology and Pharmacy; Graduate School Dean Dr. Nguyen Gia Nhu; Faculty of Nursing Dean Nguyen Huynh Ngoc; department heads and the first thirty students.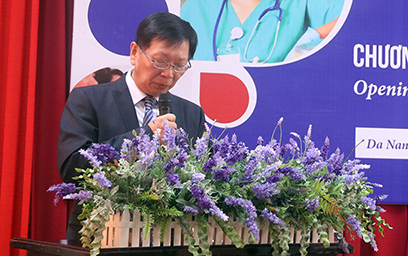 Fooyin University Rector Dr. Chiyuan Ku talks
Fooyin University Rector Dr. Chiyuan Ku said: "After many years of hard work and research, DTU and Fooyin University officially signed an agreement on an international Master's program. The first class began on December 9 last year, adhering to our policy of graduating highly-trained, knowledgeable and professional nurses to satisfy community requirements. Our very first class is halfway completed and the students are doing very well. We believe that these and future graduates will be equally successful after two years of study."
Faculty of Nursing Vice-Dean Nguyen Dieu Hang talked about the course and its objectives, anticipating the second class of thirty, who start training in October 2018 and defend their dissertations in May 2020. Altogether there are 44 credits, taught by experienced lecturers from Fooyin University and DTU, together with visiting lecturers from the Hue University of Medicine and Pharmacy, the Hanoi Medical University and others. Graduates will receive a Master of Science Degree in Nursing from Fooyin University.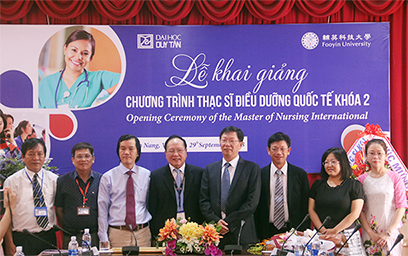 Representatives of DTU and Fooyin University
On behalf of the second class of students, Phan Thi Suong said: "We thank DTU for offering the Master of Science Degree in Nursing and providing the ideal study environment. We hope that the university will continue to expand advanced programs in the future, to offer Health Science students and others to gain the highest qualifications."
Fooyin University was founded by Dr. Chang Peng Tu in 1958 and is the first private university to teach Nursing Technology and operate a training hospital in Taiwan. The university is now one of the top ten technological universities in Taiwan because of its recent achievements.
(Media Center)