DTU Receives ABET Accreditation
ABET, the American-based Accreditation Board for Engineering and Technology, recently announced that it has officially accredited the DTU Networking Engineering and the Management Information System programs. DTU becomes only the second university in Vietnam to be accredited so far, after the Ho Chi Minh city University of Technology, in 2014. The Cao Thang Technical College was also accredited in 2018 but DTU is the only private university to be accredited so far.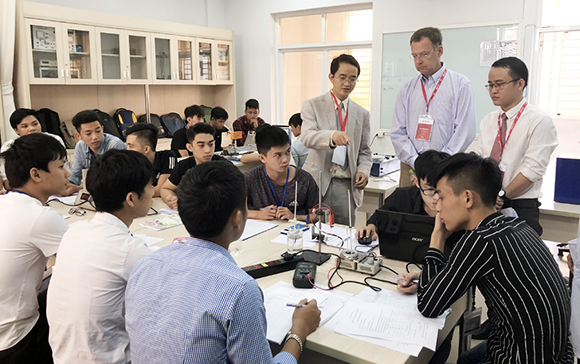 ABET evaluators at DTU Photo: T.S
At the opening ceremony of the 2019 - 2020 academic year, Dr. Le Nguyen Bao, DTU Provost, stated that, over the past 25 years, the university has worked hard to make progress in education and fueled the local labor market with 61,000 graduates and post-graduates so far, making a significant contribution to the socio-economic development of the Central region and Vietnam in general.
Meanwhile, DTU has made impressive achievements in both education and research, ranked eighth in the top 10 Vietnamese universities and research institutions in 2018, according to the number of papers published in international ISI or Scopus indexed journals, measured by the Nature Index. 840 international papers have now been published in 2018 - 2019 already and today DTU is ranked third in research in Vietnam.
In October 2018, the ABET evaluation team visited DTU for three days to prepare for the 2019 evaluation, when ABET accredited the two programs. Their evaluation was based on 9 criteria: Students, Student Outcomes, Continuous Improvement, Curriculum, Faculty and others. Both programs met 100% of the ABET Computing Accreditation Commission criteria.
According to Hero of Labor, Distinguished Teacher Le Cong Co, the DTU President, national and international accreditation has recently become increasingly important to Vietnamese universities, to enable them to offer the most advanced accredited programs. ABET is internationally recognized worldwide for its accreditation of foreign Technology and Engineering education.
"In preparation for accreditation, DTU has spent 7 years investing in the best facilities, assembling highly-qualified teams of lecturers and expanding international collaboration, to enhance the quality of education and scientific research," said Dr. Co. "The ABET accreditation coincides with DTU's 25th anniversary and serves as a milestone on our journey to continue meeting our objective to fully internationalize our Technology and Engineering programs in general, and IT programs in particular."
Up to now, 4,005 programs at 793 colleges and universities in 32 countries have received ABET accreditation, including the University of Applied Science of Upper Austria; the Mody University of Science and Technology in India; the AMA Computer University in the Philippines; the Massachusetts Institute of Technology (MIT) and others.
ABET accreditation means that students, employers and the community can be confident that DTU is graduating the highest-quality professionals, qualified and recognized by American universities and companies to enter the global workforce. "Our accreditation also gives us a great advantage enrolling more foreign students and arranging more lecturer and student exchanges with universities worldwide", said Dr. Co.
(Media Center)