DTU Opens its Hospitality and Tourism Institute
On August 31st, Duy Tan University opened its Hospitality and Tourism Institute. The new institute would help students improve their knowledge, professional skills and foreign language proficiency so that they could become more dynamic to better integrating into the increasingly globalized world.
The DTU Hospitality and Tourism Institute has applied an advanced program in partnership with Pennsylvania State University (PSU), one of the five leading universities in Hospitality and Hotel Management education and research in the USA.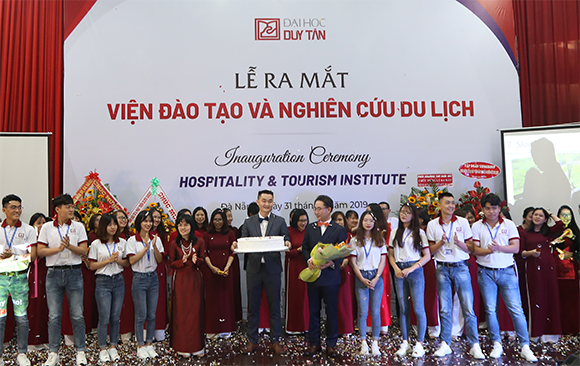 The inauguration ceremony of the Hospitality and Tourism Institute at DTU
In addition, the Institute would implement global undergraduate exchange programmes under which students are facilitated to study in South Korea, Taiwan, Thailand, and Malaysia. The students would be provided a great opportunity to participate the Passage to ASEAN (P2A) and Hospitality & Tourism internship programme of The Southeast Asian Ministers of Education Organization (SEAMEO) launched by DTU to broaden career opportunities in Southeast Asian countries upon graduation.
So far, Duy Tan University has already graduated 8,000 highly-qualified Hospitality & Tourism professionals, who continue to meet the stringent requirements of local and regional companies.
(Media Center)